Best Kept SECRET Neighborhood in Las Vegas [Desert Shores]
When you think of Las Vegas, you probably picture the glittering lights of the Strip, bustling casinos, and a vibrant nightlife. But hidden away in the northwest corner of the city lies a true gem that many might not even know exists – Desert Shores. This 682-acre master planned community built in the late 1980's early 1990's with 3,351 homes; including condos, town homes and single-family homes.
This picturesque neighborhood is often referred to as Las Vegas' best-kept secret, and for good reason. Let's explore why Desert Shores deserves this title and why it might just be the perfect place for your next home.
Tranquil Oasis in the Desert
One of the most remarkable features of Desert Shores is its four man-made lakes that cover approximately 125 acres. These serene bodies of water are not only aesthetically pleasing but also offer residents a chance to escape the desert heat and enjoy various water activities. It's a tranquil oasis right in the heart of the desert.
Community Amenities
The lagoon-style pool in Desert Shores is designed to create a resort-style atmosphere right in the heart of the community. This pool is a fully filtered swimming pool that is built to look like a tropical lagoon, surrounded by sand and palm trees. Residents of Desert Shores often consider the lagoon-style pool to be one of the highlights of living in the community.
Residents are welcome to use the amenities of the Lagoon Park when the Lagoon Pool is closed, including the basketball & Volleyball Courts, Sand Beach, Horseshoe Pit, Picnic Pavilions w/BBQ grills, playground and paddle boats. Lifeguard is on duty when park is open.
The community docks provide paddle boating and fishing for the residents. The 2,100 square foot clubhouse, with terraces on the side of the main lake, is the site of many private parties and special community events.
Walking Paths
Desert Shores is known for its well-designed and scenic walking paths that wind through the community, offering residents a picturesque and enjoyable way to explore the neighborhood.
Weather
Desert Shores is typically cooler than the rest of the Las Vegas Valley. This is because Desert Shores is located on the western edge of the valley, and it is closer to the mountains. And the four man-made lakes in Desert Shores do help to keep the temperatures cooler.
If you are looking for a cooler place to stay in Las Vegas, Desert Shores is a good option. It is still hot in the summer, but it is not as hot as other parts of the valley.
Convenient Location
While Desert Shores feels like a world away from the bustling Las Vegas Strip, it's surprisingly convenient to major roadways like Summerlin Parkway, the 215 Freeway and the 95 Freeway. This means you can enjoy the tranquility of your lakeside retreat while still having easy access to the city's entertainment, shopping, and dining options whenever you desire.
Well-Maintained Community
The Desert Shores homeowner's association (HOA) ensures that the common areas, lakes, and overall aesthetics of the neighborhood are well-maintained. While HOA fees are a part of living here, they are an investment in the beauty and upkeep of the community, helping to preserve its charm.
Schools
Desert Shores is served by several public and private schools, making it a family-friendly neighborhood. Public schools in the area are part of the Clark County School District.
Shopping and Dining
Lakeside Village is a premier dining, event, and business destination located on the shores of beautiful Lake Jacqueline in Desert Shores. It offers a variety of amenities and services and is walking distance to many of the homes in this awesome community.
Diverse Housing Options
Whether you're looking for a single-family home, a condominium, or a townhouse, Desert Shores has a housing option that will suit your needs. The architecture varies, ensuring that there's a home style for every taste and budget. Many properties in Desert Shores offer stunning waterfront views, creating a unique and picturesque setting that's hard to find elsewhere in Las Vegas.
Real Estate Market
The real estate market in Desert Shores can vary depending on factors such as property type, size, and location within the community. Prices for homes in Desert Shores can range from moderate to upscale, with waterfront properties typically commanding higher prices.
In conclusion, Desert Shores in Las Vegas is more than just a neighborhood; it's a hidden paradise waiting to be discovered. With its beautiful lakes, community amenities, diverse housing options, family-friendly environment, convenient location, and meticulous upkeep, it's no wonder why neighborhood is considered Las Vegas' best-kept secret.
If you're in search of a tranquil oasis in the desert that still offers all the conveniences of city life, it's time to uncover the magic of Desert Shores and make it your next home. Don't miss out on this hidden gem in the heart of Sin City.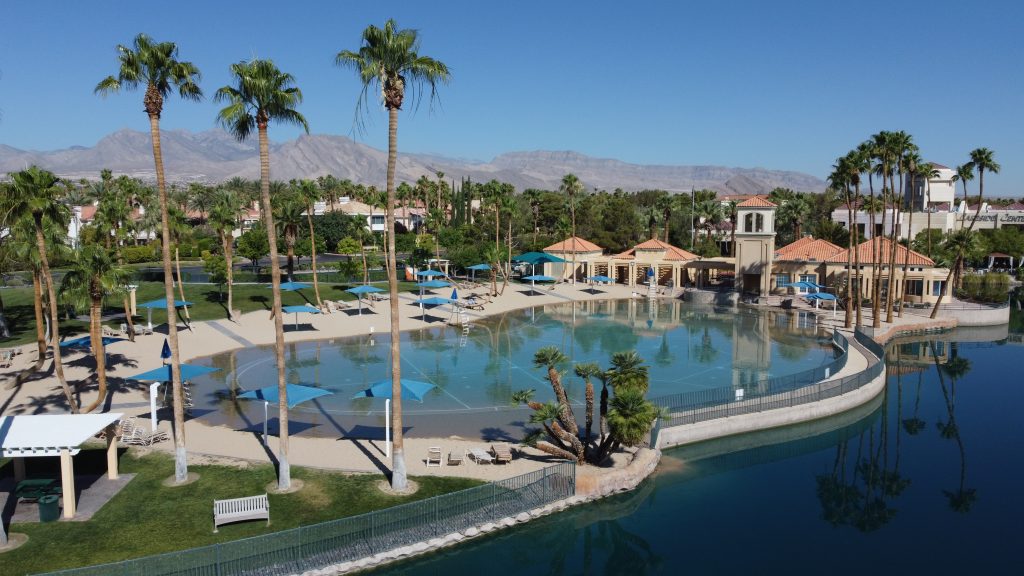 If you're considering buying a home in the Las Vegas Valley, please don't hesitate to reach out to me. I'll get back to you personally and promptly. Thanks for visiting!
HOMES FOR SALE IN DESERT SHORES
Subscribe to our YouTube Channel: http://bit.ly/YouTubeAOHare
Angela O'Hare
Favorite Las Vegas Realtor
Home Realty Center
Lic. #180246
702-370-5112
[email protected]
www.neighborhoodsinlasvegas.com