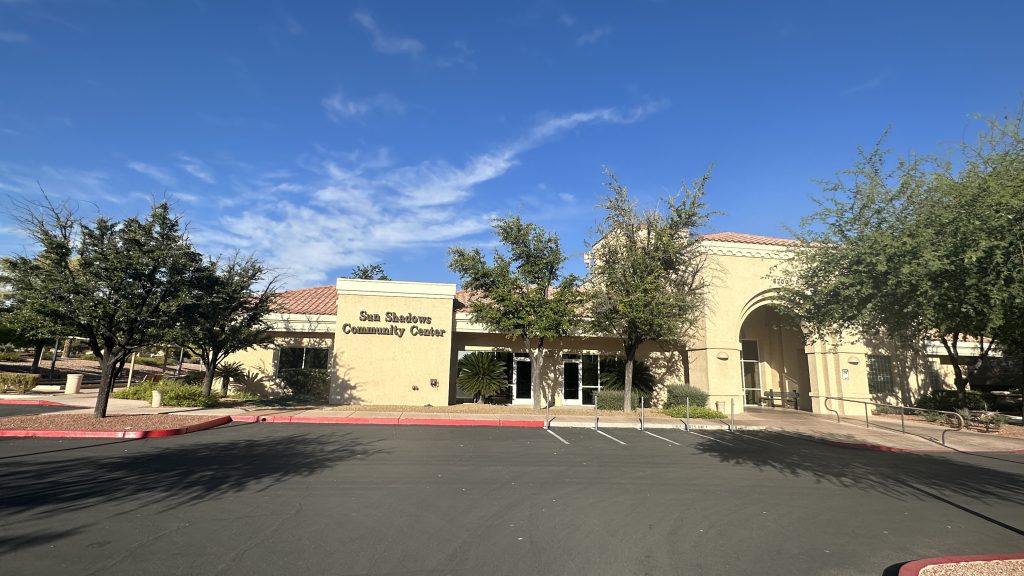 SUN SHADOWS COMMUNITY CENTER – 8700 Del Webb Blvd.
Swimmers will love discovering the Sun Shadows Community Center, boasting the community's magnificent Olympic-size indoor heated pool and spa. The clubhouse also acts as a meeting place for neighbors with several meeting and multi-purpose rooms and card rooms, with an aerobics studio for staying in-shape. Outdoors, the Sun Shadows Community Center is home to four lighted bocce ball courts.
Indoor Heated Lap Pool & Spa
4 Lighted Bocce Ball Courts
Meeting Rooms
Open Card Room
Multipurpose Room
Aerobics Studio
Hours of operation:  6 a.m. to 9 p.m. year round
General Rules
All members must check-in and show their membership card before using the facility.
Facility use is unsupervised. Members should consult a physician prior to starting an exercise program.
Equipment instruction is available through the Fitness Department.
Pets are not allowed in any of the indoor or outdoor fitness facilities.
Tobacco products may only be used outdoors in designated areas. Alcohol is not permitted in any fitness area.
Loud sound producing equipment is not permitted except as needed for programs.
Guest Rules
One day guest passes can be obtained with a social monitor.  Guest passes for longer stays can be obtained by contacting the Fitness Department.
The resident must remain with guests under 19 years old.
Pool/Spa Rules
Use of the pools is at the user's own risk. Lifeguards are not provided.
On-site showering is required prior to entering the pool or spa. If lotions are used, individuals must shower again. Appropriate attire must be worn (no cutoffs).
Diving, running, and horseplay are not permitted. Climbing over, swinging, or leaning heavily on lane ropes or ramp rails in not permitted. Throwing children in the air is considered horseplay.
Oversize inflatable or flotation devices are not permitted. Pool toys, such as balls, are not permitted.
Food and drink are only allowed at the outdoor pool and must be kept at least 6 feet away from water. However, bottled water is allowed in any spa or pool area. Glass containers, alcohol, and gum are prohibited.
Children (under 19) must be 42 inches tall to use the pool and be supervised by the adult resident at all times.  Children's pool hours are 1-4 p.m. daily in the Indoor Pool only. Children are not allowed in the spas.
Indoor lap lanes are assigned by the Monitor. Outdoor lap lanes are not regulated. If a child under 16 wants a lap lane, he/she must be accompanied by an adult in the lane.
Swimmers and walkers must share lanes as much as possible by circling or splitting the lane in half. Time in lap lanes is restricted to 30 minutes when others are waiting and sharing is not reasonable.
Lap swimming time is from 6-8am and 4-6pm. Priority is given to lap swimmers in lanes 1, 2, and 3. Priority is given to walkers in lane 4.
Persons with a cold, cough, sore or inflamed eyes, any skin or communicable disease, or with open sores or bandages must not enter the pool. Spitting or in any way contaminating the pool water or area is prohibited.
Fitness Room
Residents can schedule to use the fitness room by contacting the Fitness Center directly.
Non-marking shoes must be worn.
Equipment Check-Out
The following items are available for check-out: swimming kickboards, paddle tennis equipment, and bocce balls.
The Monitor will hold the resident's card until the checked-out equipment is returned.
Homes for Sale in Sun City Summerlin
SUN SHADOWS COMMUNITY CENTER – all photos taken by Angela O'Hare
Sun City Summerlin Community Association
9107 Del Webb Blvd.
Las Vegas, NV 89134
702-966-1400
Angela O'Hare
Favorite Las Vegas Realtor
Home Realty Center
Lic. #180246
702-370-5112
[email protected]
www.neighborhoodsinlasvegas.com