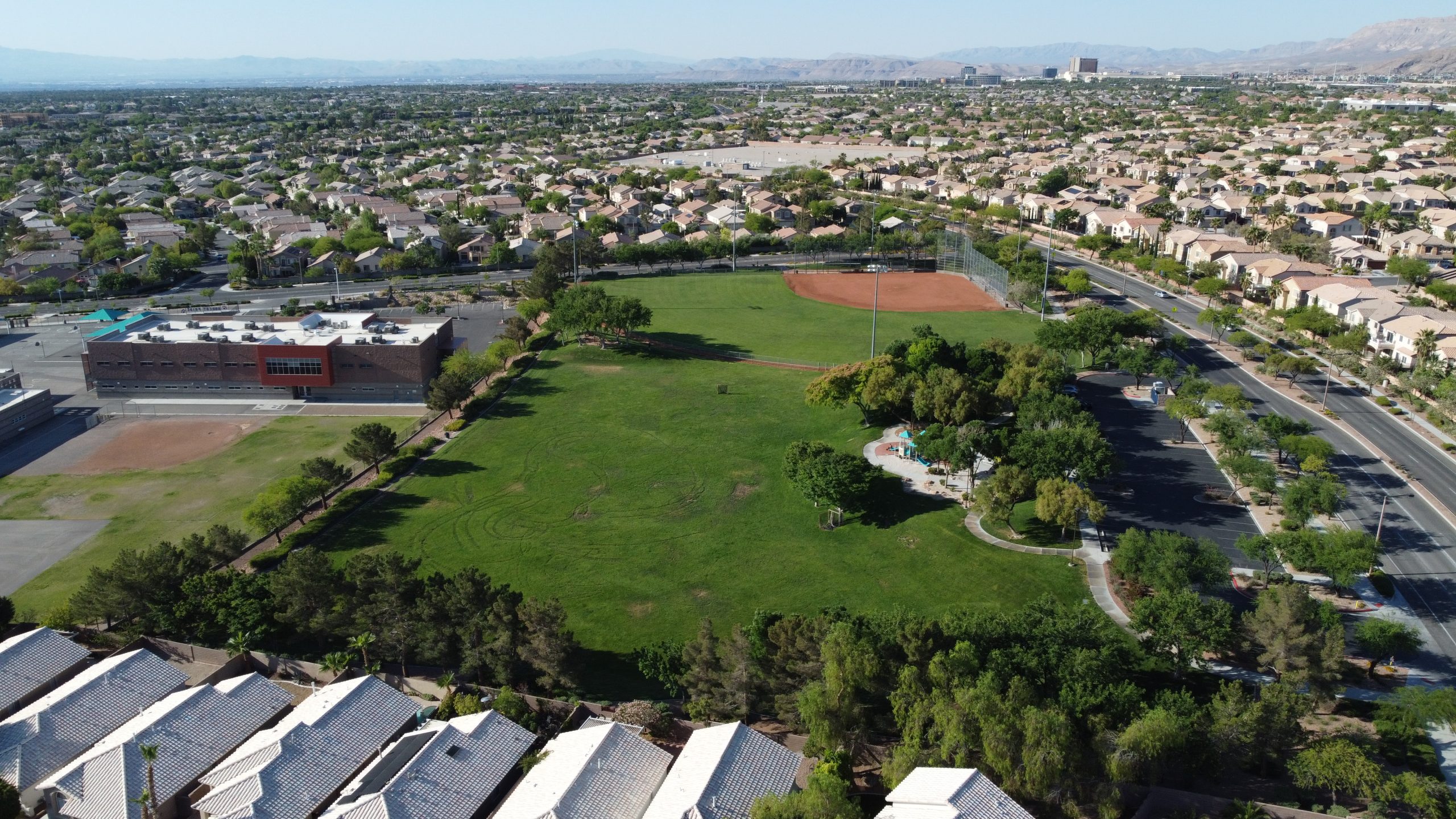 Oxford Park is located in The Crossing Village and is part of Summerlin North at 700 Anasazi Dr. This park features a children's playground, an open grass play area and a 90' stadium-style baseball field.
The Oxford Park also hosts games and practices for Summerlin North and South Little League's Juniors and Seniors Divisions, and operates as an overflow practice field for other divisions.  It has one regulation-size baseball field (60′ 6″ pitching rubber and 90′ base paths) and is fully lighted for night games and practices.
Oxford Park Rules and Regulations:
Park is open daily until 10:30 pm.
No alcoholic beverages or glass containers are allowed in the park.
No dogs are allowed in the park unless they are restrained by a leash. Pet owners are required to pick up after their pets.
No dogs are allowed in activity or sports areas. All other animals prohibited.
No vehicles are allowed in the park except in posted parking areas or roadways. All vehicles entering and operating in the park shall strictly obey traffic laws and posted signs.
Absolutely no parking in red zones and along curbed entry ways.
No camping or lodging is allowed in the park.
No fires are allowed other than in the park barbecue.
No fireworks, firearms or weapons of any type are allowed in the park.
No golfing is allowed in the park.
Sales of any kind are prohibited unless prior authorization is obtained from the Summerlin council.
Reservation of area in the park for approved special events is available through special use permits from the Summerlin council.
Any damaging or defacing of any real or personal property in the park is strictly prohibited. Any person found to have committed an act of vandalism shall be prosecuted. Anyone witnessing any act of vandalism is requested to call the Summerlin Council at 702-341-5500.
Homes for Sale in The Crossing Village
OXFORD PARK – all photos taken by Angela O'Hare
Summerlin North Community Association
2120 Snow Trail
Las Vegas, NV 89134
702-838-5500 phone
702-256-2585 fax
Hours of Operation
Monday–Friday 9:00 a.m. – 5:00 p.m.
Saturday and Sunday – Closed
Angela O'Hare
Favorite Las Vegas Realtor
Home Realty Center
Lic. #180246
702-370-5112
[email protected]
www.neighborhoodsinlasvegas.com