Top 10 Summerlin Villages
Summerlin is the largest master-planned community along the western rim of the Las Vegas Valley in the shadow of the Spring Mountain Range and Red Rock Canyon National Conservation Area.
This 22,500-acre, multi-generational community is alive with more than 250 parks, 150 miles of trails, nine golf courses, more than two dozen public and private schools, 14 houses of worship, three resort hotels, world-class recreational facilities, retail and entertainment centers, well-established office parks, a state-of-the-art medical center, and its very own city center.
If I had to choose where to live in Summerlin, that would be a very hard decision. Each village has their own world class amenities, but in this video, I will be sharing my top 10 Summerlin Villages.
Redpoint Village is one of the newest Villages in Summerlin, it started being developed in 2020. It is located along the northern border of Far Hills Drive, and is a key gateway into Summerlin West, boasting seven new single-family neighborhoods from a handful of Summerlin's prestigious homebuilders, including Woodside, Toll Brothers, Taylor Morrison, Lennar, Pardee and Pulte.
Situated on elevated topography overlooking the valley, the Summerlin West area boasts an elevation that is more than 4,550 feet above sea level at its highest point, creating an abundance of vantage points and vistas.
Redpoint Village YouTube Video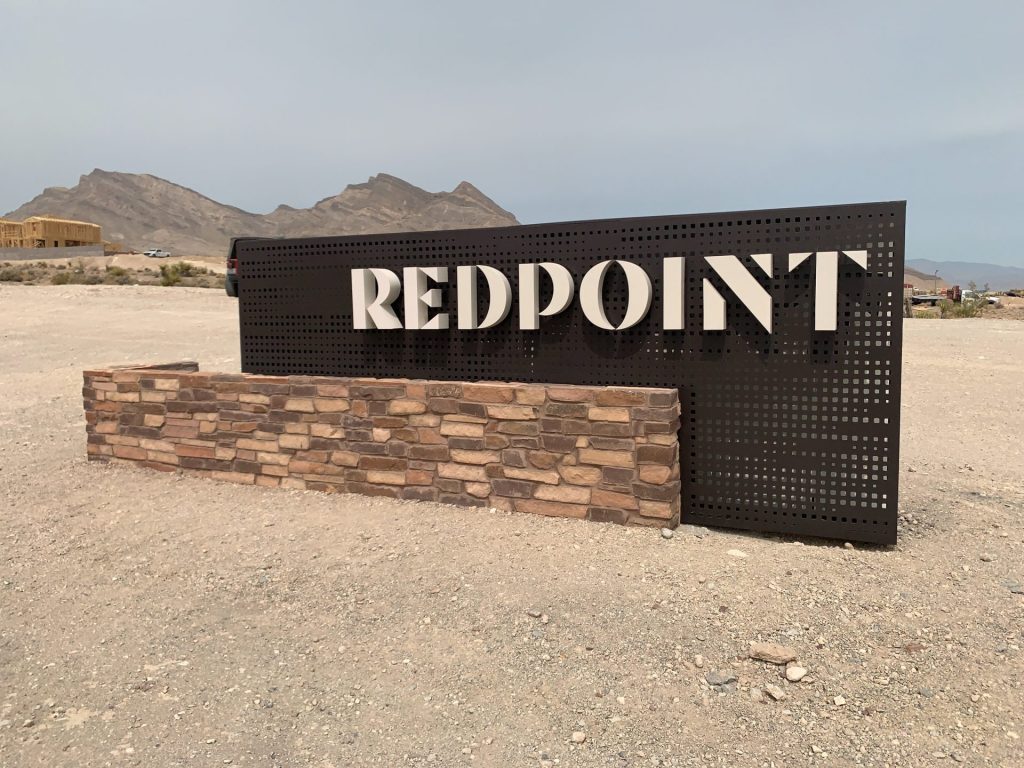 Stonebridge is a newer village in Summerlin and was established in 2017. It sits on elevated land west of Interstate-215 and north of West Charleston Boulevard at Sky Vista Drive.
This village is 502 acres and is located next to the Paseos Village and is home to some of the most spectacular views of Red Rock in the Las Vegas Valley as it shares the boundary with Red Rock Canyon National Conservation Area.
12 neighborhoods comprise Stonebridge Village. To date, the inner circle of the Stonebridge main road has more affordable priced homes and the outer circle has many of the luxury home neighborhoods.  Many of the luxury home neighborhoods are gated.
The Stonebridge Park is 10-acre park that includes lighted soccer fields, basketball court, exercise area, pickleball courts, tot log, shaded playground, open areas, trails, and picnic pavilions.
Stonebridge Village YouTube Video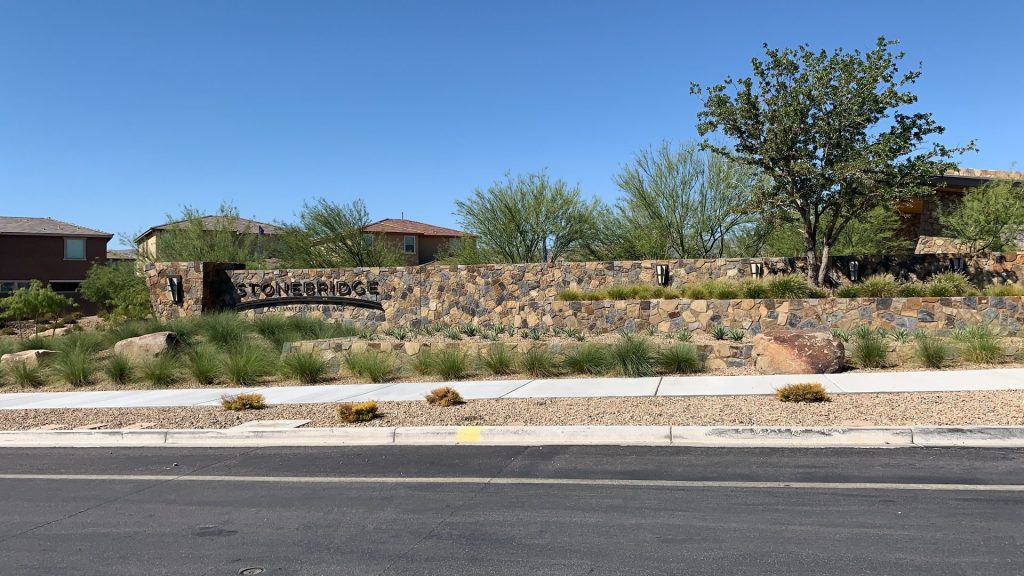 The Mesa Village is one of Summerlin's newer villages and consists of 500 acres, located just north of The Cliffs Village and below Siena, in a scenic location overlooking the Spring Mountains.
Several well-known builders have been involved in the quality home construction in the Mesas, including Woodside Homes, Richmond American Homes, Toll Brothers, Lennar and Pulte. Houses range from 1,600 to approximately 4,500 square feet in both single and two-story plans.
The Mesa Park is 19-acre park that features large open play areas, two lighted tennis courts, three little league baseball fields, a basketball court, tot lot and covered picnic ramadas.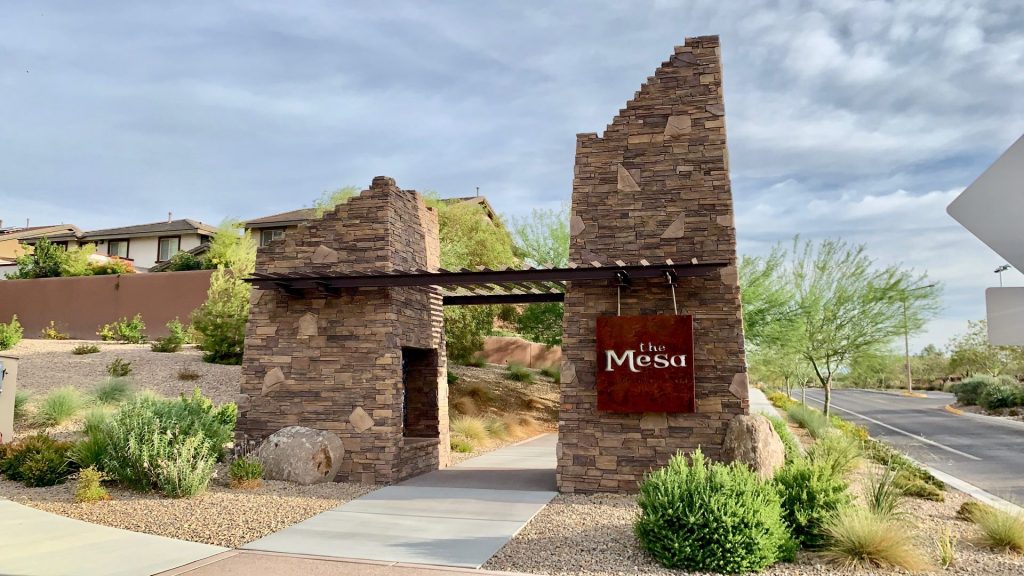 The Paseos Village was developed in 2003 and is situated along the western edge of Summerlin. This Village spans over 760 acres overlooking the Red Rock Canyon and Spring Mountain Range.
With dozens of neighborhoods to choose from, the Paseos offers a wide selection of homes and builders for every lifestyle. No matter where you choose, those incredible mountain views will always be in the background.
This Village borders Red Rock Canyon National Park, and features a huge paseo trail system that runs the entire length of the village.
There are 2 Parks in the Paseos Village:
The Paseos Park is a 12-acre community park which includes junior soccer/T-ball fields, basketball court, sand volleyball court, an interactive water play area, picnic pavilions and open turf areas. The Park is located at the center of The Paseos village and can be reached by a linear park that traverses the village from north to south.
Foxtail Park is a 18-acre "adventure play-themed" park that offers 20 play structures, including a 32-foot climbing tower, a zip line, a giant climbing structure called the Orange Beast, a disc golf course, custom swings, a climbing fort and a spinning machine.
The Paseos Village YouTube Video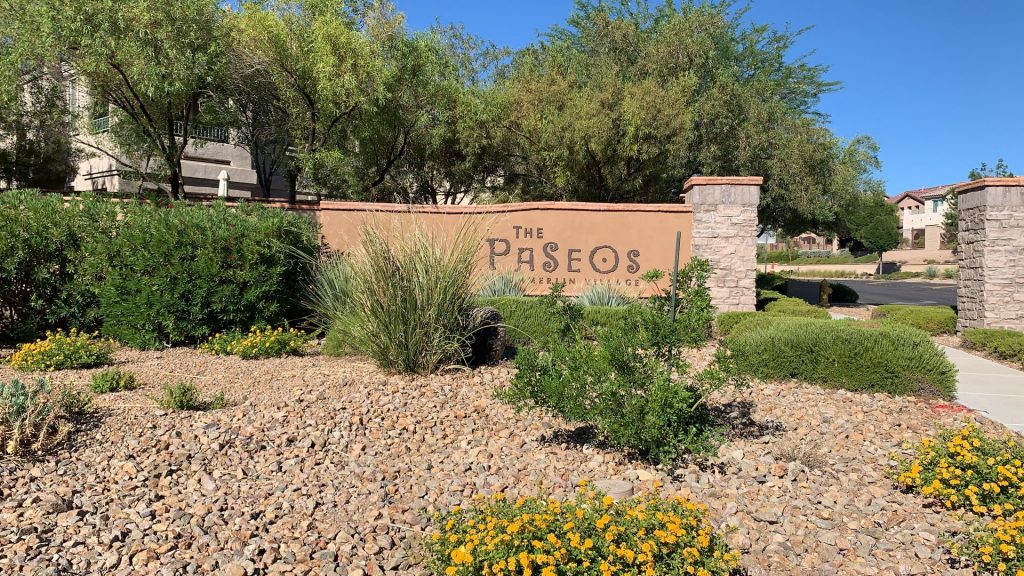 The Trails Village was developed in 1993 and is the 3rd Summerlin Village to be developed.
It is comprised of 573-acre mixed-use residential village, which includes several single and multi-family neighborhoods, The Trails Community Center, The Trails Park and The Trails Paseo Park, a neighborhood retail center – The Trails Village Center, two houses of worship, a U.S. Post Office, the Summerlin Library and so much more.
One of the highlights of The Trails is the 14+ acre park that features a lighted baseball field, two lighted softball fields, The Trails Community Center, a swimming pool with bathhouse, wading pool, children's play area, meadow area, basketball court and picnic tables.
The Trails is also a 3.5 mile lightly trafficked loop trail that features beautiful wild flowers and is good for all skill levels. The trail is primarily used for hiking, walking, trail running, and birding and is accessible year-round.
The Trails Village YouTube Video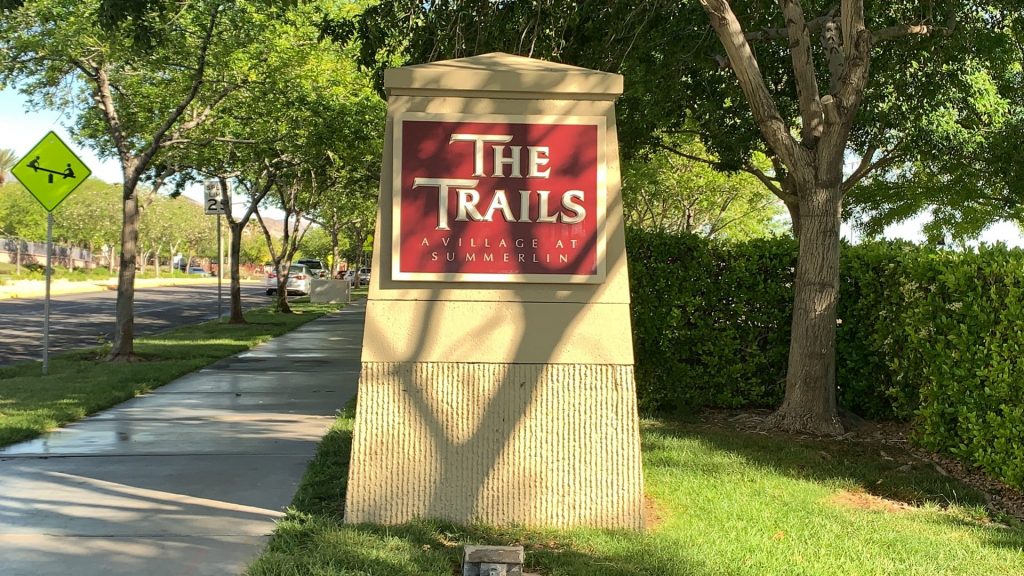 The Cliffs Village was developed in 2015 is one of the newest and southern most village located at the base of the Spring Mountains in Summerlin.
The Cliffs is a 450-acre residential single and multi-family village, which features 1,700 homes and 11 neighborhoods. This includes the age qualified community of Regency which offers 425 homes on 100 acres.
Oak Leaf Park spans more than 5-acres and boasts four pickle ball courts, two shaded playgrounds, climbing tower, central lawn and open play area, shaded picnic pavilions and even a demonstration garden.
The Cliffs Village YouTube Video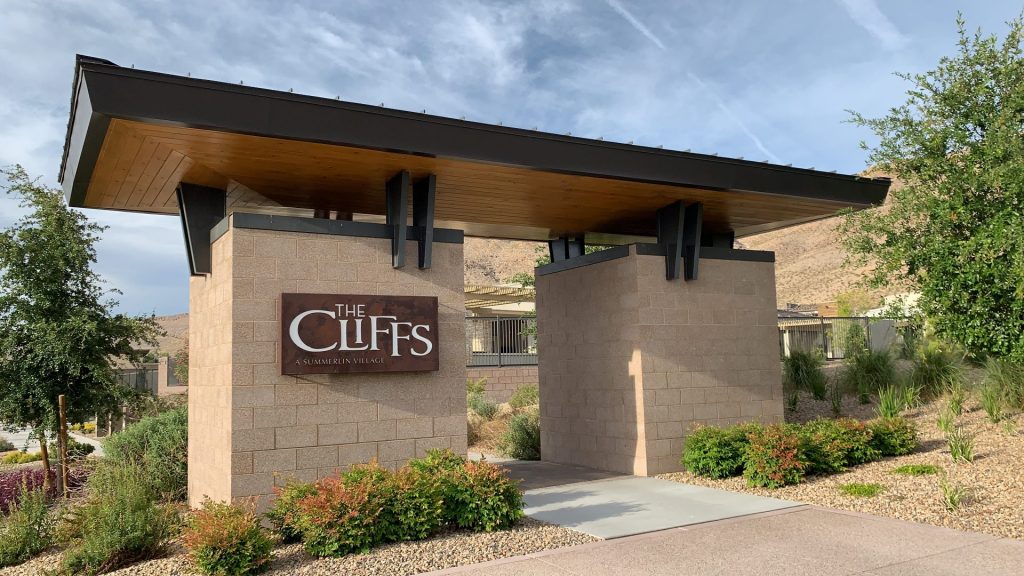 Crowning West Summerlin along the border of famed Red Rock Canyon, Reverence is a 300-acre 24-hour guard gated community Village developed exclusively by Pulte Homes in 2017.
There are six different collections with 23 unique floorplans to choose from, designed for families, upscale empty nesters, as well as those seeking the ultimate second home in Las Vegas, are located behind a guard gate. These homes offer a luxury lifestyle and range from approximately 2,156 to 4,815 square feet in single- and two-story floor plans, including estate homes.
The 9,500 square foot recreation center offers a state-of-the-art fitness complex, outdoor resort-style and lap pool, pickle ball and tennis courts.
The Reverence Park is an 8-acre park and has miles of walking trails, a large play area, amphitheater, walking track, volleyball, basketball and tennis courts.
Reverence Village YouTube Video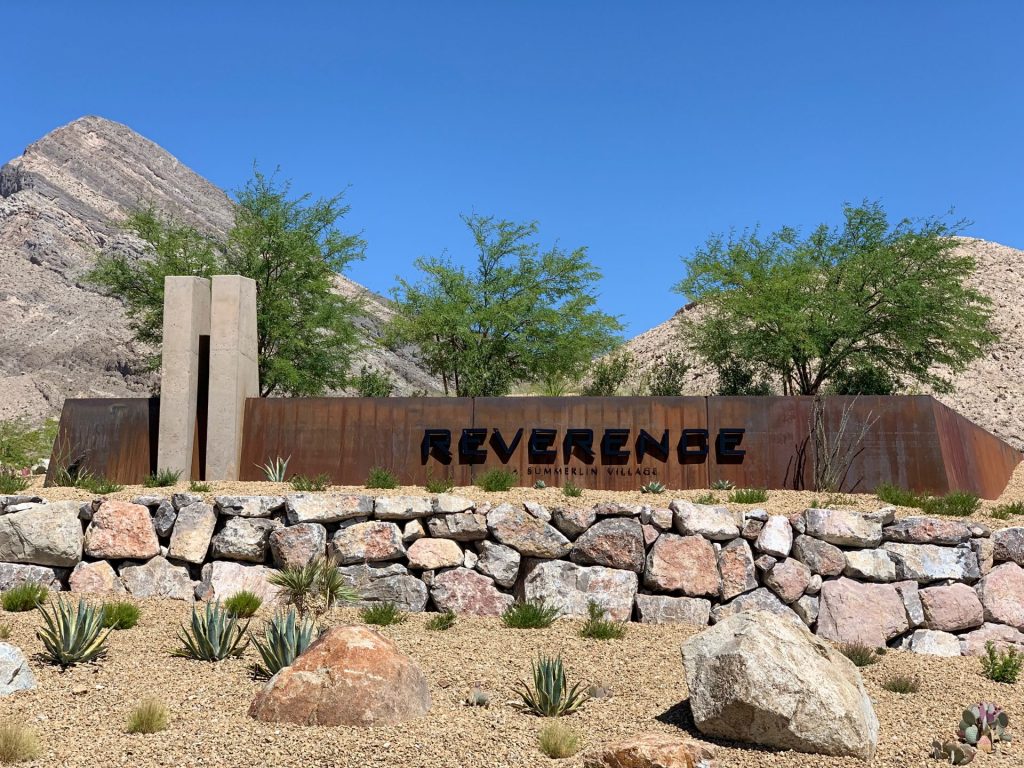 The Willows Village was developed in 1997 and is a 731-acre mixed-use residential village, which includes single and multi-family neighborhoods. The Willows Village is a desirable community located in the heart of Summerlin and is part of the Summerlin South Community Association.
There are 3 parks in the Willows Village:
The Willows Park is a 12.7-acre park and features lighted fields, a lighted basketball court and a children's play structure, as well as a linear park which meanders through the village and includes a children's play area and trail.  This Park is also home to a resident-only swimming pool that features a beach-style entrance, two water slides and a fountain, as well as The Willows Community Center that hosts a variety of classes and programs for residents.
Willows Paseo Park is a 4.6-acre park that has four over-sized story book sculptures from Aesop's Fables- "The Lion and The Mouse" and "The Tortoise and The Hare".
Spotted Leaf Park is 10.5-acre park that features two lighted tennis courts, two lighted soccer fields, a lighted basketball court and a children's play area.
This is one of Summerlin's larger villages so there is almost always a good selection of homes for sale.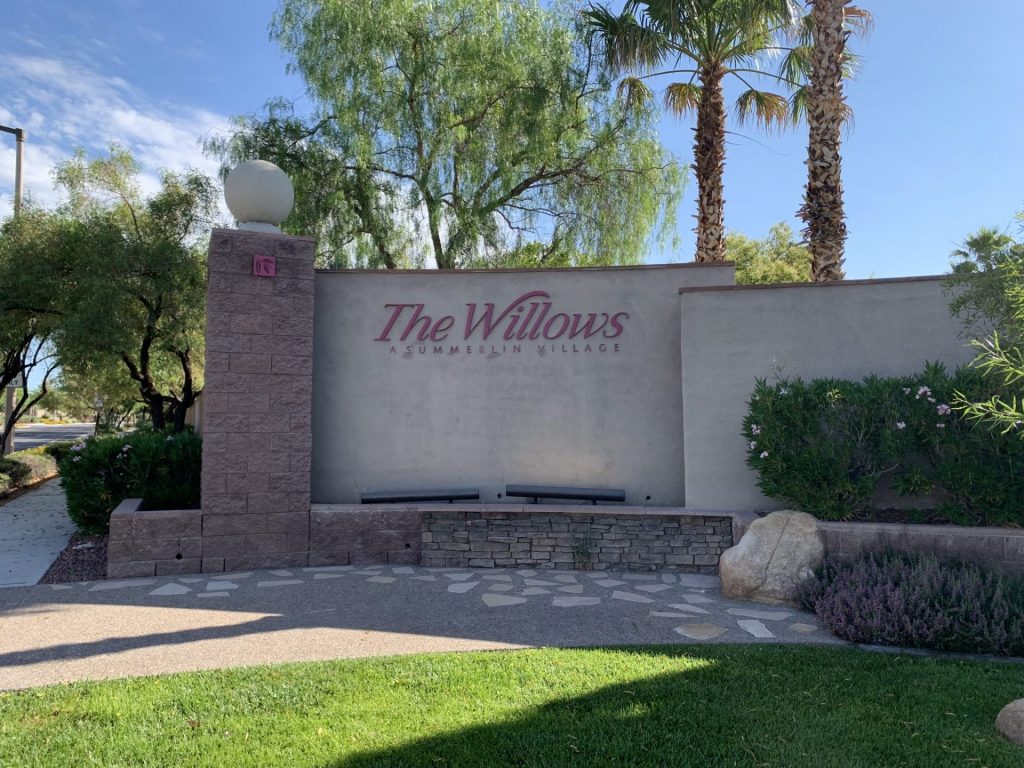 The Vistas Village was developed in 2000 and is an 815-acre mixed-use residential village featuring single and multi-family neighborhoods.
The Vistas Village is conveniently located in west Summerlin, close to some of the best shopping, entertainment and recreation facilities in the area.
There are 3 parks in The Vistas Village:
The Vistas Park is a 24-acre park with lighted football field, lighted softball fields with concession building, lighted tennis and basketball courts, a group picnic pavilion and children's play areas. A community center and swimming pool.
The North Tower Park  is 7-acre park on the northern edge of The Vistas and features two children's play areas, picnic and barbecue areas and open play areas.
The South Tower Park is also a 7-acre park and is home to two shaded play areas, a spray basin, a picnic and barbecue area, open play areas and restrooms.
Both of the tower parks are marked by a 50-foot clock tower.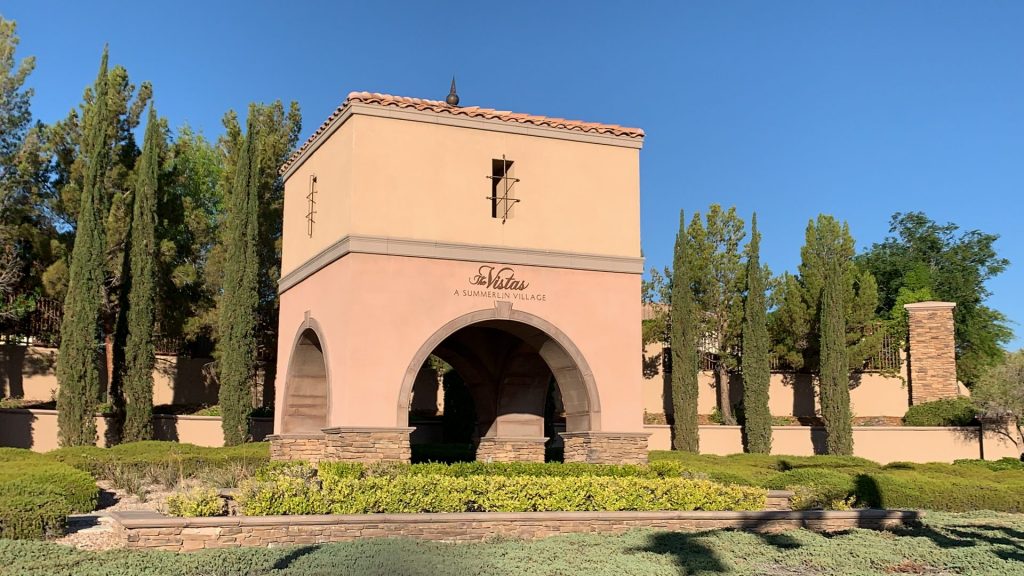 Summerlin Centre Village is 1,004-acre mixed-use village, which is home to single and multi-family neighborhoods with five major office and retail centers.
Homes in Summerlin Centre have an ideal location, directly above Red Rock Country Club, and below the Summerlin communities of the Vistas and the Paseos. To top it off, Downtown Summerlin is right next door. Golf, beautiful parks, sports facilities and great shopping are all within minutes of your home in Summerlin Centre.
There are 2 parks in Summerlin Centre:
Summerlin Centre Community Park is a 20-acre park that features two full-size lighted soccer fields, a practice soccer field, picnic area, trails and children's play areas.
Sagemont Park is a 9-acre park with a lighted soccer field, covered play areas, basketball courts, tennis courts, and a connection to the area's regional walking trail.  To accommodate gatherings and events, the park includes a shaded picnic area and play area, in addition to community restrooms.
Summerlin Centre YouTube Video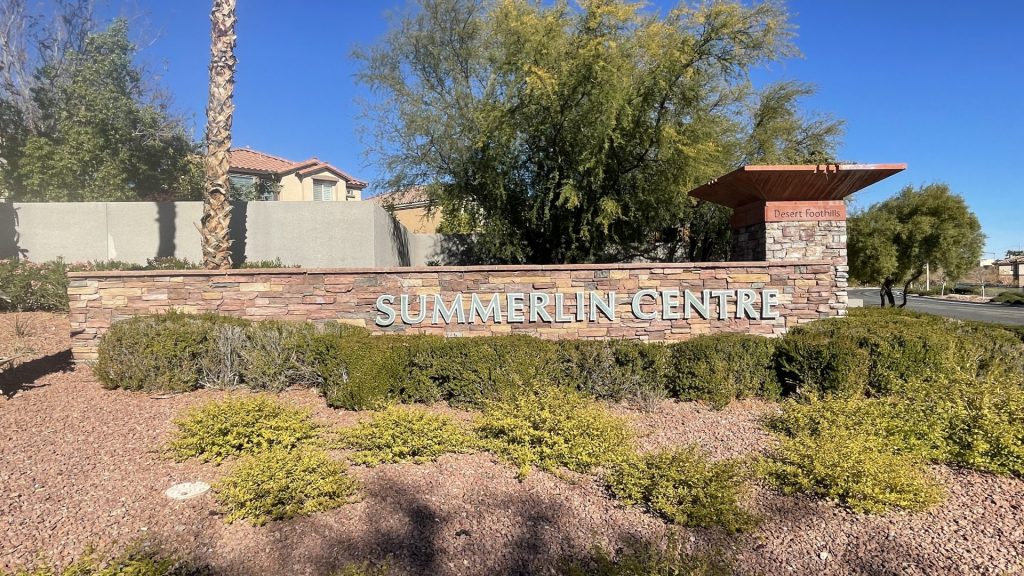 As you can see, this could be a hard decision deciding on which Summerlin Village to live in. But honestly, you can't go wrong with any of them!
If you are thinking about buying or selling in the Las Vegas Valley, CLICK HERE or you can call me at 702-370-5112.
Search all homes for sale in Summerlin, CLICK HEAR!
Subscribe to our YouTube Channel: http://bit.ly/YouTubeOHare 
Angela O'Hare, Realtor
Home Realty Center
License #180246
702-370-5112
[email protected]
www.neighborhoodsinlasvegas.com