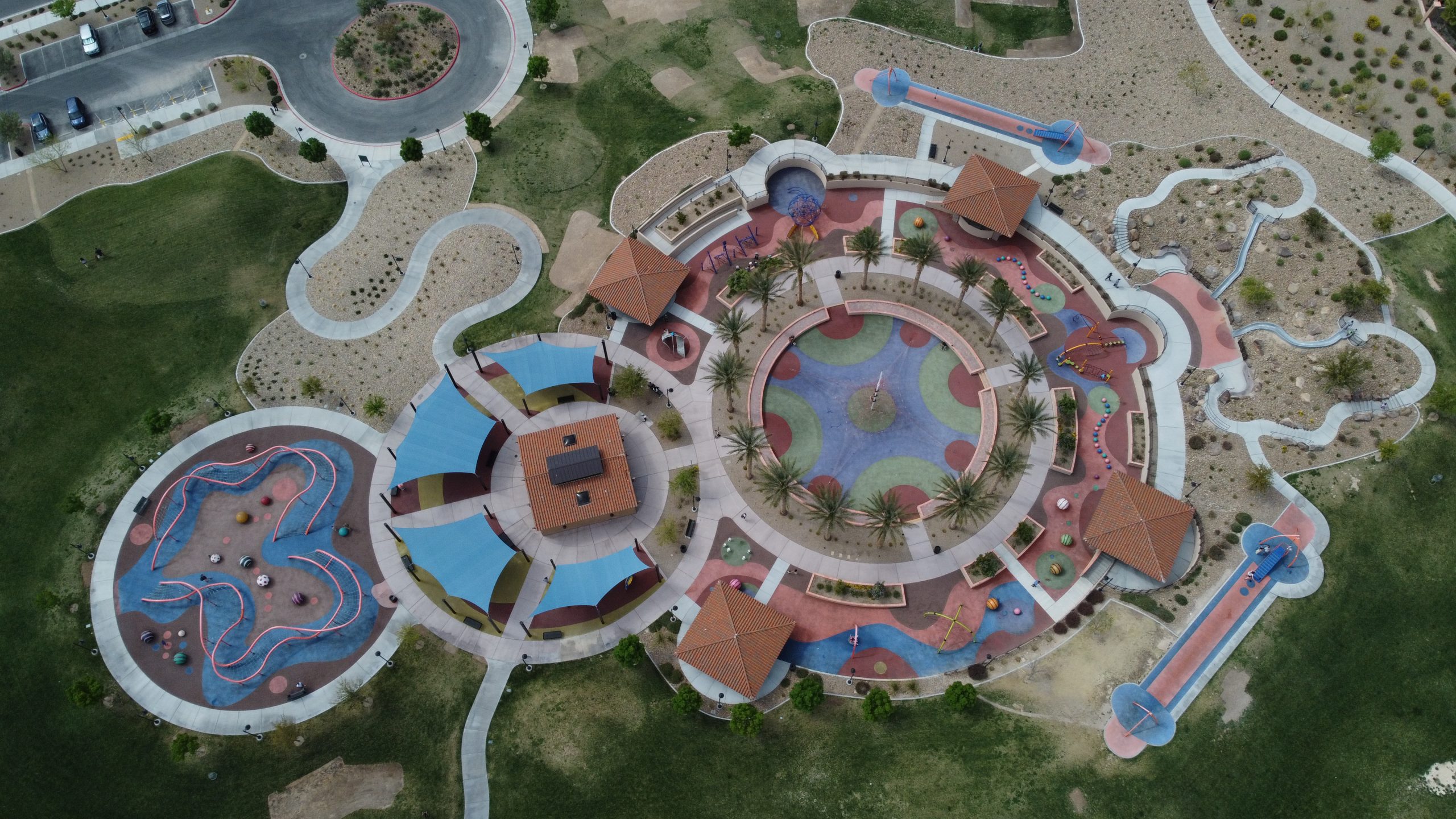 Fox Hill Park is an 18-acre park located in The Paseos Village and is part of Summerlin West at 231 Antelope Ridge Dr., adjacent to Vassiliadas Elementary School. This park opened in December of 2018.
The "adventure play-themed" park offers 20 play structures, including a 32-foot climbing tower, two zip lines, embankment slides, a giant climbing structure called the Orange Beast, custom swings, a climbing fort and a spinning machine.
There are also 4 covered picnic ramadas as well as an 18-hole disc golf course. Most holes in this course are 130-150′. Beginner friendly, moderate elevation, and scenic views.
Fox Hill Park Rules and Regulations:
Park is open daily until 10:30 pm
No alcoholic beverages or glass containers are allowed in the park
No dogs are allowed in the park unless they are restrained by a leash. Pet owners are required to pick up after their pets.
No dogs are allowed in activity or sports areas. All other animals prohibited.
No vehicles are allowed in the park except in posted parking areas or roadways. All vehicles entering and operating in the park shall strictly obey traffic laws and posted signs.
Absolutely no parking in red zones and along curbed entry ways.
No camping or lodging is allowed in the park.
No fires are allowed other than in the park barbecue.
No fireworks, firearms or weapons of any type are allowed in the park.
No golfing is allowed in the park
Sales of any kind are prohibited unless prior authorization is obtained from the Summerlin council.
Reservation of area in the park for approved special events is available through special use permits from the Summerlin council.
Any damaging or defacing of any real or personal property in the park is strictly prohibited. Any person found to have committed an act of vandalism shall be prosecuted. Anyone witnessing any act of vandalism is requested to call the Summerlin Council at 702-341-5500.
Homes for Sale in The Paseos Village
FOX HILL PARK – all photos taken by Angela O'Hare
Summerlin West Community Association
2115 Festival Plaza Drive, Suite #220
Las Vegas, NV 89135
702-791-4600 phone
702-791-4660 fax
Hours of Operation
Monday – Friday 9:00 a.m. – 5:00 p.m.
Saturday and Sunday – Closed
Angela O'Hare
Favorite Las Vegas Realtor
Home Realty Center
Lic. #180246
702-370-5112
[email protected]
www.neighborhoodsinlasvegas.com