Las Vegas Real Estate Market Update – February 2019
Las Vegas Real Estate Market Update – February 2019. Welcome to the February issue of my monthly minute market update for Southern Nevada. In this issue I will be going over January 2019 numbers.
Las Vegas house prices reached their highest level in months in January as sales plunged from a year ago and availability almost doubled.
Market Trends
The median sales price of single-family homes last month was $300,000, the first time it reached that level since September 2018. Which is up 1.6% from December 2018, and up 13.2% from year over year.
But, last month there were a total of 1,823 single-family houses sold in January, down 14.9% from December 2018 and down 19.4% from January 2018, according to a new report from the Greater Las Vegas Association of Realtors.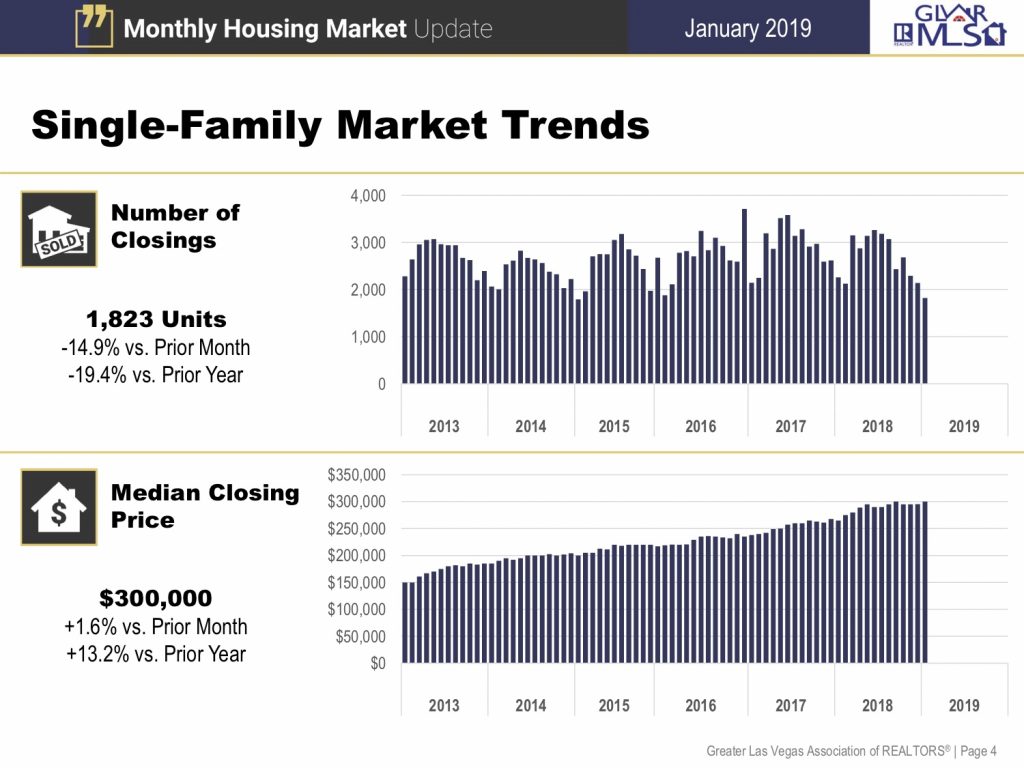 Market Trends
Southern Nevada had a total of 3,805 new listings for the month of January, down 62.9% from December, and up 22.7% from the prior year.
There were also a total number of 7,254 single-family houses listed without offers in January, up 9.7% from December, and up 95.1% from the prior year.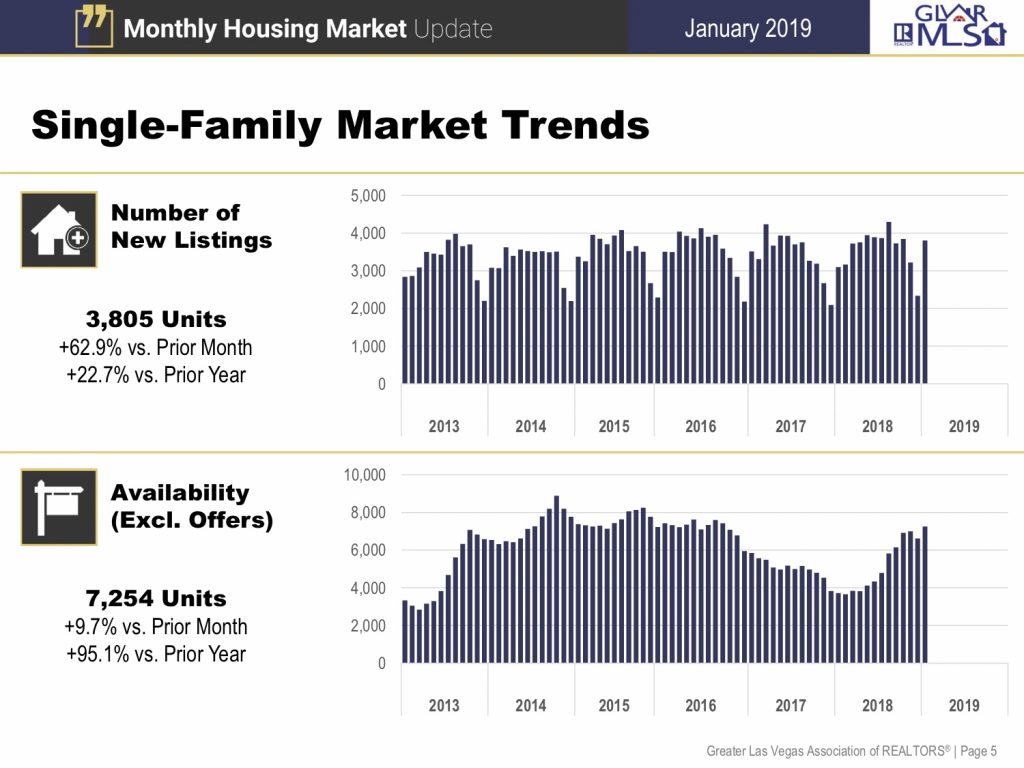 Market Trends
There is still a 4-month housing supply in Southern Nevada, up 28.8% from December and up 142% from prior year.
48.3% of the closings for the month of January was on the market 30 days or less.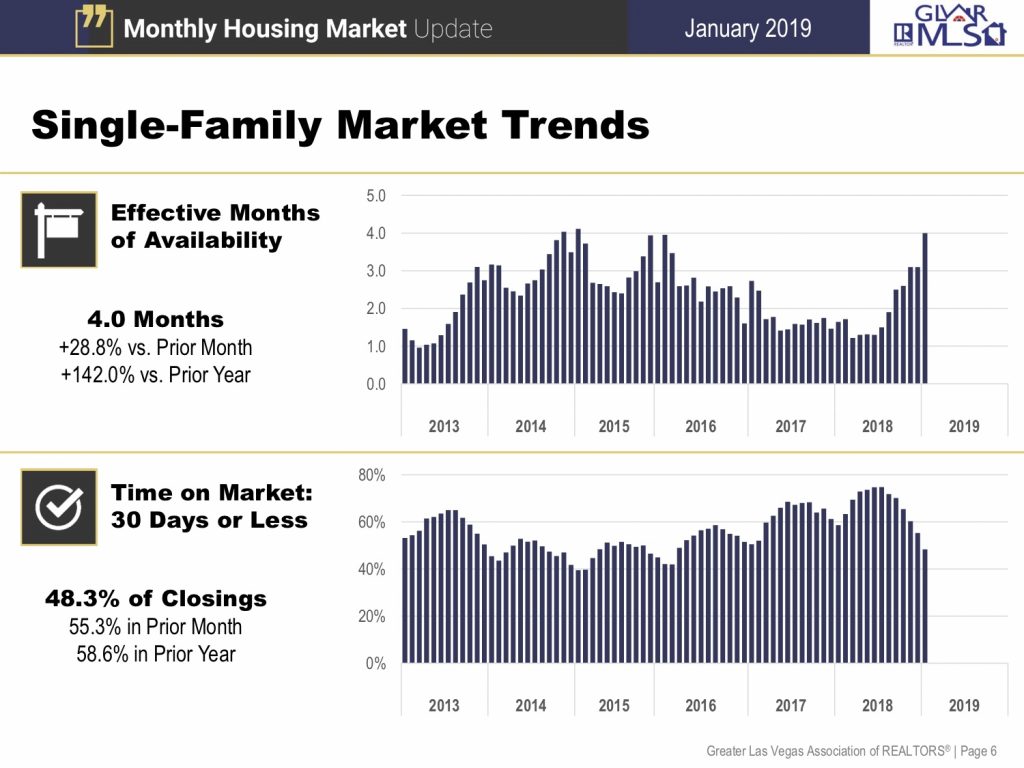 In my opinion the reason these homes are not selling is because the listing agents are not doing their jobs. Most of the photos are taken by their cell phones, which does not depict what the home really looks like.
And they are also not marketing the home effectively. Please watch my video "Why Isn't My House Selling" to get a better idea as to what I am talking about. https://youtu.be/hW7YmkME9yA 
The numbers show that Las Vegas' housing market started 2019 where it ended last year: amid rising price, falling sales, and a swelling inventory.
In previous years prices and sales usually tumble in January, which is traditionally the slowest months for the local housing market.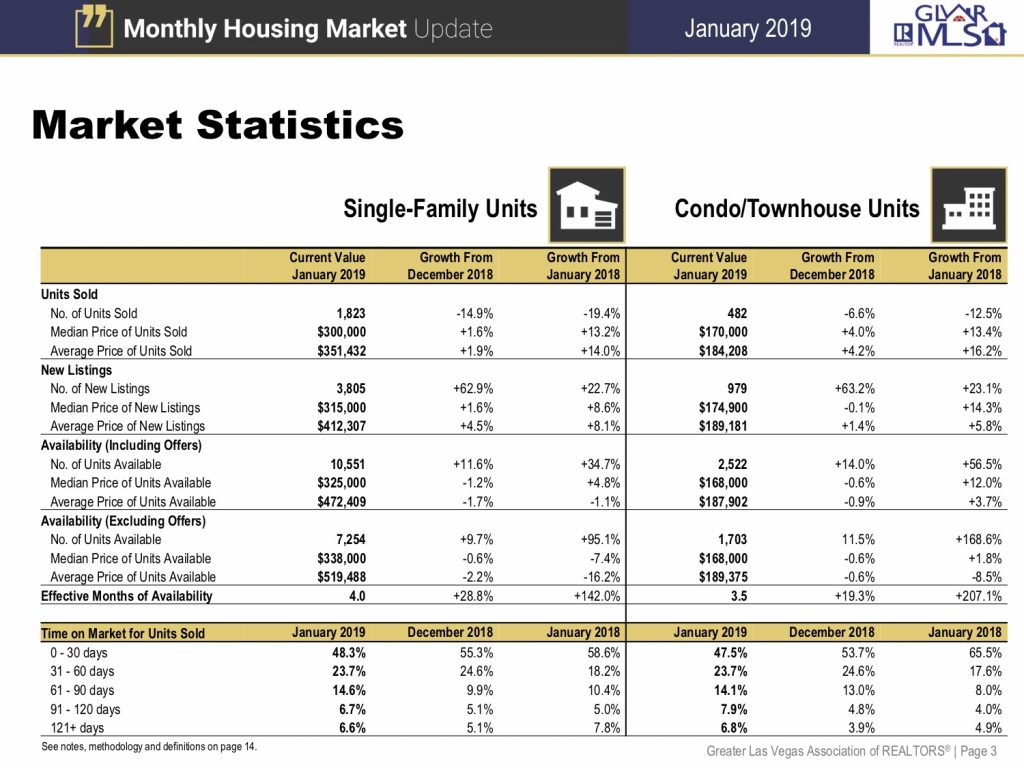 As previously stated in my other market updates, homes are staying on the market a lot longer, and as a buyer you may be able to negotiate a really GREAT deal. Like asking the seller to pay for your closing costs or even negotiate down on the asking price.
We have been showing a lot of houses lately, and I am noticing that it is starting to pick up. Homes are starting to sell again and as a buyer you shouldn't wait much longer. With interest rates still relatively low, why not take advantage of this? Also, now is a great time to buy, before the Spring/Summer home buying frenzy begins.
I hope you have enjoyed my monthly minute market update for February 2019.
Las Vegas Market Update – January 2019
Subscribe to our YouTube Channel: http://bit.ly/YouTubeOHare