Las Vegas Real Estate Market Update – June 2022
Welcome to the June 2022 issue of our monthly market update for Southern Nevada. In this issue we will be going over May 2022 numbers.
Market Trends
There were 2,907 single-family houses that sold in May, down 3.1% from April and down 8.8% from May 2021.
The Median home price in Southern Nevada sets another record high in May.
The median sales price of previously owned single-family homes, went from $475,000 in April to $482,000 in May, a $7,000 increase in median price; which is up 1.5% from April and up 25.2% from the prior year.
The median sales price of condos and townhomes also set another record high last month it went from $275,000 in April to $285,000 May; which is up 3.6% from April and up 39% from the prior year.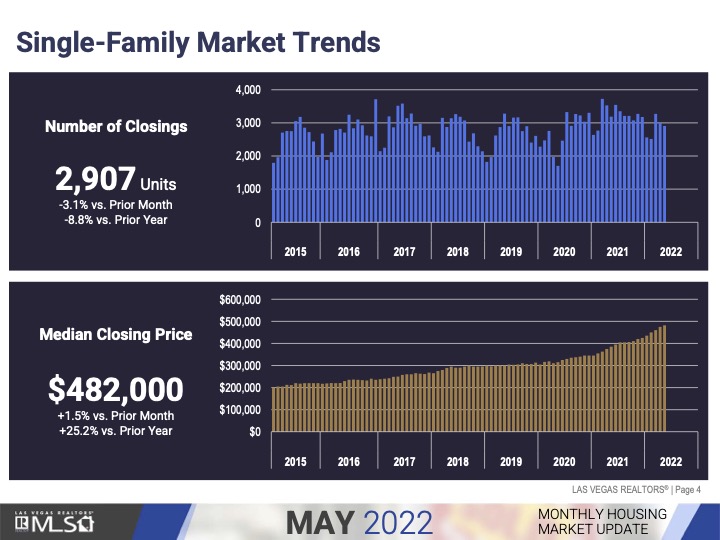 Luxury Market
There were 167 homes that sold in May for $1 million and over, compared to April's 197 homes, a 30 home decrease.
The median sales price in the Luxury Market for May decreased to $1,300,000 and in April that number was $1,400,000. A $100,000 decrease in the median sales price.
Market Trends
So, for May we had a total of 4,033 new listings, which was up 10% from April and up 8.1% from the prior year.
There were also a total number of 3,570 single-family houses listed without offers at the end of May, (In April that number was 2,441) which is up 46.3% from April and up 75.8% from the prior year.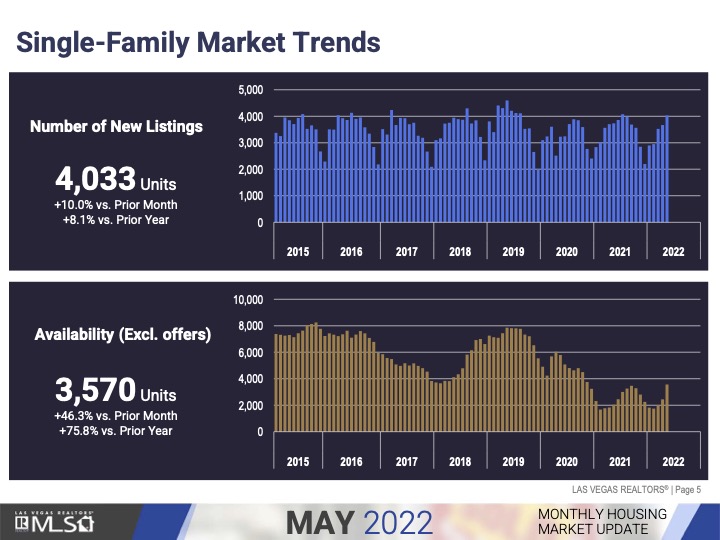 Market Trends
Which brings us to the housing supply in Southern Nevada, we increased to 1.2 months of inventory, which is up 51% from April and up 92.8% from the prior year. We were at .8 months of inventory in April.
88.6% of the closings for the month May was on the market 30 days or less, in April this number was at 87.2% and in May 2021, 86.9% of the homes were on the market 30 days or less.
The slowdown in sales and an increase in our housing inventory are signs that the Las Vegas real estate market is starting to cool down.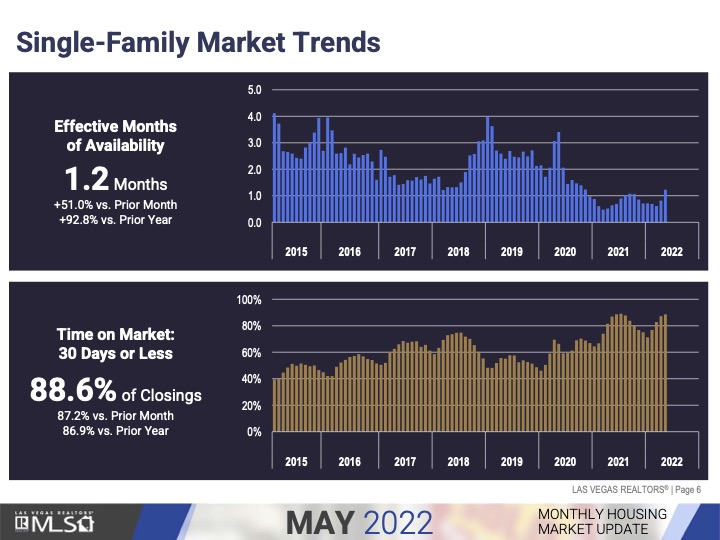 MY OBSERVATIONS
Homes are staying on the market longer.
Listing agents are getting desperate; emailing and/or texting me their listings. For example, if I have a client that liked one of their listings, they are emailing me or texting me (doing what's called reverse prospecting) letting me know that they either had a price reduction or have an open house.
Not as many multiple offers.
No more waiving appraisal contingency.
I have a feeling that sellers will be competing for buyers and it will start to tilt in a more buyer-friendly direction.
Difference between a condo and a townhouse – a condo does not have land, so it could look like a townhouse, but if there is no land then it's a condo.
Las Vegas Realtors Full Report: https://bit.ly/3asLj6y
Also, if you are thinking about buying or selling in the Las Vegas Valley, CLICK HERE or you can call me at 702-370-5112.
Subscribe to our YouTube Channel: http://bit.ly/YouTubeAOHare
Angela O'Hare
Favorite Las Vegas Realtor
Home Realty Center
Lic. #180246
702-370-5112
[email protected]
www.neighborhoodsinlasvegas.com