Las Vegas Housing Market Update – January 2022
Las Vegas Housing Market Update – January 2022. Welcome to the January 2022 issue of our monthly market update for Southern Nevada. In this issue we will be going over December 2021 numbers.
Southern Nevada ended a year of record-setting home sales with prices at another all-time high in 2021.
Market Trends
There were 3,178 single-family houses that sold in December, down 2.9% from November and down 3.8% from December 2020.
But overall, a record 50,010 residential properties, including houses, condos and townhomes, were sold last year, up 21.5% from 2020.
The median sales price of previously owned single-family homes, went from $420,000 in November to $425,000 in December; which is up 1.2% from November and up 23.2% from the prior year.
As a side note the median price in January 2021 was $345,000 and in January 2020 it was $312,000. $80,000 increase in median price in one year.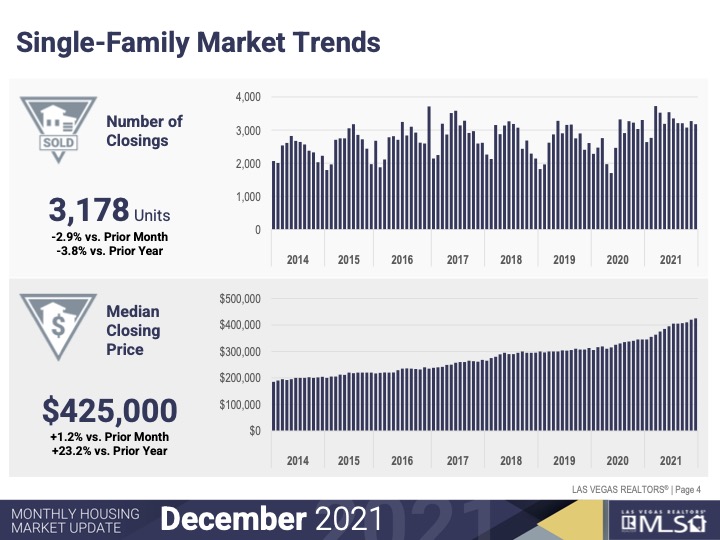 Luxury Market
Last month in the Luxury Market there were 134 homes that sold for $1 million and over, compared to November's 142 homes, a 8 home decrease.
The median sales price in the Luxury Market for December increased to $1,463,218 and in November that number was $1,305,000. A $158,218 increase in the median sales price.
Market Trends
So, for December we had a total of 2,196 new listings, which was down 23% from November and down 8.8% from the prior year.
There were also a total number of 2,251 single-family houses listed without offers at the end of December, in November this number was 2,805, which is down 19.8% from November and down 30.5% from the prior year.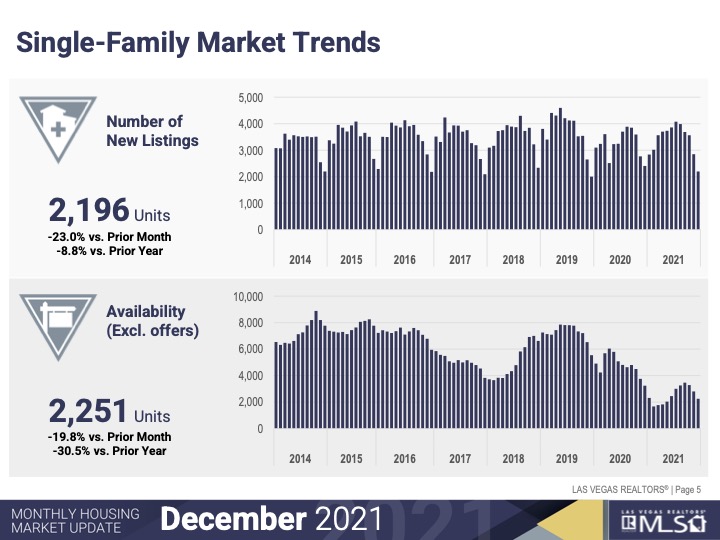 Market Trends
Which brings us to the housing supply in Southern Nevada, we are now back down to .7 months (the previous month we were at .9 months), down 17.4% from November and down 27.7% from prior year.
75.1% of the closings for the month December was on the market 30 days or less, in November this number was at 76.8% and in December 2020, 66.9% of the homes were on the market 30 days or less.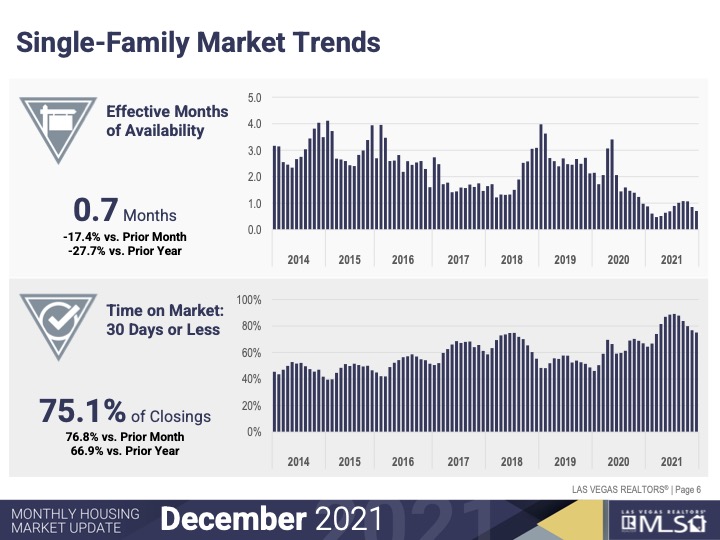 OTHER NEWS
In its biggest Las Vegas land sale in years, Summerlin developer Howard Hughes Corp. has unloaded more than 200 acres for a sprawling new housing project.
Hughes Corp. sold 216.4 acres off Town Center Drive and Tropicana Avenue in Summerlin for $135 million to developers who plan to build hundreds of houses. The sale closed last month, property records show.
NEW CONSTRUCTION
Builders sold 1,619 homes in Summerlin last year, up 11% from 2020, according to separate reports this week from consulting firms RCLCO and John Burns Real Estate Consulting.
Both ranked Summerlin's sales tally third highest among U.S. master-planned communities.
According to their reports, builders also logged 864 sales in Henderson's Cadence community last year, up 1% from 2020; 741 sales in Henderson's Inspirada community, up 25%; and 655 sales in Skye Canyon in the upper northwest valley, up 39%.
Meanwhile 1,025 new-home sales in North Las Vegas' Valley Vista community last year, up 3% from 2020.
In Southern Nevada, demand for houses hasn't shown signs of vanishing anytime soon, and builders are still pulling an increased tally of permits, indicating a growing pipeline of construction plans despite the industry's headwinds.
A total of 1,293 new-home permits were issued in the region in November, up 28% from November 2020, bringing the year's permit tally to 13,774, up 32% from the same 11-month period in 2020, Las Vegas-based Home Builders Research recently reported.
Builders also landed record-high sales prices multiple times last year. Buyers paid a median price of $444,677 for newly built homes in Southern Nevada in November, up 11.5% from a year earlier, according to Home Builders Research.
This marked the sixth time in 2021 that the monthly median closing price set an all-time high, the firm said.
If you would like to download the full report provided by Las Vegas Realtors CLICK HERE!
Well, I hope you have enjoyed our monthly market update for January 2022.
Also, if you are thinking about buying or selling in the Las Vegas Valley, CLICK HERE or you can call me at 702-370-5112.
Subscribe to our YouTube Channel: http://bit.ly/YouTubeAOHare
Angela O'Hare
Favorite Las Vegas Realtor
Home Realty Center
Lic. #180246
702-370-5112
[email protected]
www.neighborhoodsinlasvegas.com