Las Vegas Housing Market Update – March 2022
Las Vegas Market Update for March 2022. Welcome to the March 2022 issue of our monthly market update for Southern Nevada. In this issue we will be going over February 2022 numbers.
Market Trends
There were 2,514 single-family houses that sold in February, down 1.8% from January and down 9.1% from February 2021.
The median sales price of previously owned single-family homes, went from $435,000 in January to $450,000 in February; which is up 3.4% from January and up 26.8% from the prior year, which is actually up $95,000 from February 2021.
The median sales price of condos and townhomes also set a record high last month at $260,000, up 7% from January and up 31.6% from the prior year.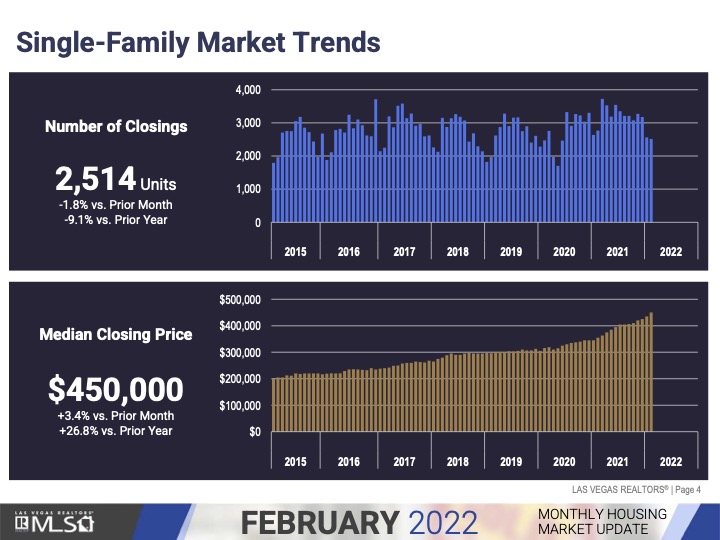 Luxury Market
Last month in the Luxury Market there were 114 homes that sold for $1 million and over, compared to December's 111 homes, a 3 home increase.
The median sales price in the Luxury Market for February decreased to $1,312,500 and in January that number was $1,475,000. A $162,500 decrease in the median sales price.
Market Trends
So, for February we had a total of 2,950 new listings, which was up 1.7% from January, but down 2.2% from the prior year.
There were also a total number of 1,741 single-family houses listed without offers at the end of February, which is down 4.4% from January, but up 3.8% from the prior year.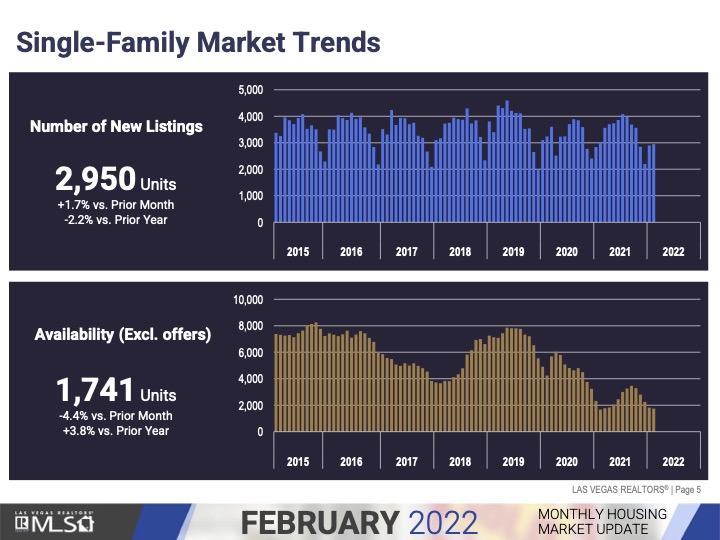 Market Trends
Which brings us to the housing supply in Southern Nevada, we remained at .7 months, which is up 14.3% from prior year.
76.7% of the closings for the month February was on the market 30 days or less, in January this number was at 71.3% and in February 2021, 66.7% of the homes were on the market 30 days or less.
Interest Rates
The average 30-year fixed rate in the U.S. was 4.12% as of Feb. 22, according to a survey of rates from Mortgage News Daily, Freddie Mac, the Mortgage Bankers Association and the Federal Housing Finance Agency. That's up from 3.78% at the beginning of February and up 3.27% at the end of 2021.
As interest rates move higher, it reduces the amount buyers can afford even further. Housing was unaffordable for many consumers even before rates began to climb. With rates and prices continuing to rise, some buyers could find themselves priced out of the market altogether this year.
Inflation
Headline in today's RJ – U.S. Inflation soars to 40-year high to 7.9%, they say this is the sharpest spike since 1982.
New Construction Sales
Builders sold single-family houses in Southern Nevada for a median price of $482,320 in January, up 23.6%  from January 2021, and condos and townhomes for a median of $348,990, up 25.5%, according to a new report from Las Vegas-based Home Builders Research.
Overall, builders closed 722 new-home sales in January, up 2% from the same month last year.
Southern Nevada builders also logged 1,090 net sales — newly signed purchase contracts minus cancellations in January. That was the highest monthly tally since July but below the sales totals in January 2021 (1,249) and January 2020 (1,116), Home Builders Research reported.
Full Market Report: CLICK HERE
Also, if you are thinking about buying or selling in the Las Vegas Valley, CLICK HERE or you can call me at 702-370-5112.
Subscribe to our YouTube Channel: http://bit.ly/YouTubeAOHare
Angela O'Hare
Favorite Las Vegas Realtor
Home Realty Center
Lic. #180246
702-370-5112
[email protected]
www.neighborhoodsinlasvegas.com