Las Vegas Housing Market Update – May 2023
Welcome to the May 2023 issue of our monthly market update for Southern Nevada. In this issue we will be going over April 2023 numbers.
Rob has lived in Vegas all his life and I have lived in Vegas for over 30 years. Rob has been in Real Estate for 14 years and I have been in Real Estate for 7 years. We are experienced realtors, that live and breathe the market. We have been doing this together for almost 3 years now. Analyzing the numbers each month and giving you a true story of the Las Vegas Housing market.
This is going to be a very controversial market update today. We may not like where the prices are going, but we are here to report the true numbers of what is really happening with the Las Vegas Housing Market and these reports have been provided by the Las Vegas Realtors Association. We cannot predict the future of where the market is heading in the next 6 months to a year, we can only go over the actual numbers, hence the name Market Update. Not future Market Predictions.
The reason I say that this is going to be a very controversial market update is because you have a lot of doomers out there are stating the exact opposite of what we are saying and seeing. We are not conforming to what everyone is speculating, we are saying that the numbers are painting a whole different picture. These doomers are saying that the sky is falling, there's going to be an abundance of inventory on the market and the market is going to crash. We are saying, "no the sky is not falling" and from what we are seeing the market is not CRASHING!
In 2019 a lot of doomers were saying that in 2020 the Las Vegas Housing Market was going to crash! That we couldn't sustain this continued increase in median price. Well, 2020 hit and we were off to a great start, going against what everyone was speculating. Then COVID happened. The market hit a STOP, but in June of 2020 the market skyrocketed. And the market has never been the same since.
Zillow & Redfin Price Drops – Homes on Zillow or Redfin will show you that a ton of homes have been reduced. Of course, you are going to see that, but that doesn't mean that the market is CRASHING. It means that the sellers have overpriced their homes to begin with and their home is now priced accordingly.
Also, Zillow's estimate of your home is just based on an algorithm and not a true value of your home. They don't take into consideration a lot of factors like upgrades, if you have a pool, the location of your home, lot size, if it has a view, etc. It only basis it off of current homes on the market and homes that have sold, and throws out a number which is never correct. If you want the true value of your home, I suggest you contact an experienced realtor who can do a market analysis of your home and neighborhood.
I feel we have become the new California, and that Vegas prices will never be the same. Doesn't mean I agree with this statement and I feel bad for the average person that lives in Las Vegas, because it has now become unaffordable for them to buy.
The war on Ukraine has been going on over a year now, gas prices increased during that time, ever since COVID groceries have increased, home prices have increased, interest rates increased, the stock market had hit it's all time low since 2008. A lot has happened over the course of the year and the market has not crashed like everyone has expected it to. There is not a ton of homes on the market, prices haven't dropped tremendously.
Market Trends
There were 1,962 single-family houses that sold in April, down 16.9% from March and down 34.6% from April 2022.
The median sales price of previously owned single-family homes, went from $425,000 in March to $430,000 in April, which is 1.2% from the prior month, but down 9.5% from the prior year.
In April 2022, the median price of previously owned single-family homes was at $475,000.
In April 2021, the median price of previously owned single-family homes was at $375,000.
In April 2020, the median price of previously owned single-family homes was at $310,000.
As you can see from April 2022 to April 2021, we gained $100,000 in median price.
From April 2022 to April 2023 we lost $45,000 in median price.
We hit the peak of the Market in May 2022 (which is the highest selling month) at $482,000. That is now a $52,000 loss since last year.
I predict, once we get May 2023 numbers that the difference between May 2022 to May 2023 will be under $50,000. That's not a major price drop, considering we gaining $100,000 from April 2021 to April 2022.
There is room to go and I highly doubt that we will ever hit 2020 or 2021 numbers.
Also, we have been relatively stable since December 2022 and I feel we have hit the bottom and from here on we are going to be in a traditional market that we have been seeing over the last decade with the median price slightly going up month over month, unless we get more inventory.
The median sales price of condos and townhomes increased from $260,000 in March to $270,000 in April, which is up 3.8% from the prior year, but down 1.8% from the prior year.
In April 2022, the median price of condos and townhomes was at $275,000.
In April 2021, the median price of condos and townhomes was at $202,450.
In April 2020, the median price of condos and townhomes was at $180,250.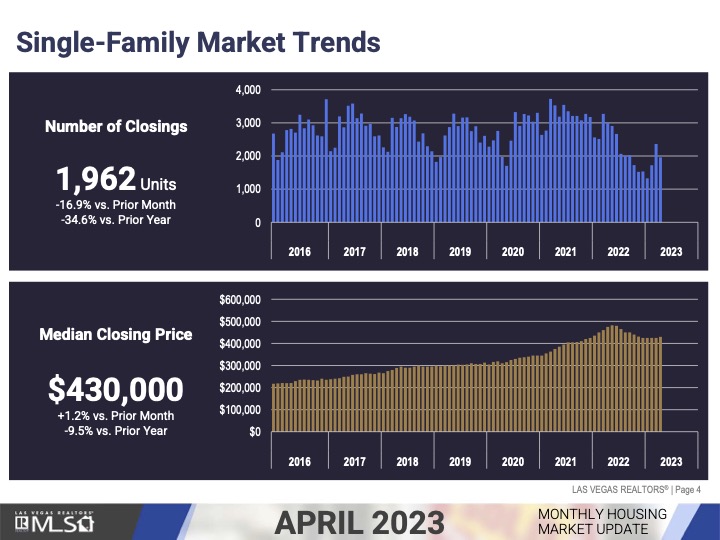 Luxury Market
There were 109 homes that sold in April for $1 million and over, compared to March's 112 homes, 3 home decrease.
The median sales price in the Luxury Market for April decreased to $1,375,000 and in March that number was $1,378,000. A $3,000 decrease in the median sales price.
Market Trends
So, for April we had a total of 2,451 new listings, which is down 4.4% from March and down 33.2% from the prior year.
In April 2022, there were 3,667 new listings on the market. Which is 1,216 more listings on the market in 2022 than in 2023.
There were also a total number of 3,737 single-family houses listed without offers at the end of April, (In March that number was 4,196) which is down 10.9% from the previous month, but up 53.1% from the prior year.
This is telling me a couple of things:
The sellers are not out to play.
The have low interest rates on their home and don't need to sell. They either bought their home recently at a low interest rate or the refinanced when the rates were low.
The sellers that I am seeing have to sell b/c they either had family issues and/or moving out of state.
With low inventory, and the demand is picking back up – the median price increased
Multiple offers are back
With limited inventory on the resale side, buyers are looking at new construction homes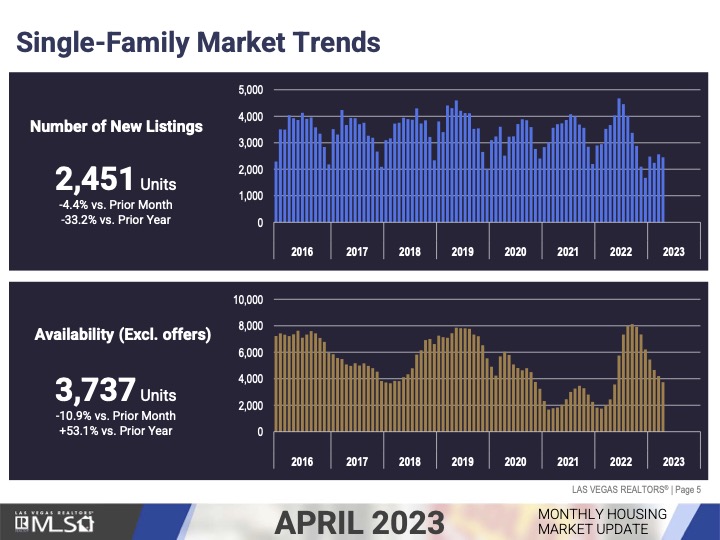 Market Trends
Which brings us to the housing supply in Southern Nevada, last month we were at 1.8 months of inventory on the market, this month we are at 1.9 months of inventory on the market, which is up 7.2% from March and up 134.2% from the prior year.
53.6% of the closings for the month April was on the market 30 days or less, in March this number was at 49.6% and in April 2022 87.2% of the homes were on the market 30 days or less.
This is telling me that homes are now starting to sell faster in 30 days or less, but not like we were last year.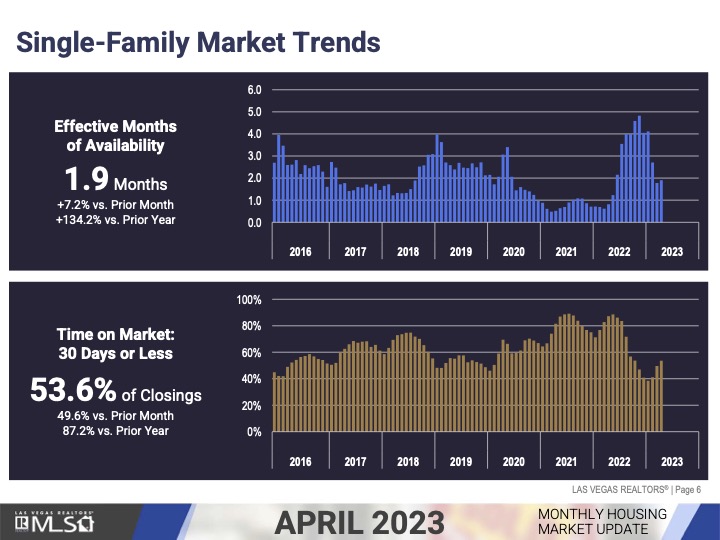 INTEREST RATES
The average rate on a 30-year fixed-rate home loan rose to 6.43%from 6.39% last week, mortgage buyer Freddie Mac reported Thursday. A year ago, it averaged 5.10%.
"The 30-year fixed-rate mortgage increased modestly for the second straight week, but with the rate of inflation decelerating, rates should gently decline over the course of 2023," Sam Khater, Freddie Mac's chief economist, said in a news release.
Incoming data suggest the housing market has stabilized from a sales and house price perspective. The prospect of lower mortgage rates for the remainder of the year should be welcome news to borrowers who are looking to purchase a home.
NEW BUILDER INCENTIVES
History as to why builders had move-in ready homes:
Back at the end of 2021 and the beginning of 2022, the market was so busy and the demand was so high that the builders decided to build a lot of move-in ready homes to keep up with the demand. Plus, b/c of supply chain issues and pulling permits, they wanted to stay on top of the game and be able to sell homes fast.
Toll Brothers homes take over a year to build, that is why you are still seeing a lot of inventory from them.
Plus, some contracts fell out b/c the buyers couldn't afford the homes any more once the interest rates increased, leaving inventory on the table.
Some builders now are still building quick move-in homes to stay on top of the market because of the limited inventory on the resale side.
I have been saying for months, that if you wanted to buy a new construction home, it was time to do so because that's where the deals were at. Some builders were offering 3 to 1 buydowns or 2 to 1 buydowns with the first-year interest rate at 2.99%, plus they were giving buyers closing cost incentives. And also slashing their prices.
All that will soon be going away because guess what is happening now? Waitlists are back, we are going to start heading in a more traditional selling for new construction, building from ground up. Where you really cannot get a good deal any more. They may give you 2 or 3% towards closing costs, but they will not slash the prices anymore.
And guess what else is happening? New home prices are going up? With each new lot release the builders are increasing their prices.
Taylor Morrison
Enjoy lower payments for the first three years with limited-time finance savings on select move-in ready homes, when you use Taylor Morrison's in house lender. For year 1 get 2.49% interest rate, for year 2 get 3.49% interest rate, for year 3 get 4.49% interest rate and from year 4-30 get 5.49% interest rate.
This is on new home contracts entered as of 4/24/23 to 5/31/23 on all eligible inventory and to-be-built homes.
Toll Brothers
Choose a beautiful new Toll Brothers quick move-in home now and qualify for a special 4.99% 30-year fixed interest rate offer through Toll Brothers Mortgage Company. This offer is only available for a limited time on select quick move-in homes and close by that June 26, 2023.
Pulte
Pulte is offering limited time special interest rate offer on a 30-year fixed rate at 4.99% for their quick move-in homes when you use their in-house lender. Offer available only on certain inventory homes that contract after 04/13/23 and close by 06/30/23. Must put 20% down and have a FICO score of 780 or higher and a debt-to-income ratio of 40% or less for primary residence.
Richmond American Homes
For homes that close by 7/31/23, enjoy a:
4.875% (5.916% APR) 30-year FHA fixed rate
4.875% (5.176% APR) 30-year VA fixed rate
5.625% (6.102% APR) 30-year Conventional fixed rate
These rates are when you apply for closing cost assistance toward permanent interest rate buy down.
Loan promotions are valid for buyers who contract with Richmond American Homes on or after May 1, 2023, and close on or before July 31, 2023, when financing is provided by HomeAmerican Mortgage Corporation.
Tri Pointe Homes
Tri Pointe Homes is having their "Move In, Move Up – Home Event" During the Move In Move Up Home Event, receive up to $40,000 of Flex Credit* to use the way you choose at either Arroyo's Edge or Kings Canyon.
KB Homes
KB Homes is providing a special low interest rate to help make your dream of owning a reality. This limited-time opportunity can make all the difference for your purchase. Finance your new KB home through KBHS Home Loans and lock in a rate of 4.99% (5.333% APR) for up to 270 days.
Century Communities
Century Communities is having their NEW HOME FLASH SALE. Enjoy $15,000 toward closing costs when financing with their affiliate lender, Inspire Home Loans. Only on homes signed on or between 5/1/23 to 5/30/23.
ROB & ANG BETS
MEDIAN SALES PRICE
Rob said $950 increase
Ang said $1,000 increase
Actual # $5,000 increase
Ang won this one!
WITHOUT OFFERS
Rob said 4,100
Ang said 3,800
Actual # 3,737
Ang won this one!
MONTHS OF SUPPLY
Rob said 1.7 months
Ang said 1.6 months
Actual # 1.9 months
Rob won this one!
Las Vegas Realtors Report: https://bit.ly/3nrnweg
Also, if you are thinking about buying or selling in the Las Vegas Valley, CLICK HERE or you can call me at 702-370-5112.

Subscribe to our YouTube Channel: http://bit.ly/YouTubeAOHare

Angela O'Hare
Favorite Las Vegas Realtor
Home Realty Center
Lic. #180246
702-370-5112
[email protected]
www.neighborhoodsinlasvegas.com