Top 5 Breakfast Places in Summerlin
Who doesn't love breakfast foods? I love going out to eat breakfast in Summerlin, there are so many different options to choose from that it's hard to narrow down where to eat sometimes. That's why we thought it would be fun to share with you our top 5 breakfast places in Summerlin.
EggWorks motto is "A Family Tradition of Fine American Food. "Established in 1988 as The Egg & I, and expanded into its sister restaurants called the EggWorks in 2005, EggWorks is now the flagship breakfast joint in the Las Vegas area. EggWorks serves all your breakfast favorites as well as signature sandwiches and homemade soups.
Damian had the Santa Cruz skillet with banana muffin. Angela got the Brad's Scrambled with banana muffin.
HOURS:
Mon-Fri: 6am – 2pm
Sat-Sun: 6am – 3pm
702-445-7330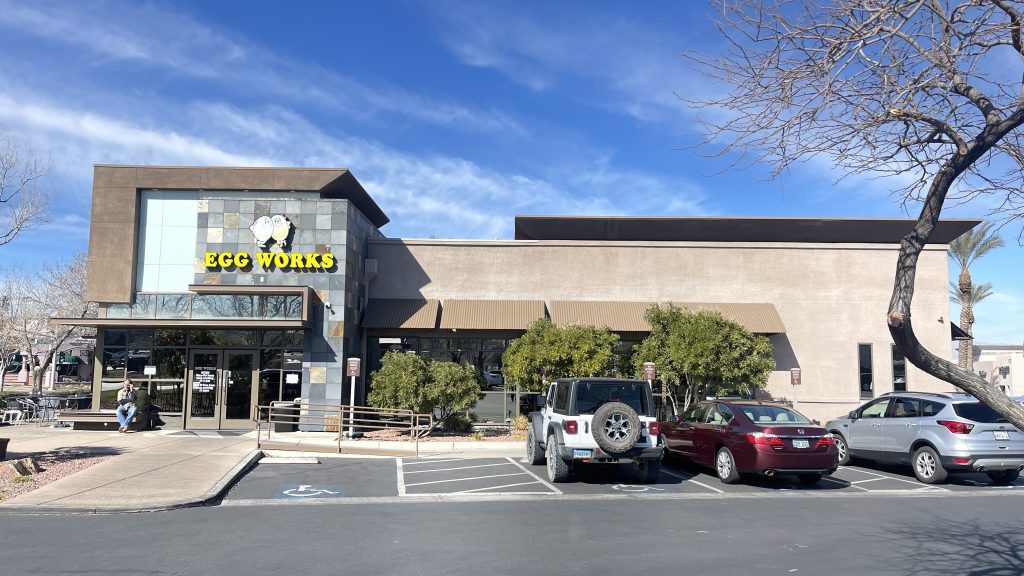 Hash House a Go Go serves twisted farm food and crafted cocktails and they have been bringing you Midwest inspired food for over two decades. Visit them in Summerlin for the full Hash House experience. It's a Midwest thing. And there's nothing else like it.
Damian had the Griddled French Toast. Angela had the Sun-Dried tomato, basil and goat cheese scramble with crispy fried potatoes and toast and blueberry jam.
HOURS:
Mon-Fri: 8am – 2pm
Sat-Sun: 9am – 3pm
702-718-4646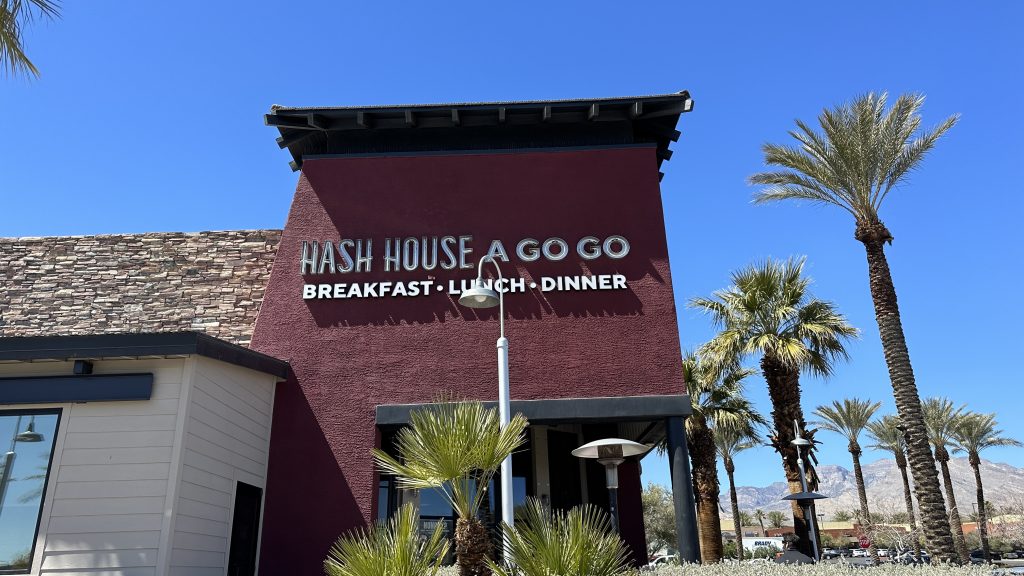 Since Babystacks first opened on October 15, 2010 they have always strived to bring a delicious breakfast to their guests. With an array of pancakes and other breakfast favorites made from scratch they hope you leave full and happy! Las Vegas owned and grown, with multiple locations throughout the valley.
Damian had the Banana Fosters French toast Combo with his eggs medium well and bacon. Angela has the French Toast Combo with scrambled eggs and bacon with a side of seasoned potatoes. Service was eggsceptional.
HOURS:
Mon-Fri: 7am – 2pm
Sat-Sun: 7am – 3pm
702-483-3001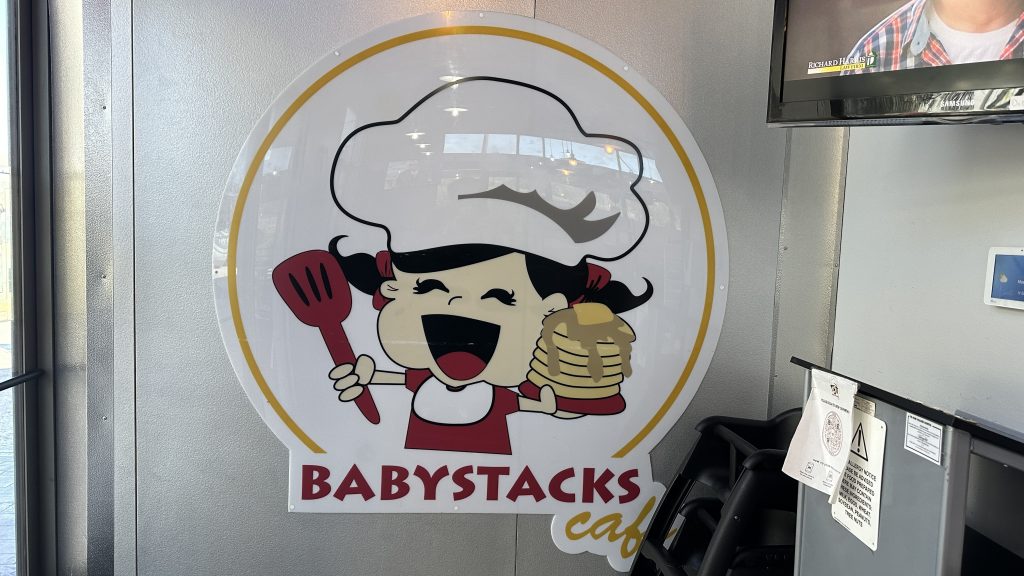 The creative breakfast spot, founded in 2006 in Denver, debut its first Vegas location on Dec. 7 at Rampart Commons in Summerlin. The chain has about 50 locations across the U.S. — and a point of view both offbeat and earnest.
The Snooze philosophy of doing "breakfast, but different" as its motto goes, includes serving breakfast that serves communities and the environment. The company designates 95 percent of its sourced ingredients as "Snooze Approved" for the ethical farming and other sustainable practices of the suppliers.
Angela had Sandwich I Am, and you can customize it however you like. Damian had Banana Fosters Pancakes with a side of hash browns. CONS: More syrup and more bananas. Service. PROS: hash browns are the bomb. Not to crunchy and not too soft.
HOURS:
Mon-Fri: 6:30am – 2:30pm
Sat-Sun: 6:30am – 4:00pm
725-258-4750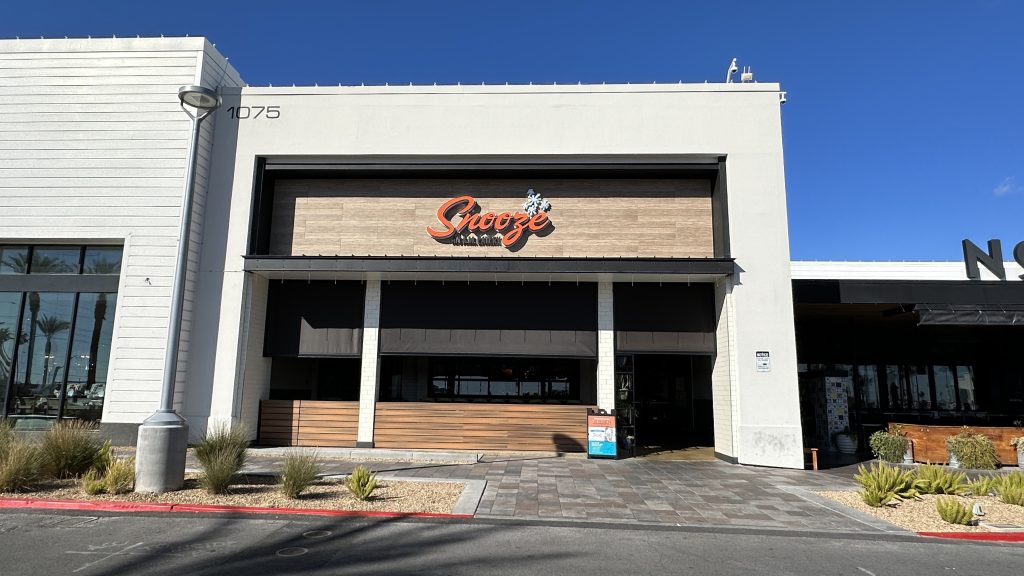 Omelet House is located in the Smith's Shopping Center, in Sun City Summerlin. Omelet House was founded over 40 years ago with the idea of providing the highest quality food at a fair price in a home like environment served by the extended family that is their staff.
Feeding Las Vegas Breakfast since 1979 and they use only the freshest – local sourced Ingredients and prepare your meal for your delight.
Damian had the Green Hornet with Spuds, avocado, tomato and cheddar cheese omelette and banana nut bread. Angela had scrambled eggs, hash browns, bacon and banana nut bread.
HOURS:
Mon-Sun: 7am – 2:30pm
702-315-2828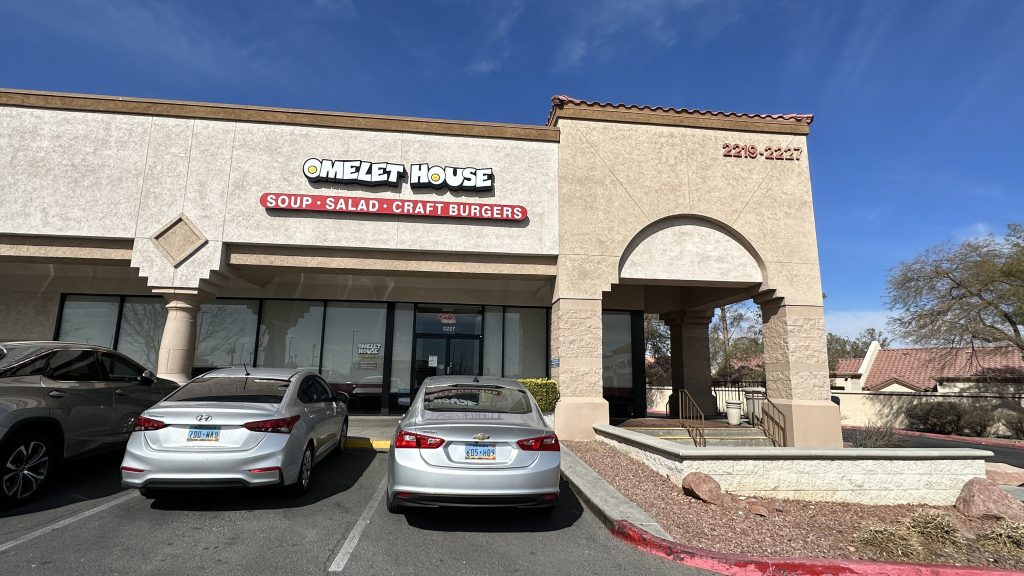 BEST OF AWARDS
Best Hashbrowns – Snooze
Best Omelette – Omelette House
Best French Toast – Babystacks
Best Skillets – Eggworks
Best banana nut muffins – Eggworks
Best Blueberry Jam – Hash House a Go Go
Let us know what are your favorite breakfast places in Summerlin and if we may have missed a place that is not on our list.
Top 5 Places to Buy Furniture in Summerlin
Also, if you are thinking about buying or selling in the Las Vegas Valley, CLICK HERE or you can call me at 702-370-5112.
Subscribe to our YouTube Channel: http://bit.ly/YouTubeAOHare
Angela O'Hare
Favorite Las Vegas Realtor
Home Realty Center
Lic. #180246
702-370-5112
[email protected]
www.neighborhoodsinlasvegas.com