Las Vegas Real Estate Market Update – July 2020
Welcome to the July issue of my monthly market update for Southern Nevada. In this issue I will be going over June 2020 numbers.
Las Vegas house prices hit an all-time high in June and sales totals surged from the prior month, indicating the market rebounded as locals went back to work.
But there have been signs that the housing market's initial turbulence from the pandemic has eased, with the latest report showing a burst of deals last month.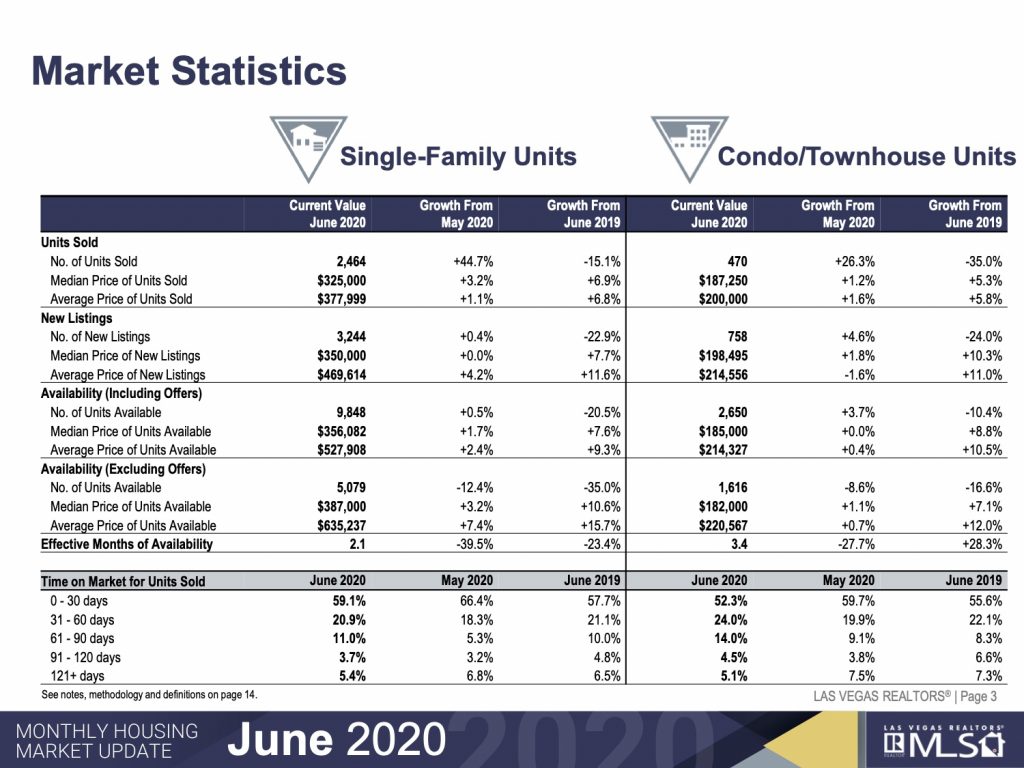 Market Trends
There were 2,464 single-family houses that sold in June, up 44.7% from May, but down 15.1% from June 2019.
I think the reason why this number is lower than last year is b/c of the fact we have very little inventory. I am sure if we had more homes on the market, more homes would have sold.
The median sales price of previously owned single-family homes increased from $315,000 in May to $325,000 in June, which is up 3.2% and up 6.9% from the prior year. According to the Las Vegas Realtors, formerly known as the Greater Las Vegas Association of Realtors.
A lot of the value is in Supply and Demand. If there are not that many homes on the market, our inventory levels are low, and Demand outweighs supply.
If you are thinking about selling, NOW is an ABSOLUTELY AMAZING TIME TO SELL. Buyers are thirsty for inventory, and you are not competing with as many sellers!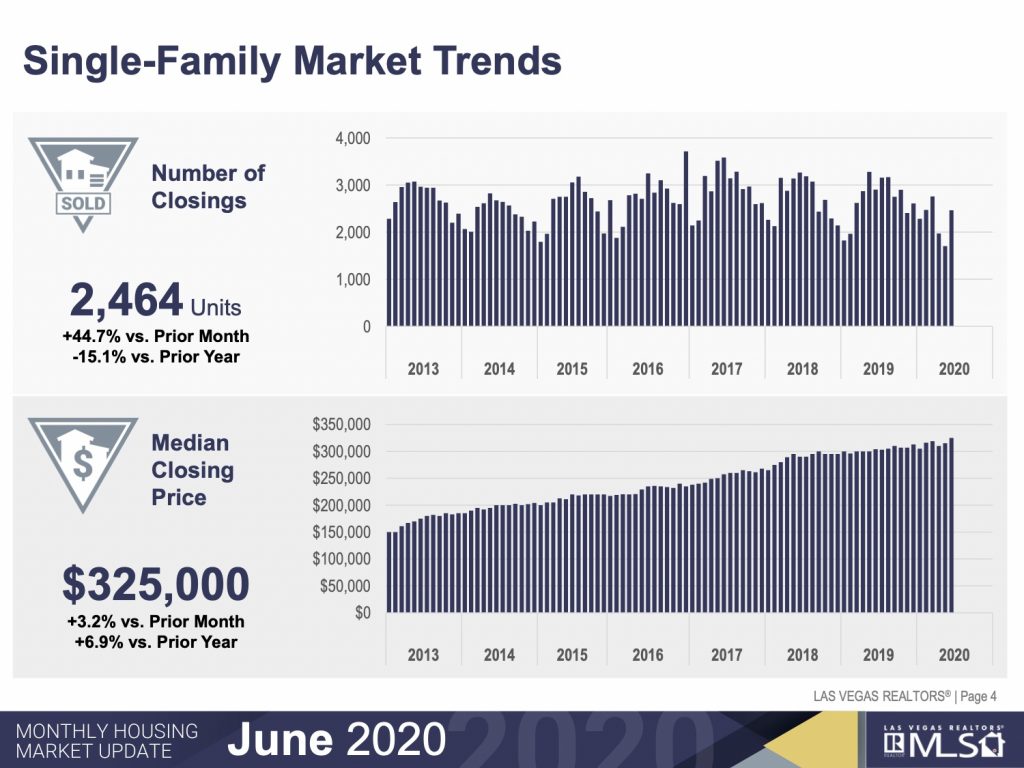 Market Trends
Meanwhile, the tally of new listings jumped month-to-month but was still far below year-ago levels. So, for June we had a total of 3,244 new listings, which was up .4% from May but down 22.7% from the prior year.
Buyers are clearly here, looking for opportunity, but we have fewer homes. This will lead to less supply as we see, and will help keep the price levels strong!
There were also a total number of 5,079 single-family houses listed without offers at the end of June, down 12.4% from May and down 352% from the prior year.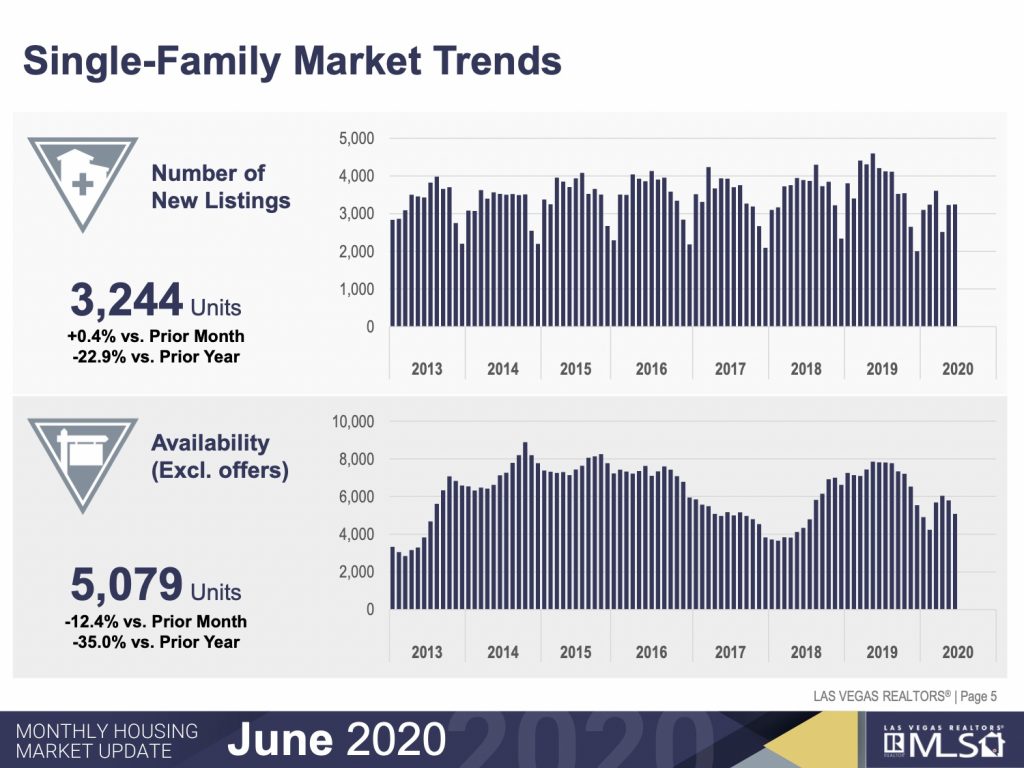 Market Trends
There is a now 2.1 months housing supply in Southern Nevada, last month this number was at 3.4 months. Which is down 39.5% from May and down 23.4% from prior year.
6 months is considered a Neutral Market, with less than 6 being a Seller's Market, and more than 6 being a Buyer's Market.
So, what does "Months of Supply" mean? Months of supply is the measure of how many months it would take for the current inventory of homes on the market to sell, given the current pace of home sales. …
Months of supply is a good indicator of whether a particular real estate market is favoring buyers or sellers.
Typically, a market that favors sellers has less than 6 months of supply, while more than 6 months of supply indicates an excess of homes for sale that favors buyers. We are still in a sellers-market, but it is not as strong as it was from a year ago.
59.1% of the closings for the month June was on the market 30 days or less, in May this number was at 66.4% and in June 2019, 57.7% of the homes were on the market 30 days or less.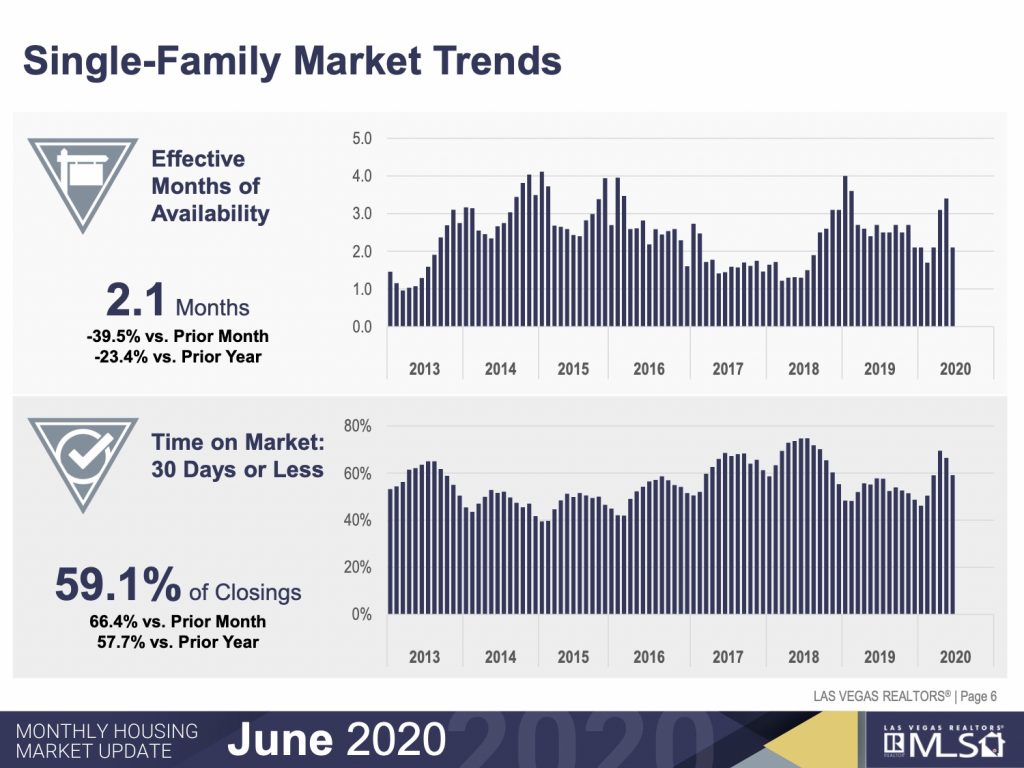 Las Vegas' unemployment rate was at 3.9% in February, then it shot up to 34% in April.  It dipped to a still-sky-high 29% in May, making Southern Nevada with by far the highest jobless rate among major metro areas.
If you would like to download the full report provided by Las Vegas Realtors, CLICK HERE!
Also, if you are thinking about buying or selling in the Las Vegas Valley, CLICK HERE or you can call me at 702-370-5112.
Well, I hope you have enjoyed my monthly market update for July 2020.
Subscribe to our YouTube Channel: http://bit.ly/YouTubeAOHare
Angela O'Hare, Realtor
The O'Hare Team
Home Realty Center
License #180246
702-370-5112
[email protected]
www.neighborhoodsinlasvegas.com