Las Vegas Housing Market Update – August 2021
Welcome to the August 2021 issue of our monthly market update for Southern Nevada. In this issue we will be going over July 2021 numbers.
Las Vegas median sales price last month hit an all-time high, raising concerns that many locals might get priced out as home values keep setting new records.
Las Vegas has seen more out-of-state buyers than usual during the pandemic, especially from California, as many people who are working remotely have left high-priced regions to live in larger homes in less expensive areas such as Southern Nevada.
Market Trends
There were 3,352 single-family houses that sold in July, down 5.4% from June, but up .8% from July 2020.
The median sales price of previously owned single-family homes, went from $395,000 in June to $405,000 in July, which is up 2.5% from last month and up 22.7% from the prior year.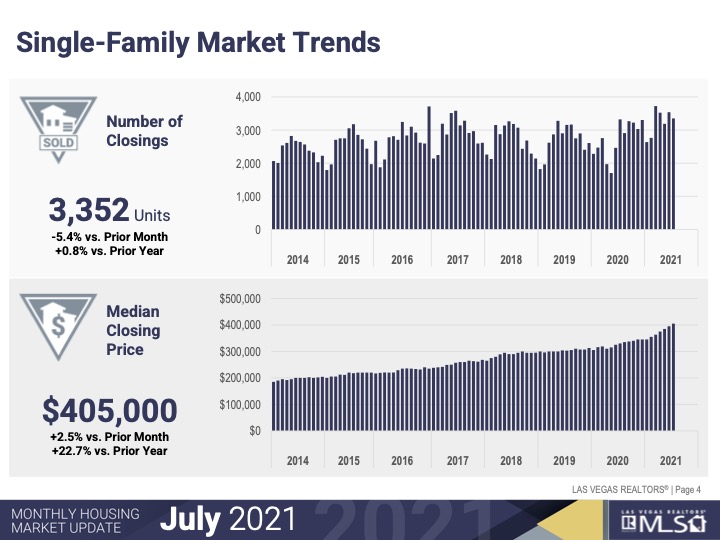 Luxury Market
Last month in the Luxury Market there were 151 homes that sold for $1 million and over, compared to June's 163 homes, a 12 home decrease.
The median sales price in the Luxury Market for July increased to $1,400,000 and in June that number was $1,349,000. A $51,000 increase in the median sales price.
Market Trends
So, for July we had a total of 4,077 new listings, which was up 5.6% from June and up 10.1% from the prior year.
There were also a total number of 3,007 (last month that number was 2,454) single-family houses listed without offers at the end of July, which is up 22.5% from June, but down 37.4% from the prior year.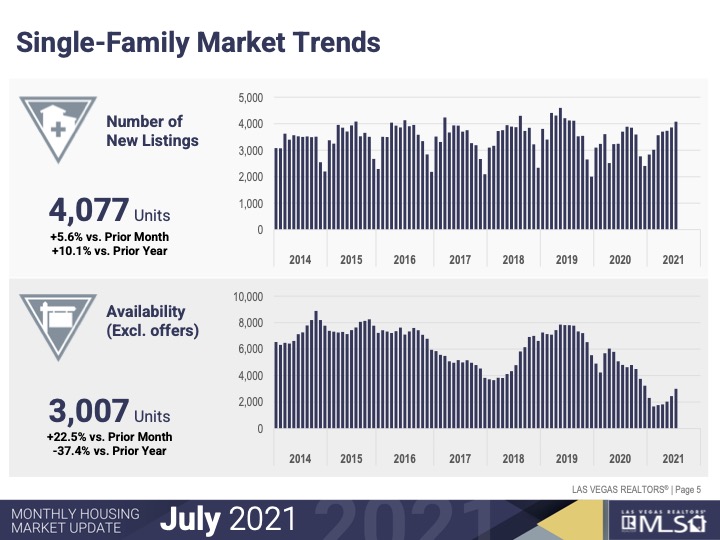 Market Trends
Which brings us to the housing supply in Southern Nevada, it is now at .9 months, which is up 29.5% from June and down 37.9% from prior year.
89.1% of the closings for the month July was on the market 30 days or less, in June this number was at 88.6% and in July 2020, 59.7% of the homes were on the market 30 days or less.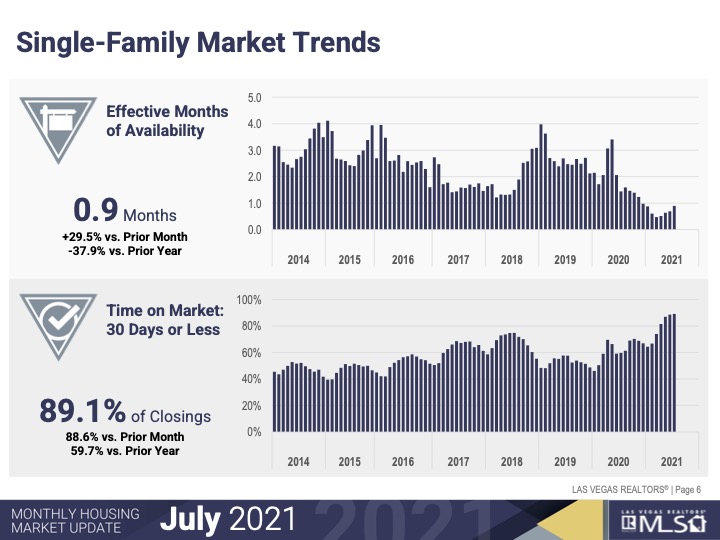 EVICTION MORATORIAM
CDC moved to extend its federal eviction moratorium once more. The original moratorium was supposed to end on July 31, and it's set to end on October 3. For Nevada, out supposedly ended on May 31. But the protection only applies to counties with substantial or high rates of COVID-19 community transmission.
The latest extension is meant to stave off eviction for millions of Americans, but concerns have been raised that it may not protect Nevadans because of the state's recently passed Assembly Bill 486, which offers strong protections to renters facing an eviction. And the situation has led to a debate among Nevada's legal experts.
The debate stems from a recent order by Las Vegas Justice Court Hearing Master David Brown, who said last month that the CDC eviction moratorium does not apply in Nevada because the state's recently passed eviction bill Assembly Bill 486 offers "the same or greater level of public health protection." But some legal experts say Brown's order is wrong.
While Nevadans are no longer protected from an eviction notice, state protections are offered through the recently passed Assembly Bill 486, which initially delays the eviction process by at least 30 days.
This bill has cushioned the impact of the moratorium ending. Meaning, residents who apply for rental assistance can remain in their homes until a decision on their application is made.
AB486 allows tenants with a pending CHAP application to have their eviction stayed, or paused, until the application is processed even if it will take several months. A tenant must notify the court of a pending rental application.
If a tenant is approved for rental assistance, the payment is made to the landlord. The renter's eviction case is then dismissed and the landlord is not allowed to evict the tenant for at least another 90 days.
If you would like to download the full report provided by Las Vegas Realtors, CLICK HERE!
Well, I hope you have enjoyed our monthly market update for August 2021.
Also, if you are thinking about buying or selling in the Las Vegas Valley, CLICK HERE or you can call me at 702-370-5112.
Subscribe to our YouTube Channel: http://bit.ly/YouTubeAOHare

Angela O'Hare
Favorite Las Vegas Realtor
Home Realty Center
Lic. #180246
702-370-5112
[email protected]
www.neighborhoodsinlasvegas.com