Las Vegas Real Estate Market Update – June 2020
Welcome to the June issue of my monthly market update for Southern Nevada. In this issue I will be going over May 2020 numbers.
Las Vegas house sales plunged last month from year-ago levels amid the pandemic-sparked economic shutdown.
We knew that April and May would be low in terms of closed sales.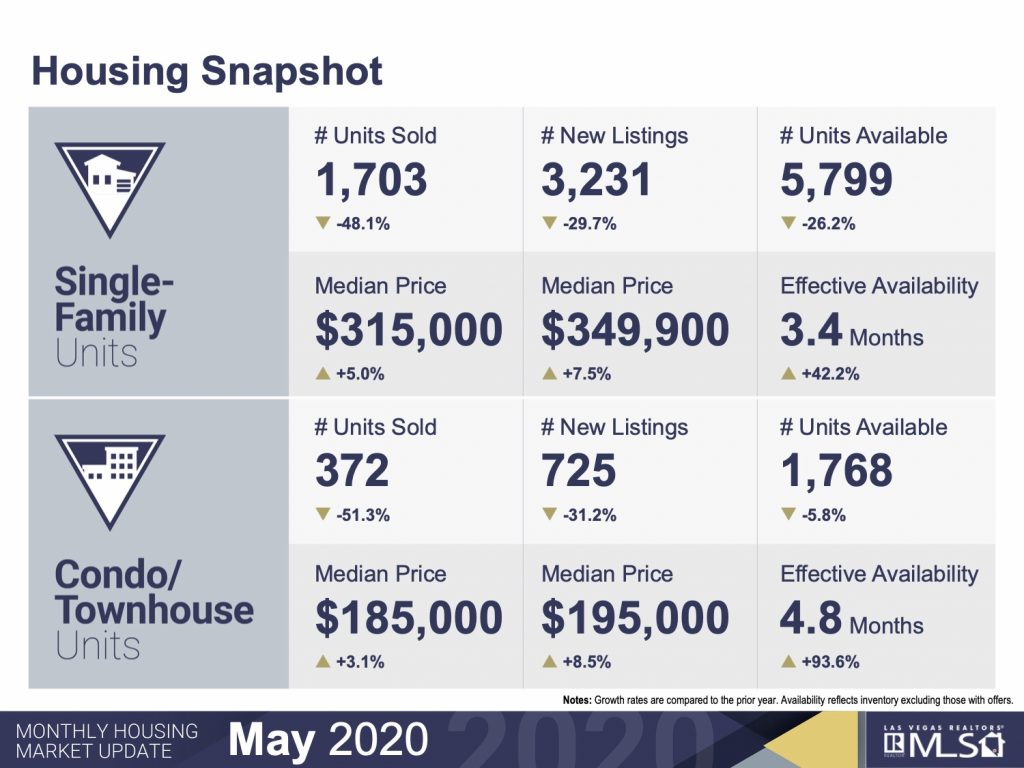 MARKET TRENDS
There were 1,702 single-family houses that sold in May, down 13.6% from April and down 48.1% from May 2019. Yes 1,700 sales in a month is low, but not completely uncharted territory. In January of 2019, we only had 1,830 sales.
The median sales price of previously owned single-family homes increased from $310,000 in April to $315,000 in May, which is up 1.6% and up 5% from the prior year. According to the Las Vegas Realtors, formerly known as the Greater Las Vegas Association of Realtors.
We started 2020 at $313,000. We actually dropped down to $305,000 by the end of January, then we worked our way up to $319,000 in March. By April, we were down to $310,000 – still higher than we were on February 1st, and a tad down for the year.
May proved to be a 'winning' month in terms of values and we ended the month at $315,000! That's right about $2,000 HIGHER than we were to start the year, about $10,000 higher than we were on February 1, and $4,000 LOWER than we were at the end of March.
A lot of the value is in Supply and Demand. If there are not that many homes on the market, our inventory levels are low, and Demand outweighs supply.
The big thing is Buyers left the market for about a month, and are now coming back, and coming back strong. More buyers have come back INTO the market than Sellers have so far, creating a positive impact for pricing, which is helping sellers.
If you are thinking about selling, NOW is an ABSOLUTELY AMAZING TIME TO SELL. Buyers are thirsty for inventory, and you are not competing with as many sellers!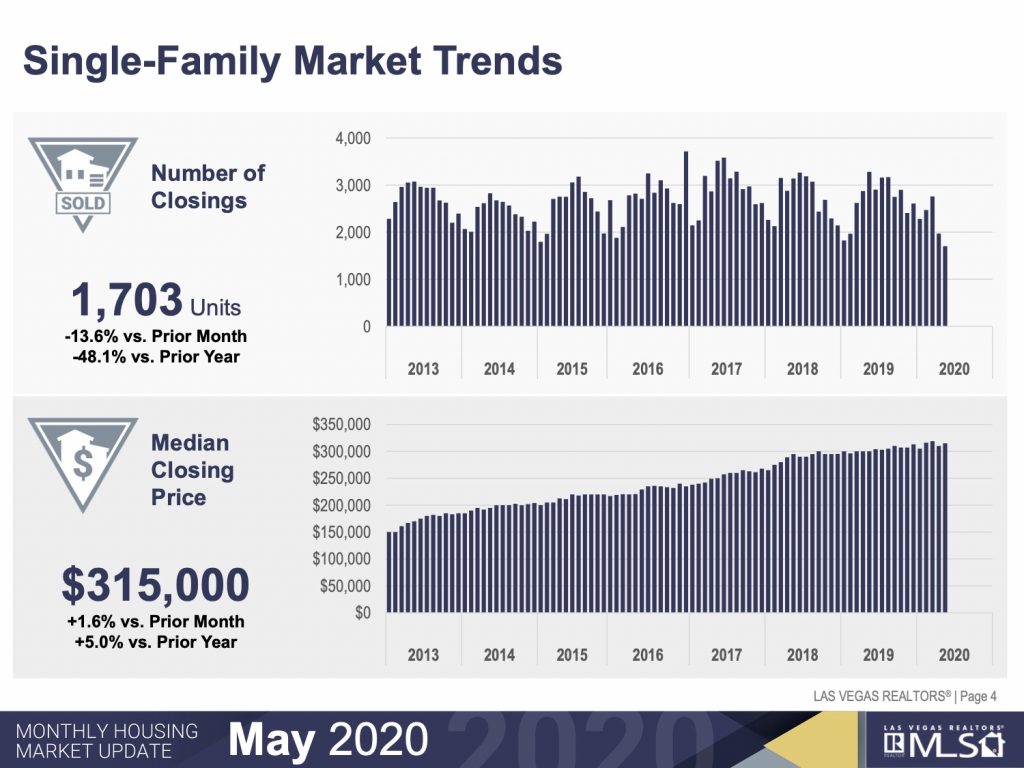 MARKET TRENDS
Another Stat we pay attention to as it sheds some light on what may happen in future months is Pending Sales; the homes that went INTO contract during the month.
Now, some of the sales that went Pending in May also closed in May, but many of them will close in June. Hence, the reason we look at Pending Sales. Which is a good indicator of what sales will look like in the near future.
For May, we finished the month with 2,851 PENDING sales, which is only down 10% from Last May! This is highest amount of Pending Sales for the Calendar Year thus far!
We currently, as a market, have 3,555 Pending. Pending Sales lead to future CLOSED SALES, which again, is a good sign that our monthly increase of Closed Sales will continue to improve as we pull out of the Stay at Home order!
Meanwhile, the tally of new listings jumped month-to-month but was still far below year-ago levels. So, for May we had a total of 3,231 new listings, which was up 28.4% from April but down 29.7% from the prior year.
Buyers are clearly here, looking for opportunity, but we have fewer homes. This will lead to less supply as we see, and will help keep the price levels strong!
There were also a total number of 5,799 single-family houses listed without offers at the end of May, down 4% from April and down 26.2% from the prior year.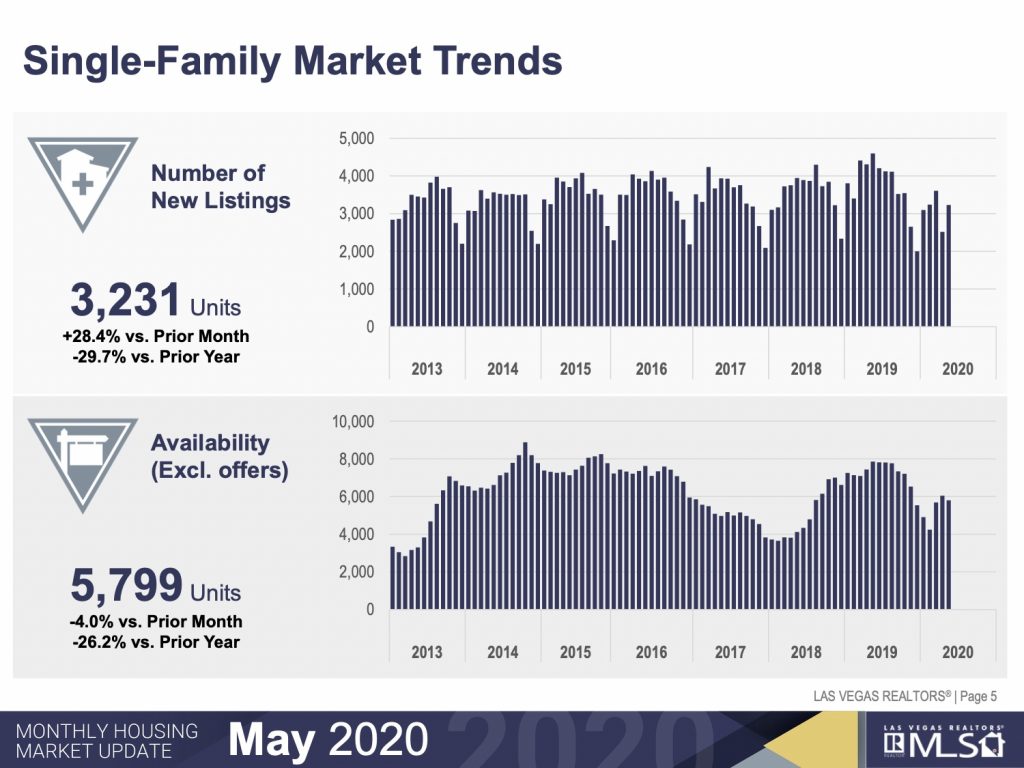 MARKET TRENDS
There is a now 3.4 months housing supply in Southern Nevada, up 11.1% from April and up 42.2% from prior year.
6 months is considered a Neutral Market, with less than 6 being a Seller's Market, and more than 6 being a Buyer's Market.
So, what does "Months of Supply" mean? Months of supply is the measure of how many months it would take for the current inventory of homes on the market to sell, given the current pace of home sales. …
Months of supply is a good indicator of whether a particular real estate market is favoring buyers or sellers.
Typically, a market that favors sellers has less than 6 months of supply, while more than 6 months of supply indicates an excess of homes for sale that favors buyers. We are still in a sellers-market, but it is not as strong as it was from a year ago.
66.4% of the closings for the month May was on the market 30 days or less, in April this number was at 69.5% and in May 2019, 55.1% of the homes were on the market 30 days or less.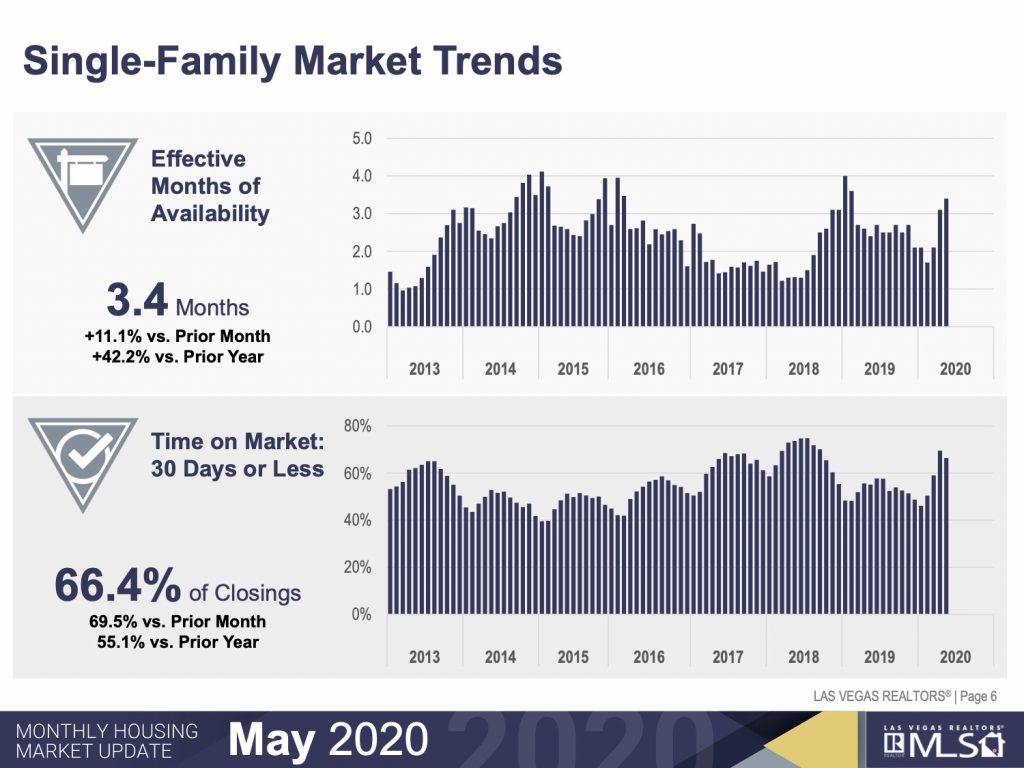 The Las Vegas area lost more than 200,000 jobs from March to April, putting its unemployment rate at a jaw-dropping 33.5 percent — up from just 4% in April of last year
Home values are remaining steady, and house hunters have been signing sales contracts at a steady and significant increase since mid-April.
For June, I expect to see rebound in terms of Closed Sales! We saw 2 months of really low sales due to the fact that people were not leaving their homes. As more and more businesses open and more and more people adjust to the new normal, we have seen showing activity significantly increase.
Leave a comment down below on what you think is going on with our Real Estate Market here in Southern Nevada.
If you would like to download the full report provided by Las Vegas Realtors, click HERE!