Las Vegas Real Estate Market Update – May 2020
Las Vegas Real Estate Market Update – May 2020. Welcome to the May issue of my monthly market update for Southern Nevada. In this issue I will be going over April 2020 numbers.
Overall, the month of April was what we somewhat expected, and can be compared to other industries… bleak.
We KNEW that the volume of sales would go down. That was absolutely on the cards. When jobs were furloughed and lost, and we had stay at home orders, people did what they needed, and we saw less activity.
But the good sign amongst all of this craziness is that the housing market did not collapse last month in Southern Nevada. And people are still buying homes, and builders are still building, but the pipeline of sales is shrinking fast amid the turmoil of COVID-19 and record job losses here in the valley.
Market Trends
There were 1,971 single-family houses that sold in April, down 28.5% from March and down 31.4% from April 2019.
The median sales price of previously owned single-family homes dropped from $319,000 in March to $310,000 in April. Down 2.8% and up 6.3% from the prior year. According to the Las Vegas Realtors, formerly known as the Greater Las Vegas Association of Realtors.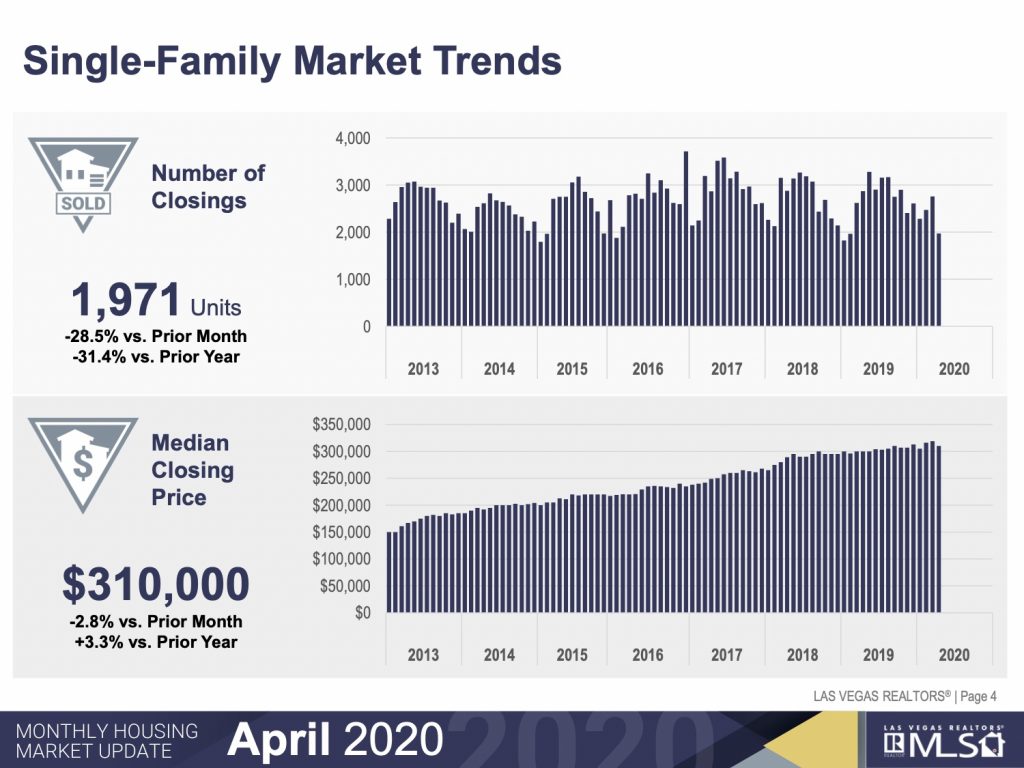 Another Stat we pay attention to as it sheds some light on what may happen in future months is Pending Sales; the homes that went INTO contract during the month.
Now, some of the sales that went Pending in April also closed in April, but many of them will close in May. Hence, the reason we look at Pending Sales. Which is a good indicator of what sales will look like in the near future.
This number too, as expected, dropped significantly. April saw 2,377 homes Pending, a drop of 41.4% from last April, and a drop of only 14% from March. This is a glimmer of hope as well.
While we had less homes put into contract (Pending Sales) and less Sold Homes (Closed Sales), we also saw Less NEW listings hit the market, which counterbalances the negative on the sales side, and helped keep our market in equilibrium.
Market Trends
So, for April we had a total of 2,516 new listings, which was down 30.2% from March and down 41.6% from the prior year.
Quite simply, many people decided to NOT place their homes on the market in April due to COVID-19. Again, this will keep the overall inventory levels LOWER, which will again create more demand. The amount of new listings, will directly affect the number of overall Homes For Sale.
Buyers are still out there, and while there were less sales last month, there are also less homes for them to choose from.
There were also a total number of 6,042 single-family houses listed without offers at the end of April, up 6.3% from March, but down 18.7% from the prior year.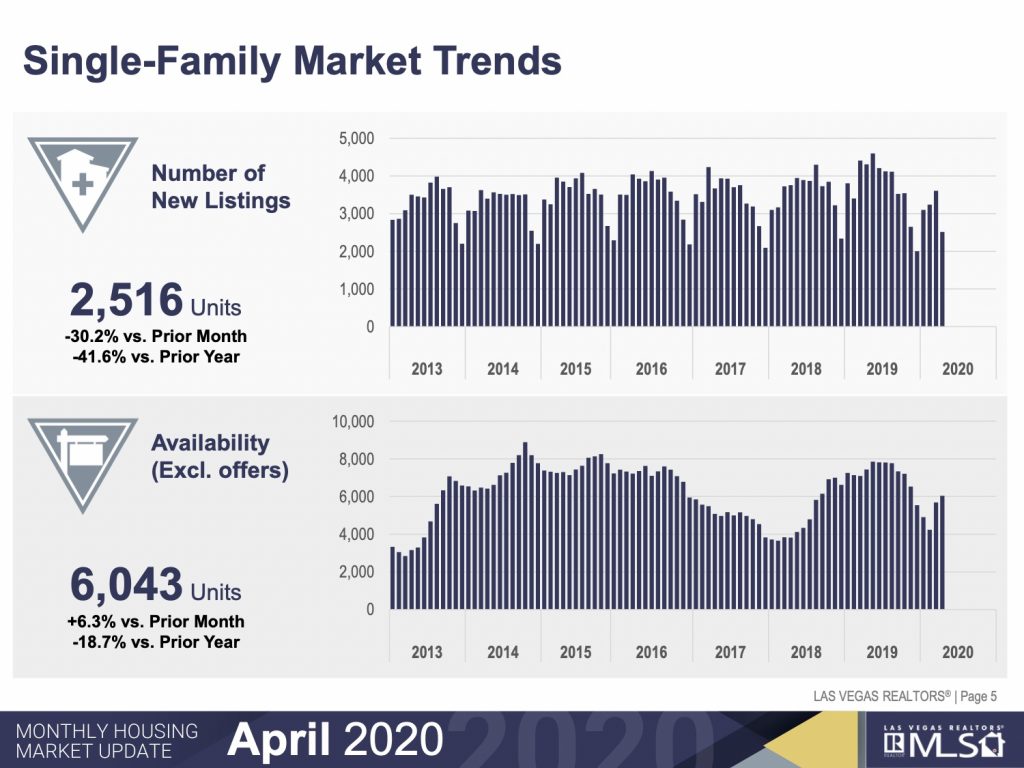 Market Trends
There is a now 3.1 months housing supply in Southern Nevada, up 48.7% from March and up 18.4% from prior year.
Experts state a market is in equilibrium with 6 months supply of inventory. Anything less than that is considered a Seller Market, and anything above a Buyer Market.
So, what does "Months of Supply" mean? Months of supply is the measure of how many months it would take for the current inventory of homes on the market to sell, given the current pace of home sales. …
Months of supply is a good indicator of whether a particular real estate market is favoring buyers or sellers.
Typically, a market that favors sellers has less than 6 months of supply, while more than 6 months of supply indicates an excess of homes for sale that favors buyers. We are still in a sellers-market, but it is not as strong as it was from a year ago.
69.5% of the closings for the month March was on the market 30 days or less, in March this number was at 59% and in April 2019, 55.6% of the homes were on the market 30 days or less.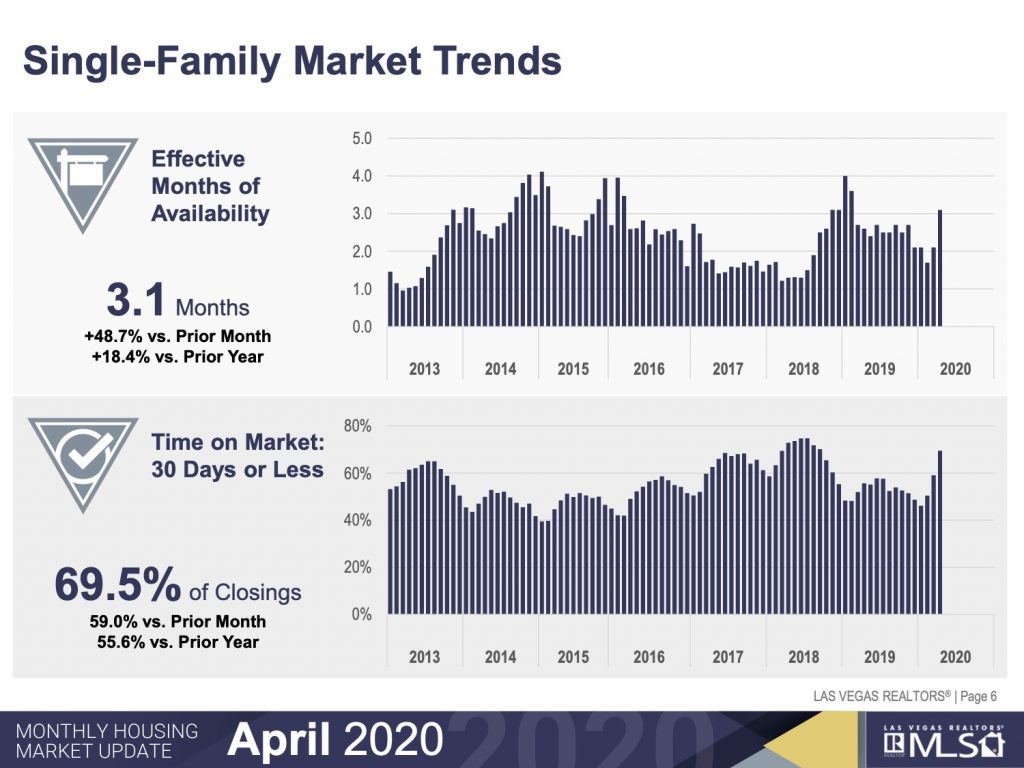 In summary we EXPECTED to see a drop in sales, but it wasn't as significant a drop as we had anticipated.
If you would like to download the full report provided by Las Vegas Realtors, click HERE!