Top 5 Places to Eat Lunch in Downtown Summerlin
Summerlin is a beautiful and vibrant community in Las Vegas. If you're looking for a great place to eat lunch, you won't be disappointed getting away from the strip to some of the top-rated restaurants in Summerlin. So, whether you're a local or just visiting, Summerlin has awesome places to eat!
California Pizza Kitchen (CPK) is your go-to destination for creative dining with a California vibe! From signature, hand-tossed pizzas and high-quality main plates to inventive better-for-you options, and handcrafted beverages, let's cheers to a delicious adventure for your tastebuds!
Born in Beverly Hills in 1985, former federal prosecutors Rick Rosenfield and Larry Flax combined their passion for food with fresh high-quality ingredients to create California Pizza Kitchen.
CPK is a global brand serving creative California cuisine in nearly 200 restaurants worldwide, 12 international cities, and 11 countries and U.S. territories.
Angela had the Lunch Duo; the California Club with Turkey and the Original BBQ chicken chopped salad. Damian had the Lunch Duo as well; the spicy chipotle chicken pizza and the Classic Caesar salad.
HOURS:
Daily: 11am – 10 pm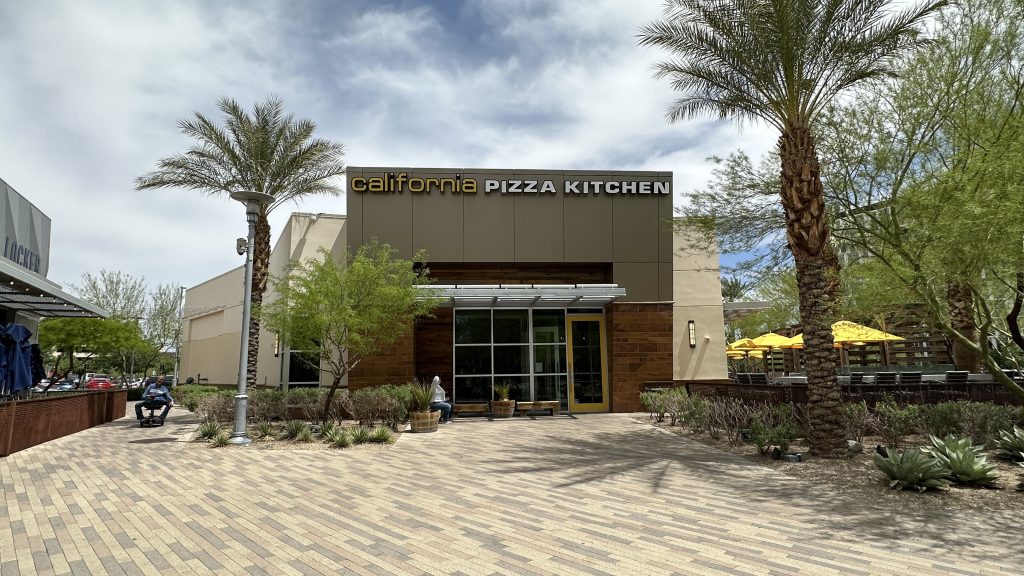 True Food Kitchen – 10970 Rosemary Park Dr. #160, Las Vegas, NV 89135
True Food Kitchen is the only restaurant fundamentally based on science which ensures all of its craveable dishes and drinks work to increase the longevity of our people and planet.
Each of their kitchens have an executive chef at its helm, crafting wholesome, intentionally-sourced ingredients into flavorful creations that are both good for you and indulgently delicious. They are on a mission to inspire you to eat better, feel better, and live better.
For an appetizer we had the Herb Hummus with vegetables. Angela had the OG Grass Fed Burger with sweet potato hash. Damian had the Mediterranean Chicken Sandwich with sweet potato hash. Service sucked, but manager was great. She saw that we had been waiting a long time to order, so she gave us our appetizer for FREE. I didn't even have to complain.
HOURS:
Sun – Thurs: 11am – 8pm
Fri – Sat: 11am – 9pm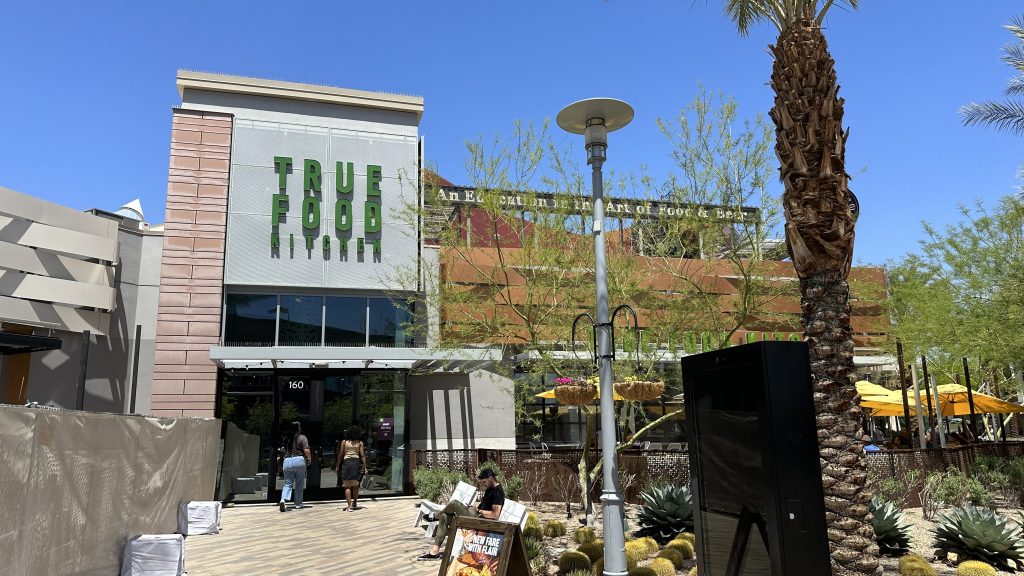 Public School 702 – 1850 Festival Plaza Dr. Las Vegas, NV 89135
Public School is a chef-driven gastropub serving exclusively craft beer and delivers, "An Education in the Art of Food & Beer." They use only the freshest quality ingredients, sourced from local Farmer's Markets whenever possible.
"Recess" (aka Happy Hour) is held Monday through Friday and boasts items such as Parmesan Truffle Fries, Crispy Naked Wings, and Crispy Buffalo Cauliflower.
Angela had the crispy fish tacos with roasted peanut coleslaw and Damian had the Bahn Mi with brown bag fries.
HOURS:
Mon – Thurs: 11am – 10pm
Fri: 11am – 11pm
Sat: 11am – 11pm
Sun: 11am – 10pm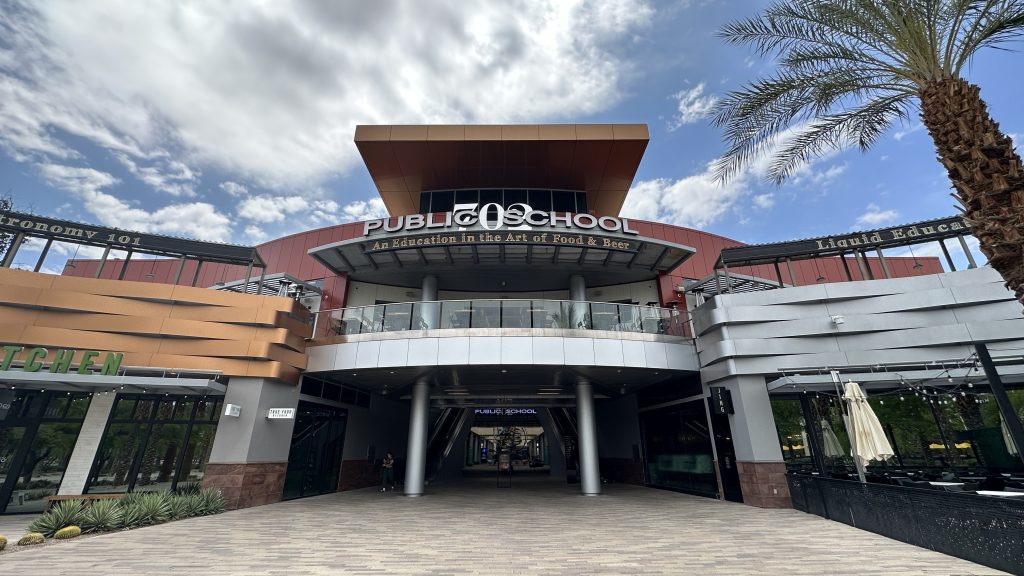 This ultimate sports restaurant combines the world-renowned culinary prowess of Wolfgang Puck with the iconic energy of Alex Tuch, William Karlsson, Deryk Engelland, Reilly Smith and Shea Theodore of the city's professional hockey team, the Vegas Golden Knights.
This family-friendly community restaurant presents a lively atmosphere complete with panoramic flat-screen TVs and a floor-to-ceiling display of more than 100 custom glass lockers program. It is the restaurant where you can enjoy some of the best bar food in Las Vegas and spot some of your favorite Knights off the ice.
Angela had the Blackened Mahi Fish Tacos with avocado, chipotle cream, citrus cabbage slaw and Damian had Roasted Chicken Enchiladas, salsa Fresca, crema, melted cheese and cilantro. On the side we had seasoned French fries. Service and atmosphere were good.
HOURS:
Mon-Thurs: 3pm – 9pm
Fri: 11:30am – 9pm
Sat: 10am – 9pm
Sun: 11am – 7pm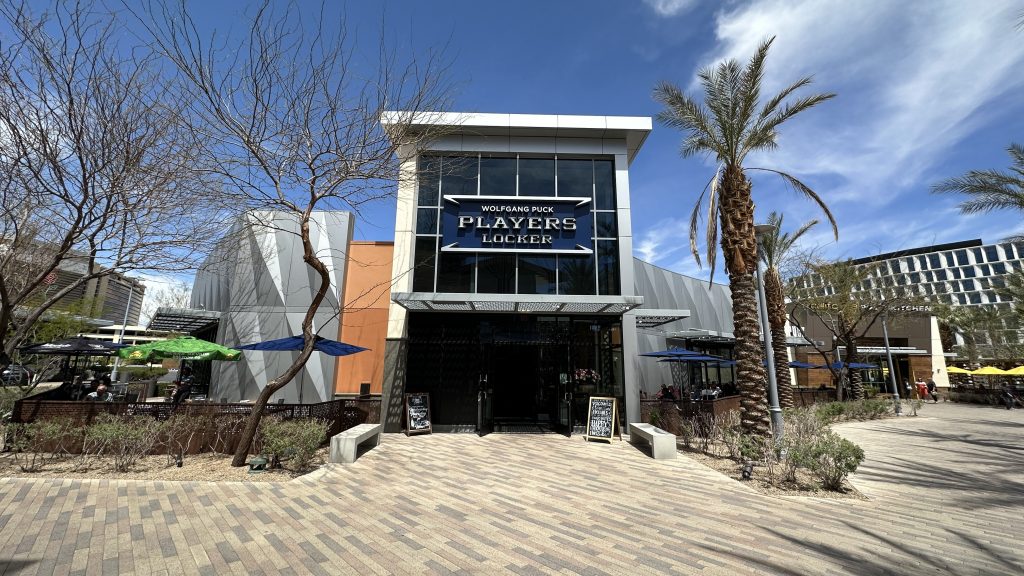 The Southern California restaurant Lazy Dog has become a neighborhood culinary destination providing memorable food & small-town hospitality to each and every guest.
Each ingredient they use is carefully picked and prepared. They make every meal by hand each day, including all of their sauces, marinades and dressings. They even have a dog menu.
Angela had the Thai Chicken Salad. I didn't like it one bit, a very boring salad. Needed some crunch like peanuts.  I also asked for no mint and got mint on my salad. Wasn't impressed with the food this time around. Last time we ate there it was much better. Damian had the Pot Roast Beef Dip and he said it did not enough to meet, it was mostly bread.
For dessert, we had the Apple-Huckleberry Open Face Pie with 2 scoops of vanilla ice cream, now that was good. I did complain to our server about the mint being in my salad, when I specifically asked for no mint. He was kind enough to not charge us for that. I didn't even ask.
HOURS:
Mon – Fri: 11am – 12am
Sat – Sun: 9am – 12am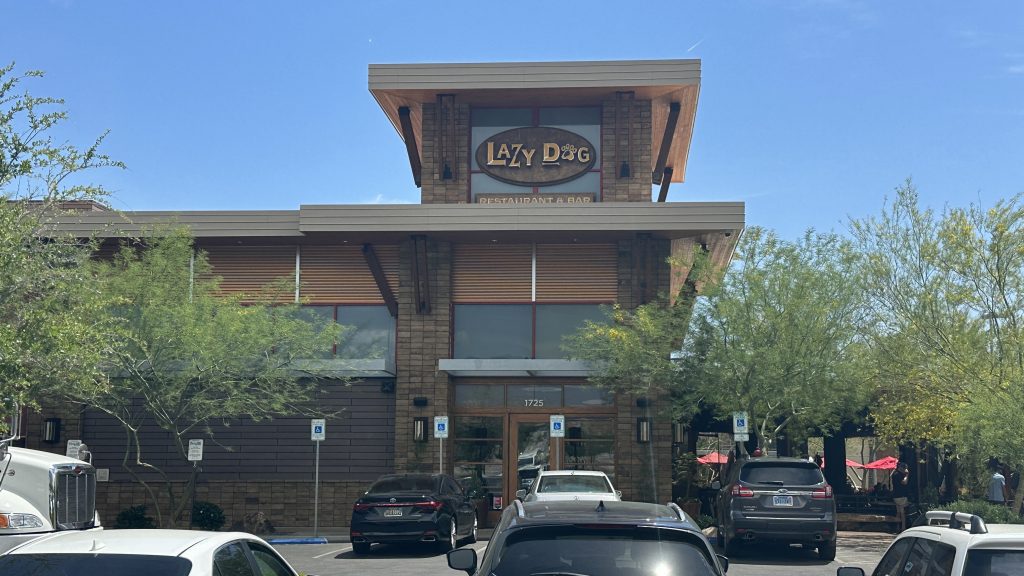 FINAL THOUGHTS 
There is no shortage of options for finding the best places to eat lunch in Summerlin. Therefore, you can find everything from fast-food chains to high-end restaurants. Let your appetite be your guide!
Summerlin is an oasis in the Las Vegas desert. Away from the strip and downtown area, it's an ideal place to call home. If you're considering buying or selling a home in Summerlin, please don't hesitate to reach out to me. I'll get back to you personally and promptly. Thanks for visiting!
Subscribe to our YouTube Channel: http://bit.ly/YouTubeAOHare
Angela O'Hare
Favorite Las Vegas Realtor
Home Realty Center
Lic. #180246
702-370-5112
[email protected]
www.neighborhoodsinlasvegas.com