Las Vegas Real Estate Market Update – July 2019
Welcome to the July 2019 issue of my monthly minute market update for Southern Nevada. In this issue I will be going over new home builds and June 2019 numbers.
The Las Vegas housing market has been cooling down this year. The resale market is seeing fewer purchases compared to 2018 as well as slower price growth and a sharp rise in available listings.
Homebuilders are closing fewer sales because of a drop in purchases of single-family homes. However, they are selling more condos and townhouses, which are typically less expensive.
Last year, builders closed the most sales in Southern Nevada in more than a decade as buyers paid record prices for newly built homes. But sales volume overall has tumbled this year as buyers move away from builders' best-selling product in Las Vegas — the single-family house — and gravitate toward less-expensive condos and town homes.
New-home sales in Summerlin were down 13% this year from the same six-month stretch in 2018, 28% in Inspirada, 4% in Cadence and 8% in Skye Canyon, RCLCO reported. Sales may have tumbled in Southern Nevada, but on average, the nation's 50 top-selling master-planned communities had about 3% more sales than in the same period last year, according to RCLCO's report.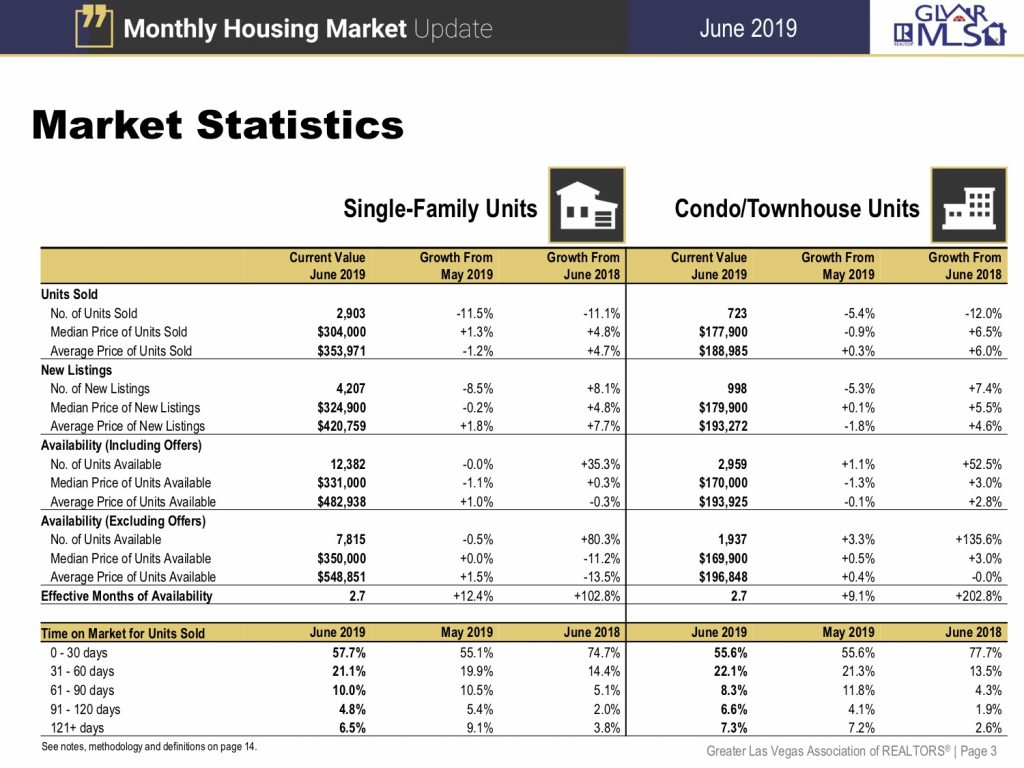 So, now let's get down to the numbers.
According to the GLVAR, there were 2,903 single-family houses that sold in June, down 11.5% from May, and down 11.1% from June 2018.
And the median sales price of previously owned single-family homes, which compromises the bulk of the market, was $304,000 in June, up 1.3% from the previous month and up 4.8% from the prior year.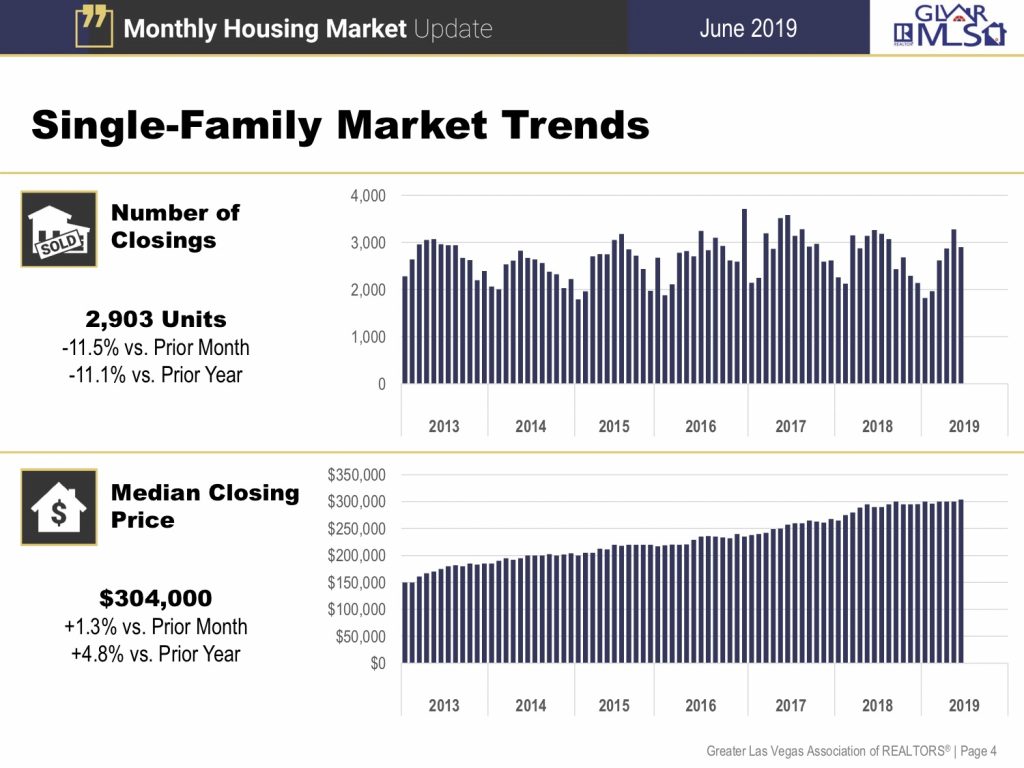 Southern Nevada also had a total of 4,207 new listings for the month of June, down 8.5% from May, and up 8.1% from the prior year.
However, there were a total number of 7,815 single-family houses listed without offers at the end of June, down .5% from May and up 80.3% from the prior year.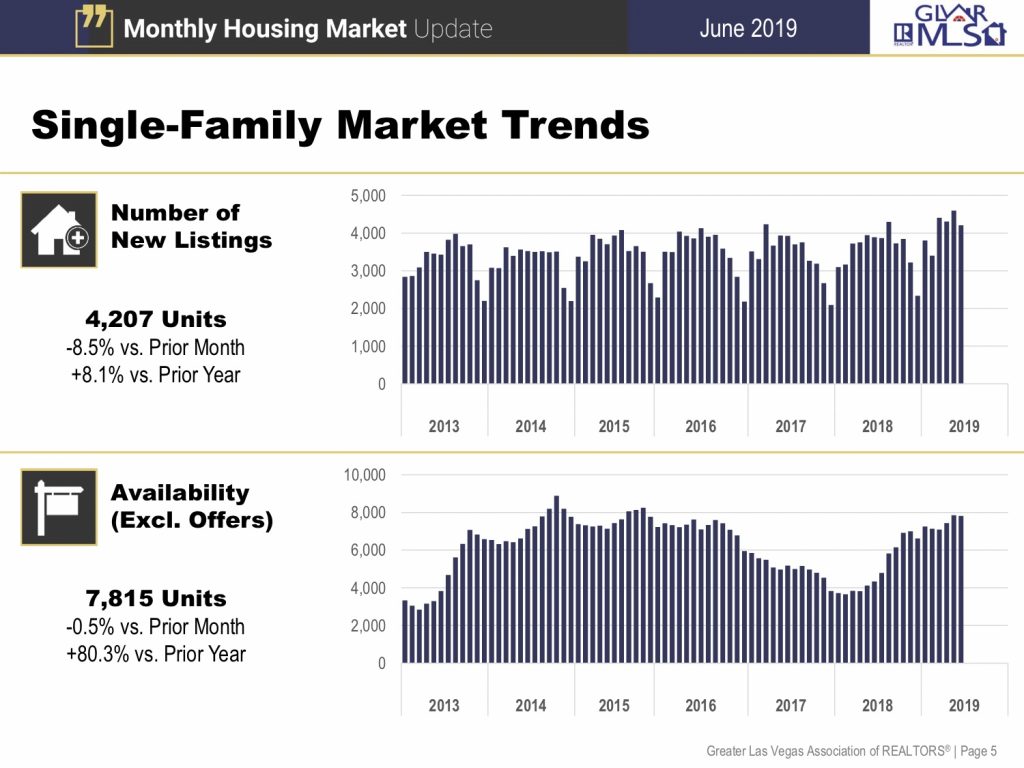 There is still a 2.7 months housing supply in Southern Nevada, up 12.4% from May and up 102.8% from prior year. So, what does "Months of Supply" mean? Months of supply is the measure of how many months it would take for the current inventory of homes on the market to sell, given the current pace of home sales. …
Months of supply is a good indicator of whether a particular real estate market is favoring buyers or sellers. Typically, a market that favors sellers has less than 6 months of supply, while more than 6 months of supply indicates an excess of homes for sale that favors buyers. We are still in a sellers-market, but it is not as strong as it was from a year ago.
57.7% of the closings for the month of June was on the market 30 days or less.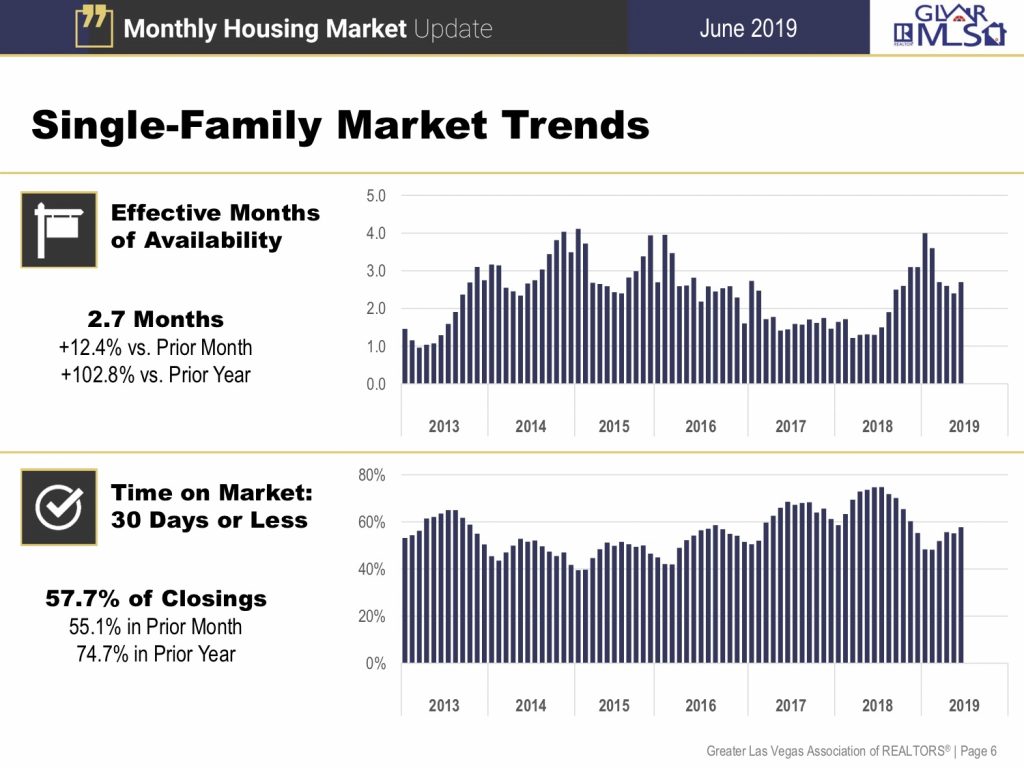 So, let's talk about the KEY TRENDS that are happening in the Las Vegas Real Estate Market.
SLOW DOWN IN PRICE GROWTH
Prices are still going up, but not nearly as fast as it use to. Last year we were seeing a 14-15% increase year over year, which was very fast. But, in a normal market you might see a 2-5% price growth in a year. Right now, it's down to about 3-4% price growth.
RISING INVENTORY
Inventory has almost doubled over the past year. About a year or so ago, inventory was very low and there was high demand, a lot of people moving here. There's still pretty strong demand and there's still people moving here, but with those prices being as high as they are, inventory has shot back up again.
FEWER RESIDENTIAL SALES 
With the prices being higher, the total number of homes trading hands has gone down. We are seeing year over year drops in sales totals for previously owned homes.
SHIFT TO CONDOS AND TOWNHOMES 
We are seeing an increase in sales for condos and townhomes, which are typically less expensive than a single-family house. We are seeing that shift because prices are high, so people are going for what's more affordable.
If you would like to download the full report provided by the Greater Las Vegas Association of Realtors, CLICK HERE!
Thinking about buying or selling a home in Southern Nevada? Click the link to fill out Home Buying/Selling Form: https://forms.gle/pqRqByvSLaunosDV9
Well, I hope you have enjoyed my monthly minute market update for June 2019.
Market Update – June 2019
Subscribe to our YouTube Channel: http://bit.ly/YouTubeOHare