Las Vegas Real Estate Market Update – May 2019
Las Vegas Real Estate Market Update – May 2019. Welcome to the May issue of my monthly minute market update for Southern Nevada. In this issue I will be going over First Quarter number and April 2019 numbers.
Following a stretch of year-over-year sales jumps, Southern Nevada's first-quarter resales and new-home sales both dropped from 2018 levels.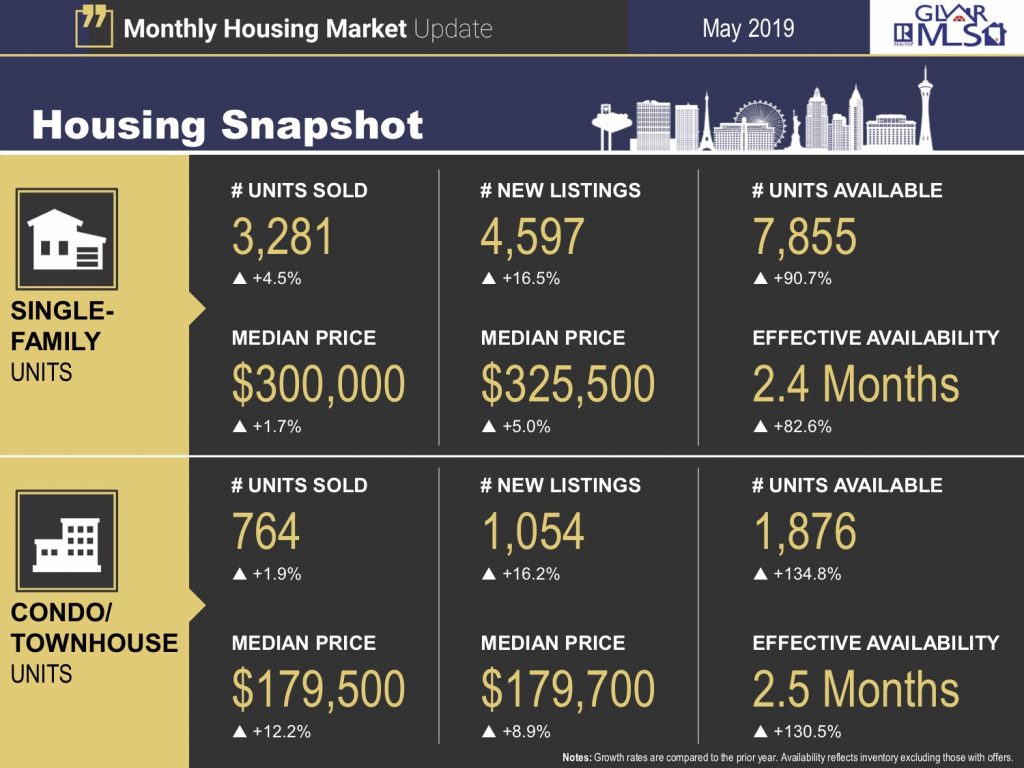 Market Trends
Buyers picked up 8,073 previously owned houses, condos and townhomes in the three months that ended March 31. Down 14% from the same period last year, according to data from the Greater Las Vegas Association of Realtors.
Meanwhile, Home Builders Research reported builders closed 2,293 new-home sales in the first quarter. Down 4.6% from a year earlier. The early-year slowdown does not necessarily mean sales will fall through all of 2019. If anything, some factors point to a possible boost in deals.
Mortgage rates, which climbed last year, have been sliding for months, reducing buyers' borrowing costs. Also, the tally of ignored listings in Southern Nevada has soared, giving house hunters more choices, and sellers are increasingly slashing their prices. The economy overall is on stronger footing, too. Las Vegas' population is expanding, and the jobless rate is shrinking.
Amid the pricing surge, the once-depleted tally of available listings has shot back up. Almost 7,100 single-family houses were on the market without offers at the end of March. Up 85% from a year earlier. And the number of condos and townhomes were sitting without offers more than doubled to about 1,750.
Despite the shifts, it's not a buyer's market yet, analysts say, though house hunters are in a better position now than they were a year ago. We'll see in the coming months if sales pick up, buyers keep backing away or the market goes in another direction altogether.
We're still in Las Vegas, a famously volatile market that, not too long ago, rode a terrifying real estate roller coaster. Last quarter's sales drop is nothing compared to what happened after the market crashed.
Market Trends
Last month there were a total of 2,872 single-family houses sold. Up 9.6% from March, but down .2% from April 2018. The median sales price of previously owned single-family homes, which compromises the bulk of the market, held steady at $300,000 which is up 3.8% from April 2018.
Southern Nevada also had a total of 4,309 new listings for the month of April. Down 2.3% from February, and up 14.8% from the prior year. However, there were a total number of 7,435 single-family houses listed without offers in April. Up 4.9% from March and up 94.8% from the prior year.
There is still a 2.6 months housing supply in Southern Nevada, down 4.3% from March and up 95.2% from prior year. So, what does "Months of Supply" mean? Months of supply is the measure of how many months it would take for the current inventory of homes on the market to sell, given the current pace of home sales.
Months of supply is a good indicator of whether a particular real estate market is favoring buyers or sellers. Typically, a market that favors sellers has less than 6 months of supply, while more than 6 months of supply indicates an excess of homes for sale that favors buyers. 55.6% of the closings for the month of March was on the market 30 days or less.
BOTTOM LINE
The Las Vegas Housing Market is picking back up, but homes are not selling like they did from a year ago. There is a lot more inventory to choose from and buyers are being much more pickier than years past. If your home has been on the market longer than 30 days, then you need to ask yourself a few of questions.
Is your home priced at or below market value?
Did your agent use a professional photographer or did he/she use their cell phone to take pictures of your home?
Is your home move-in ready? Is it clean, organized and decluttered?
Our last 2 listings went under contract pretty fast, both were in Summerlin North. Our first listing was on the market for 21 days. Our second listing was only on the market for 4 days. Both homes were priced at market value, I used a professional photographer and did a lot of social media marketing. Plus the homes were clean, decluttered and move in ready.
As a buyer, with interest rates lower than they were from a year ago, why not buy now? Even though the market is picking back up, there are over 7,000 homes to choose from and you may still be able to get a really great deal.
If you would like to download the full report provided by the Greater Las Vegas Association of Realtors, I have posted a link here: http://bit.ly/2VU6fKQ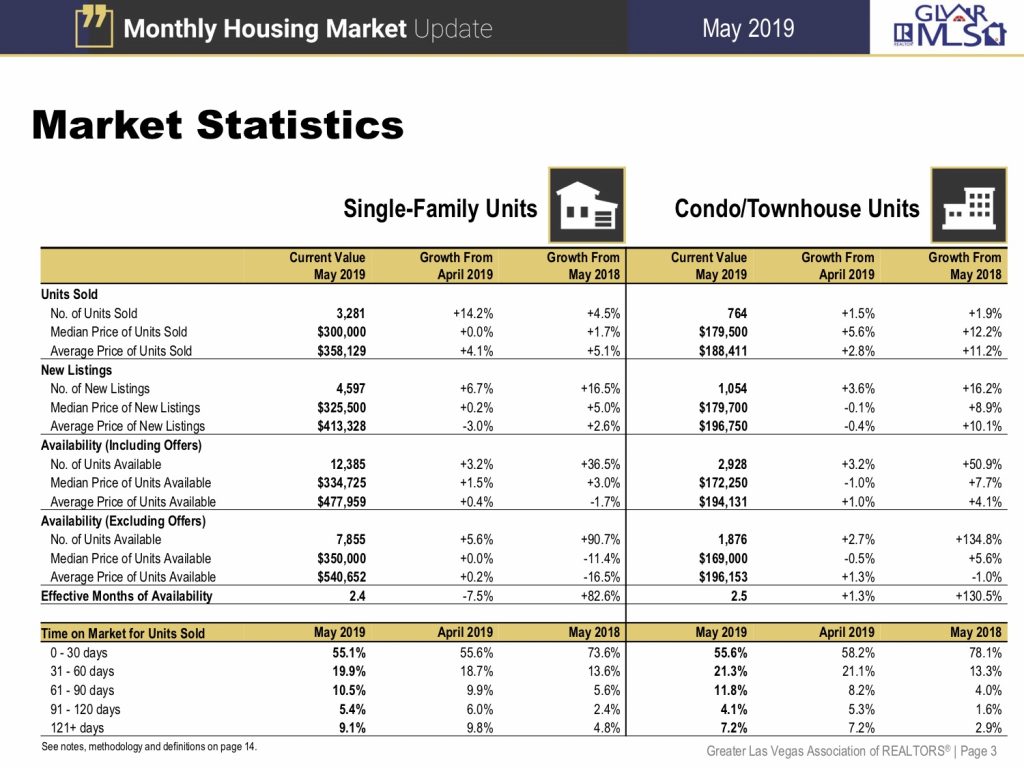 Well, I hope you have enjoyed my monthly minute market update for May 2019.
Market Update – April 2019
Subscribe to our YouTube Channel: http://bit.ly/YouTubeOHare