Christmas Events in Las Vegas 2022 on the Strip
Christmas Events in Las Vegas 2022 on the Strip: If you plan to spend Christmas and maybe New Year's Eve in Las Vegas, you are in for some great fun. Let's face it, Las Vegas is known for doing everything big. Christmas is no exception. The holiday season is actually a great time to visit Las Vegas and this year most resorts are promoting socially-distanced Christmas family fun.
There are so many Las Vegas Christmas events and experiences to enjoy, both off and on The Strip, that it is no wonder that Vegas is a top holiday destination.
From now until the end of the year, we've got everything covered in Vegas. So, check out what to do between shopping for gifts, snacking on candy canes, and getting stuck in holiday traffic.
Here are the top 10 Christmas Events in Las Vegas 2022 on the Strip that you must check out while you are visiting this awesome city that never sleeps.
Each holiday season, Boulevard Pool at Cosmopolitan is transformed into an ice-skating rink. Experience a winter wonderland above The Las Vegas Strip with ice skating, fire pits, warm cocktails, s'mores and breathtaking views.
At The Ice Rink, you can skate across 4,200 square feet of real ice, roast s'mores by the fire, and indulge in seasonal food and beverage offerings.
Open from now until January 2, 2023. Tickets are $30.00 for All Day Access, $20.00 All Day Access for Local Residents or Hotel Guests (Monday – Thursday), $15.00 Skating Aid Rental Fee.
Hours of Operation
Nov 15 – Dec 18: 4 – 11 PM (Mon-Fri) Noon – 11 PM (Sat-Sun)
Dec 19 – Jan 2: Noon – 11 PM (daily)
Dec 24 – 25: Noon – Midnight
The Cosmopolitan of Las Vegas
3708 S. Las Vegas Blvd.
Las Vegas, NV 89109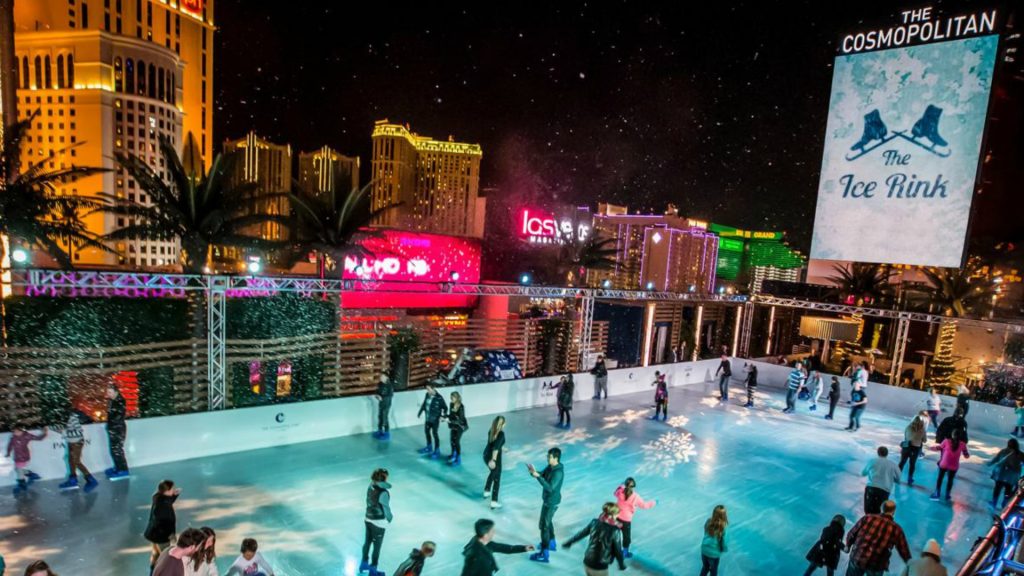 The Holiday Experience at the Park
The Holiday Experience at The Park brings the best of the holidays to the Strip. Every Friday – Sunday in December, and a few select dates in between, carolers will be strolling up and down The Park from 4 p.m. to 8 p.m.
The Park, includes a massive 30-foot-tall royal ribbon tree, 10-foot-tall LED snowman and 9-foot-tall Santa chair. This collective display of lights will shimmer nightly through December.
There's also a chance you'll run into more live entertainment once you're there. And since it's a Las Vegas Christmas, you never know who'll show up and put on a live show.
Located between the New York-New York and Park MGM.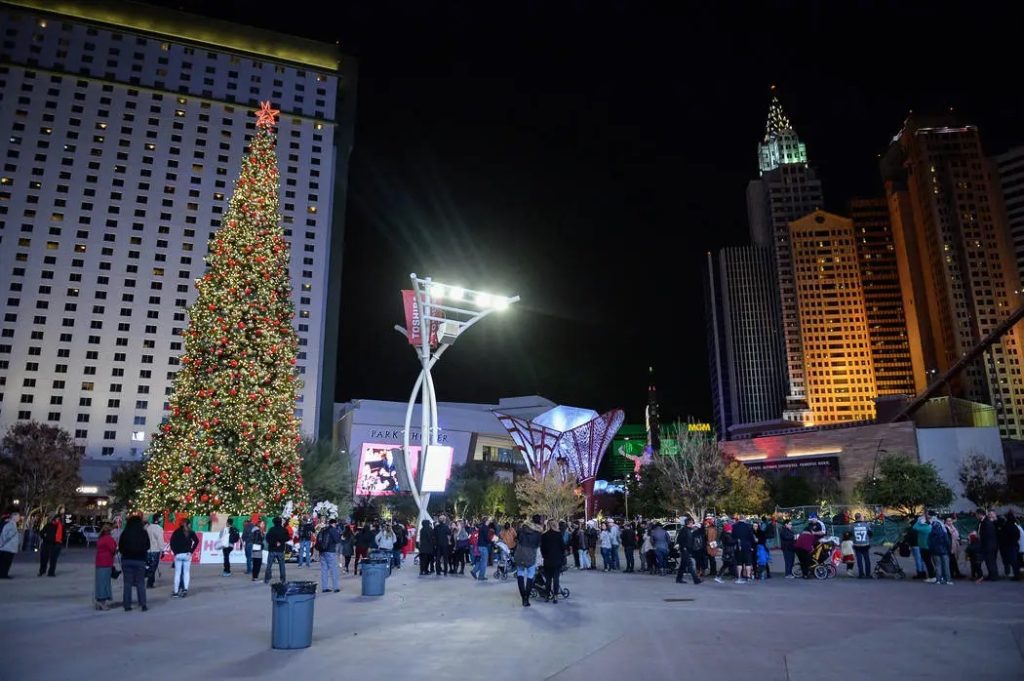 Holiday Magic at the LINQ Promenade and Flamingo Las Vegas
The LINQ Promenade and Flamingo Las Vegas is transformed into the city's most enchanting holiday destination. Conveniently located adjacent to one another, the locations offer magical winter wonderland with candy-themed décor, whimsical shows and a nightly snowfall that is complete with the scent of fresh cut pines.
A 35-foot-tall Christmas tree at the The LINQ Promenade provides the majestic focal point at Fountain Stage as you take in this enchanting holiday destination through Jan. 2, 2023.
During the week, Monday through Wednesday, carolers spread the spirit of the season by singing holiday hits from 6 P.M. to 9 P.M. For Thursday through Sunday – a modern twist on the classic – T'was the Night Before Christmas – dance spectacular delights revelers at the top of every hour, also from 6 P.M. to 9 P.M.
LINQ Promenade 
3535 S. Las Vegas Blvd.
Las Vegas, NV 89109
1-800-634-6441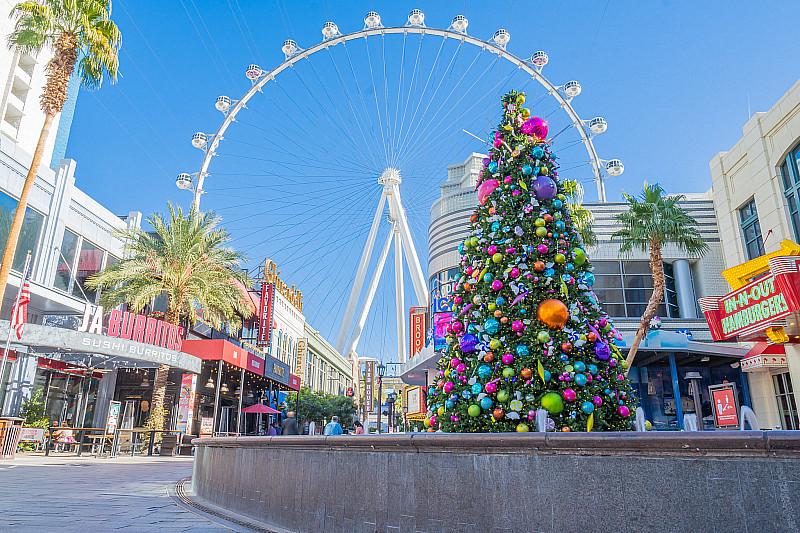 Holiday Lights at The LINQ Las Vegas
The LINQ Promenade will be the site of Las Vegas' newest free outdoor show when "Lights at The LINQ" debuts. The High Roller Observation Wheel will illuminate with dazzling holiday-colored lights, featuring more than 2,000 LED lights synchronized to popular holiday music during the nightly "Lights at The LINQ" show.
"Lights at The LINQ" was created for visitors walking the promenade with show times at 6:30 p.m., 7:30 p.m., 8:30 p.m., 9:30 p.m. and 10:30 p.m.; one song plays during each show time. Beginning now through December 28.
LINQ Promenade 
3535 S. Las Vegas Blvd.
Las Vegas, NV 89109
1-800-634-6441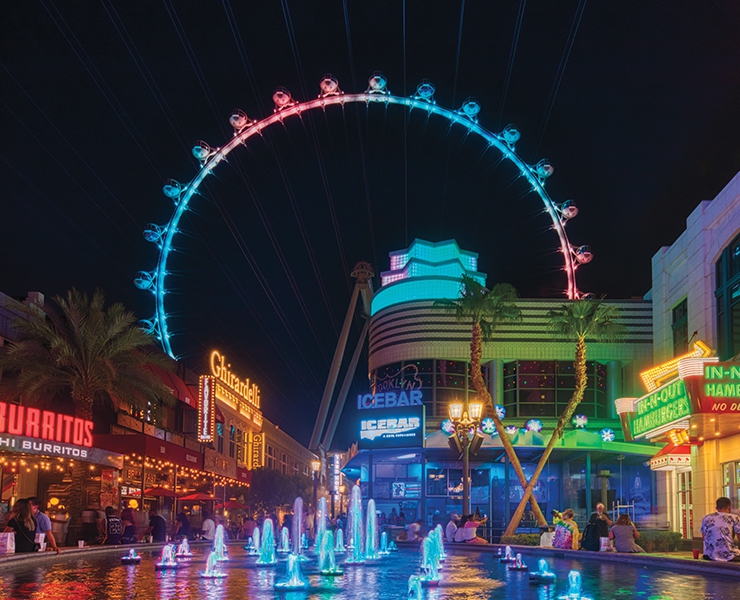 Enchant Christmas is the world's largest Christmas light maze and village. Experience a world of adventure with awe-inspiring animated light sculptures, and discover the charming Village offering ice-skating, live entertainment, interactive games, dining, holiday shopping, Santa & Mrs. Claus, and so much more.
Enchant Christmas has two locations to choose from for holiday fun, the Las Vegas Ballpark and Resorts World Las Vegas and is open now until Jan 1.
Las Vegas Ballpark: Tickets starting at $34 for adults and $20 for children. Ice skating is a timed entry and are $18 per person for all ages. Hours of operation can be found on the Enchant Christmas website.
Resorts World: Tickets starting at $44 for adults and $23 for children. Ice skating is a timed entry and are $25 per person for all ages. Hours of operation can be found on the Enchant Christmas website.
Las Vegas Ballpark
1650 S. Pavilion Center Dr.
Las Vegas, NV 89135
Resorts World
3000 S. Las Vegas Blvd.
Las Vegas, NV 89109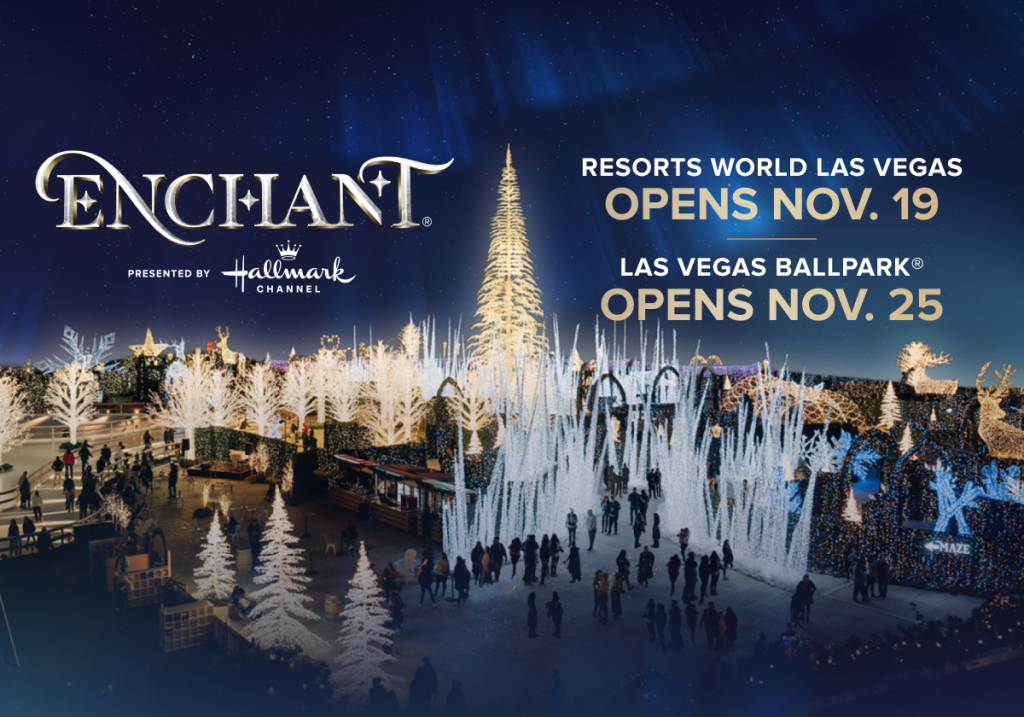 It's "Holiday Time" as Bellagio's Conservatory & Botanical Gardens welcomes winter with a holiday display rich in nostalgia. As you enter the 14,000-square-foot botanical garden, you will immediately be awed by a 42-foot-tall live silver tip fir tree sparkling with thousands of lights, playful polar bears made of thousands of carnations, penguins, a beautifully snowcapped mountain range, a cozy Swiss chalet, Santa's large sleigh filled with gifts and a ten-foot-long train made from 1,200 red and white roses
Guests will be surrounded by more than 28,000 fragrant fresh poinsettias and thousands of twinkling lights. Nearby, a vibrantly colored sleigh prepared to deliver gifts around the world is perched among the poinsettias made of hundreds of preserved roses.
The holiday display is available for guests to enjoy for free 24 hours a day, seven days a week from now until January 1, 2023
Bellagio Hotel & Casino
3600 S. Las Vegas Blvd.
Las Vegas, NV 89109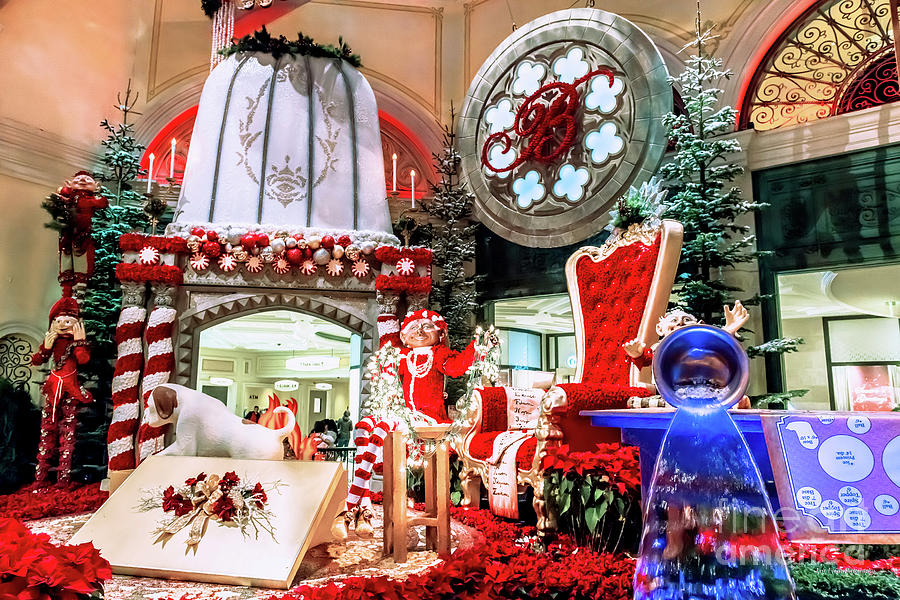 Aria's Winter Wonderland Display
If holiday sweets are your favorite part of the season, then you'll want to head over to the Aria resort and take a look at their new Winter Wonderland display that is made entirely of edible treats!
Located in the resort's lobby, the display is one of the most impressive in Nevada, as it boasts a 15-foot-tall Sugar Palace as its centerpiece!
The final product takes over 200 hours to complete and features a giant snow globe filled with a happy snowman and a mischievous gingerbread man made entirely of dark chocolate, tall trees made from 1,000 French macarons, adorable, handcrafted bears, and 15-pound sugar cubes.
Also on display is a life-size gingerbread man, a donut tower, sugar-filled candy canes, an overflowing cup of hot cocoa, ice cream cones, snowflakes and more, all made entirely of chocolate, sugar and fondant.
The Aria Patisserie nearby can help satisfy your sweet tooth with plenty of tasty treats and warm beverages that you can enjoy while you snap a few photos at their exclusive holiday photo opportunity.
The retail area is open for visitors to see Winter Wonderland now through January 5, 2021. The area is open from Monday to Thursday 12pm – 8pm and Friday to Sunday 12pm – 10pm.  This Winter Wonderland display is open 24 hours throughout the holiday season at ARIA Resort & Casino main lobby.
Aria Resort & Casino
3730 S. Las Vegas Blvd.
Las Vegas, NV 89158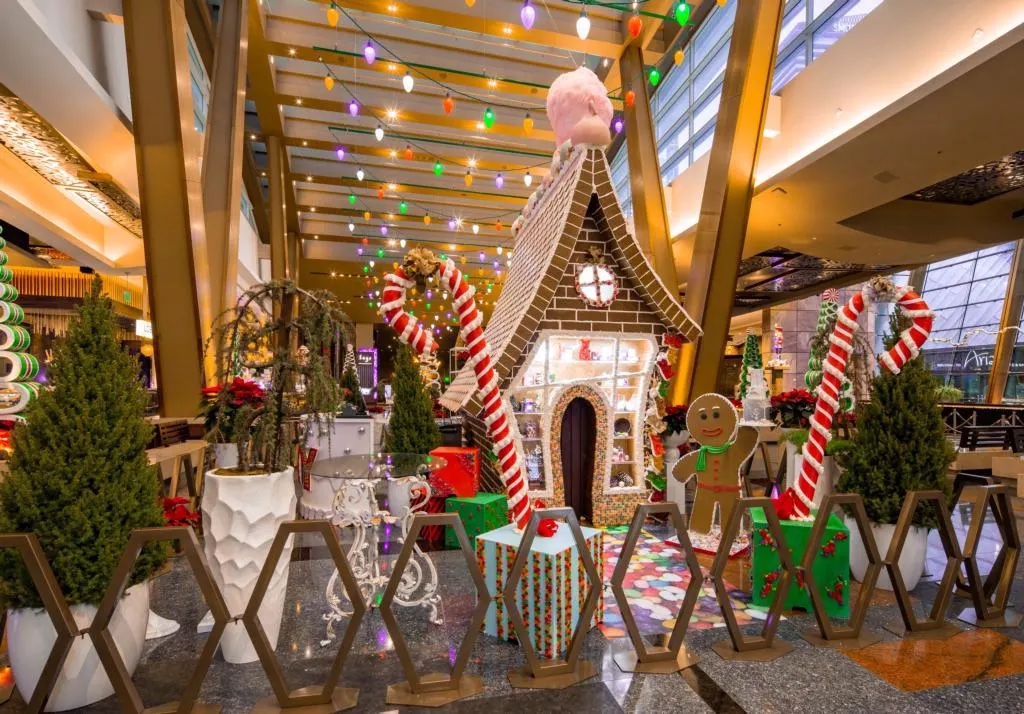 A gentle flurry of snowflakes greets visitors as they are welcomed into this indoor Snow Carnival with more than 350 tons of real snow, both falling from above and coating the ground in an inviting blanket, and 50 tons of fresh snow will be added every day!
At the Snow Carnival enjoy snowball throwing to snowman building, this celebratory attraction will offer a variety of seasonal favorites. Coast down the snowy inclines of the "Mini Matterhorn" snow slide, visit the Candy Cane Forest, or stop by a snow play area for winter games and more!
Days / Time: Snow Carnival will be open daily from now through January 8, 2023, with select operating hours.
M Resort Spa Casino
12300 S. Las Vegas Blvd.
Henderson, NV 89044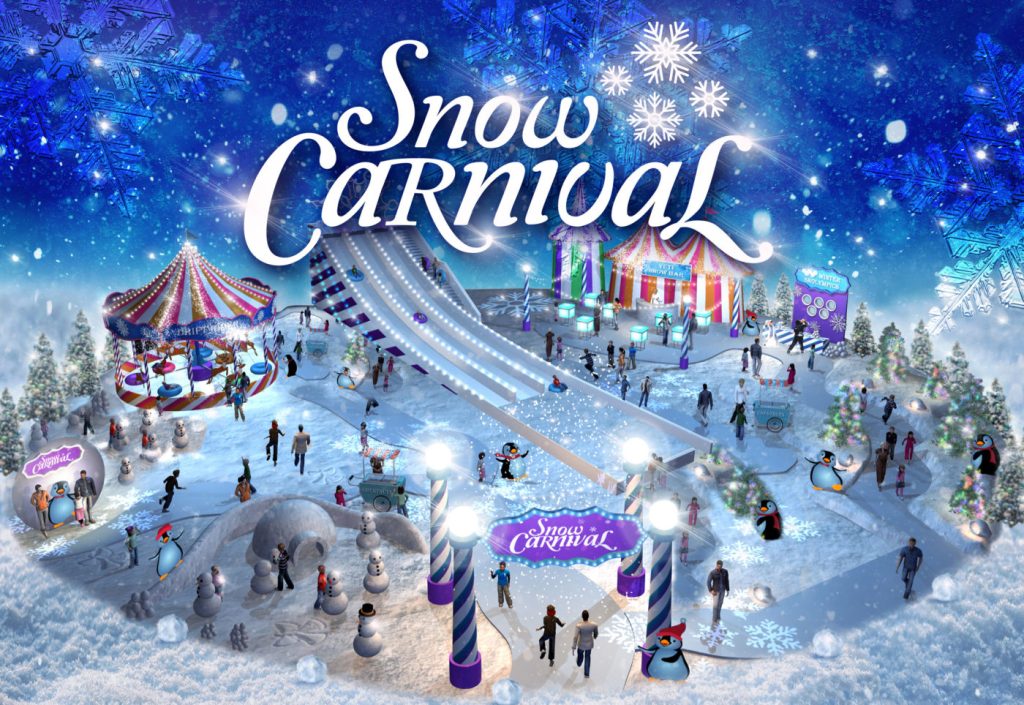 Wynn's Winter Wonderland
If you're spending Christmas in Vegas don't miss Wynn's Winter Wonderland. In its Holiday Atrium Village, the hotel displays beautiful miniature Christmas homes and scenes every year.
The mini-village is based on the novel Gulliver's Travels and complements the resort's intricate decor beautifully. In Las Vegas, you can enjoy a sophisticated winter wonderland from the comfort of your own home!
Free to the public, Wynn's Winter Wonderland should be near the top of your winter to-do list in Vegas.
Wynn Las Vegas
3131 S. Las Vegas Blvd.
Las Vegas, NV 89109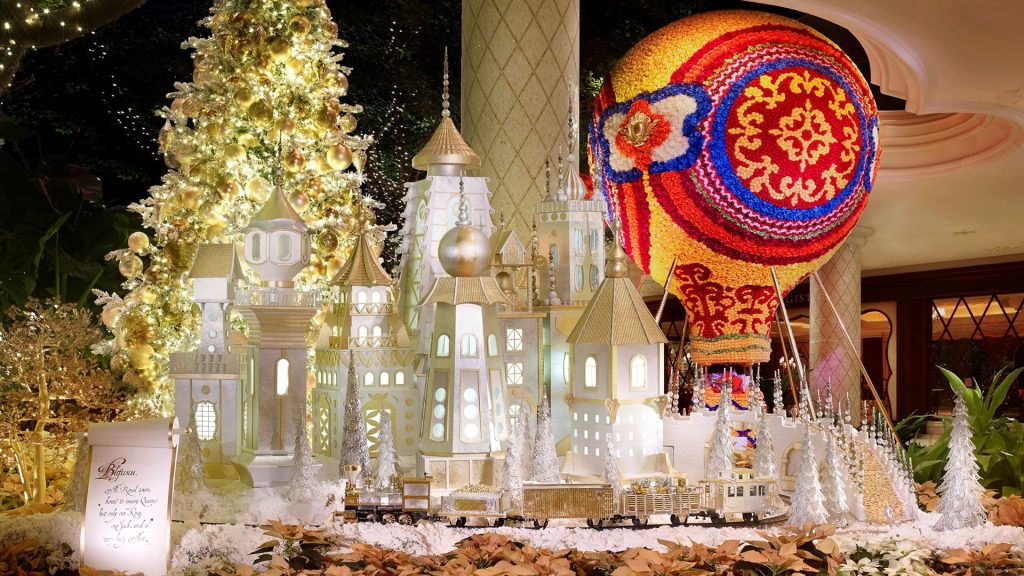 Winter Wonderland at Fashion Show Mall
Get your holiday shopping done and take in the holiday scene at Winter Wonderland at Fashion Show Las Vegas.
Winter Wonderland features plenty of white trees, falling snow, and ice sculptures. It takes place from 3-7pm on weekends (Friday, Saturday, Sunday) leading up to Christmas beginning November 25, 2022.
There will also be pictures with Santa near Neiman Marcus and Holiday Glow Live, a high-fashion musical showcase featuring your favorite holiday characters.
Fashion Show Mall
3200 S. Las Vegas Blvd.
Las Vegas, NV 89109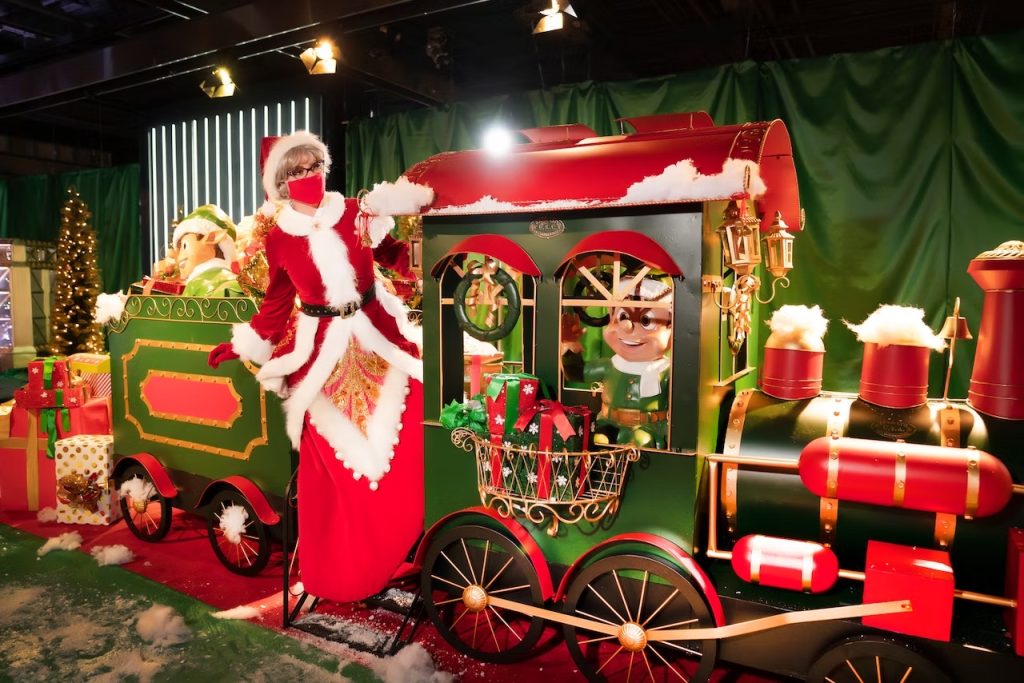 If you would like to find more Christmas Events in Las Vegas 2022 off the strip, check out my other blog post HERE!
Subscribe to our YouTube Channel: http://bit.ly/YouTubeAOHare
Angela O'Hare
Favorite Las Vegas Realtor
Home Realty Center
Lic. #180246
702-370-5112