Las Vegas Housing Market Update – June 2021
Las Vegas Housing Market Update – June 2021. Welcome to the June 2021 issue of our monthly market update for Southern Nevada. In this issue we will be going over May 2021 numbers.
Overall, Las Vegas' housing market has accelerated to its fastest pace in years with rapid sales and record prices as rock-bottom mortgage rates let people lock in lower monthly payments and stretch their budgets.
Sellers have been firmly in control as buyers shower homes with offers, often within days of being listed, and are paying over the asking price.
Market Trends
There were 3,189 single-family houses that sold in May, down 9.6% from April and up 87.3% from May 2020.
The median sales price of previously owned single-family homes, went from $375,000 in April to $385,000 in May, which is up 2.7% from last month and up 22.2% from the prior year.
If you are thinking about selling, NOW is STILL an ABSOLUTELY AMAZING TIME TO SELL. Buyers are thirsty for inventory, and you are not competing with as many sellers!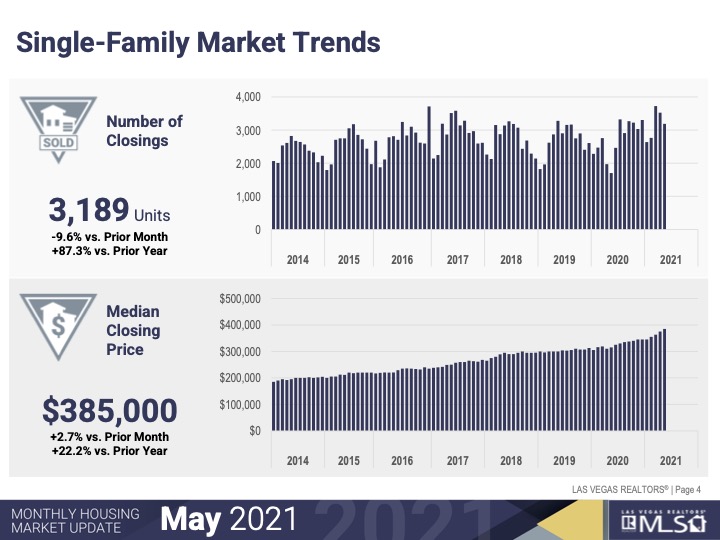 Luxury Market
Last month in the Luxury Market there were 145 homes that sold for $1 million and over, compared to March's 143 homes, a 2 home increase.
The median sales price in the Luxury Market for May decreased to $1,410,000 and in April that number was $1,540,000. A $130,000 decrease in the median sales price. But the average was $1,939,453.
Penthouse near the strip sets record for the highest priced condo sale in Nevada.
The nearly 13,000-square-foot unit, occupying the entire top floor of The Martin condo tower, sold for $16.25 million, listing brokerage was Elite Realty.
According to the release, the condo is one of the largest single-floor penthouses in the nation and features dual master bedrooms on each end, three guest rooms, seven bathrooms, a professional-grade gym with more than $250,000 in equipment, a steam room, a sauna and a custom stainless-steel cold plunge.
It was put up for sale in October at $18 million.

Market Trends 
So, for May we had a total of 3,731 new listings, which was up .9% from April and up 15.5% from the prior year.
There were also a total number of 2,031 single-family houses listed without offers at the end of May, which is up 11.2% from April, but down 65% from the prior year.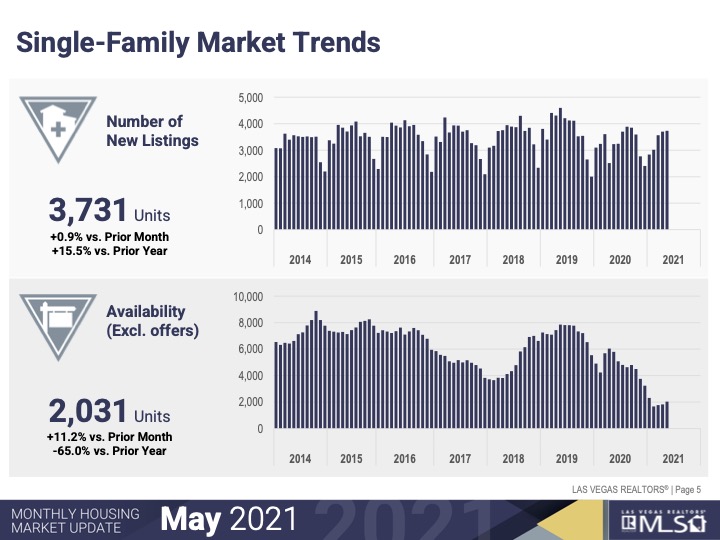 Market Trends
Which brings us to the housing supply in Southern Nevada, it is now at .6 months, which is up 23% from April and down 81.3% from prior year.
86.9% of the closings for the month of May was on the market 30 days or less, in April this number was at 81.5% and in May 2020, 66.4% of the homes were on the market 30 days or less.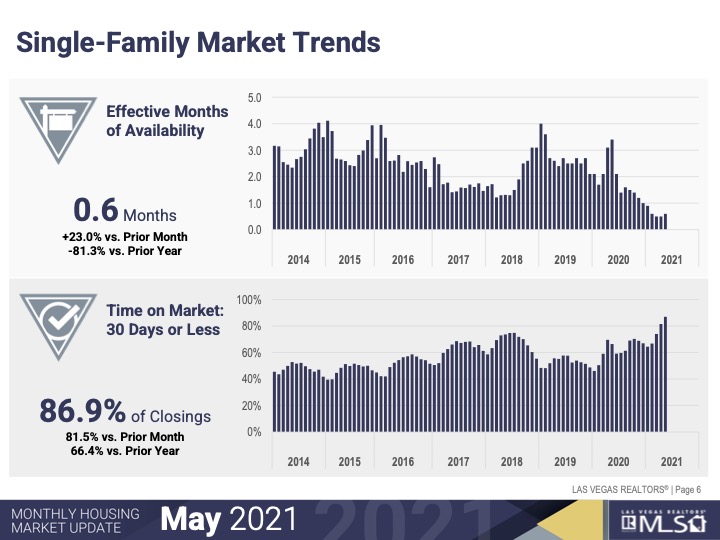 NEW CONSTRUCTION
Las Vegas' homebuilding market shows no signs of hitting the brakes as buyers snap up properties and developers draw up more construction plans.
Builders notched 1,215 net sales — newly signed sales contracts minus cancellations — in Southern Nevada in April, up nearly 400% from 244 sales in April 2020, when the valley's housing market slowed drastically amid the pandemic, according to a newly released figures from Las Vegas real estate tracker Home Builders Research.
Builders also lined up a huge increase in construction plans, pulling 1,457 new-home permits in April, up 227% from 446 during the same month last year, Home Builders Research reported.
Home Builders Research President Andrew Smith wrote in the report that builders have landed more than 1,000 net sales for five straight months.
FORECLOSURES – CFPB (Consumer Financial Protection Bureau)
https://www.consumerfinance.gov/about-us/newsroom/cfpb-proposes-mortgage-servicing-changes-to-prevent-wave-of-covid-19-foreclosures/?_gl=1*1vw5oyz*_ga*MTYyMDQ4NzczNi4xNjIzMTg2NDM5*_ga_DBYJL30CHS*MTYyMzE4NjQzOC4xLjEuMTYyMzE4NjU4My4w
Industry data suggest that nearly 1.7 million borrowers will exit forbearance programs in September and the following months, with many of them a year or more behind on their mortgage payments. The CFPB's proposal, if finalized, would:
Give borrowers time: Every one of the nearly 3 million borrowers behind on their mortgages should have a chance to explore ways to resume making payments and avoid foreclosure. To make sure borrowers aren't rushed into foreclosure when a potentially unprecedented number of borrowers exit forbearance at around the same time this fall, the proposed rule would provide a special pre-foreclosure review period that would generally prohibit servicers from starting foreclosure until after December 31, 2021.
Give servicers options: The proposed rule would permit servicers to offer certain streamlined loan modification options to borrowers with COVID-19-related hardships based on the evaluation of an incomplete application. Allowing this flexibility could allow servicers to get borrowers into an affordable mortgage payment faster, with less paperwork for both the servicer and the borrower. This provision would only be available for modifications that do not increase a borrower's monthly payment and that extend the loan's term by no more than 40 years from the modification's effective date.
If the CFPB law passes then foreclosures will start happening after December 31, 2021. Normally the foreclosure process begins after you are one month in default.
*** Eviction moratorium in Vegas has actually been extended until June 30th b/c of the federal moratorium. Judges will not touch it until the federal one ends.
Las Vegas Realtors Full Report – June 2021
Also, if you are thinking about buying or selling in the Las Vegas Valley, CLICK HERE or you can call me at 702-370-5112.
Subscribe to our YouTube Channel: http://bit.ly/YouTubeAOHare
Angela O'Hare
Favorite Las Vegas Realtor
Home Realty Center
Lic. #180246
702-370-5112
[email protected]
www.neighborhoodsinlasvegas.com