Las Vegas Housing Market Update – September 2021
Las Vegas Housing Market Update – September 2021. Welcome to the September 2021 issue of our monthly market update for Southern Nevada. In this issue we will be going over August 2021 numbers.
Prices had been climbing continuously for months, setting records at each step. The price streak took "a momentary pause" in August.
I feel prices were flat last month because families were preoccupied getting their kids in school, getting graduates off to college and all the seasonal reasons that cause what we call a momentary pause, while the market readies for its last surge before the expected holiday slowdown begins.
Home prices have been climbing much faster than incomes and that this is not sustainable over the long term.
Even with mortgage interest rates near all-time lows, it's still presenting challenges for some buyers and working-class families to afford a home.
Market Trends
There were 3,210 single-family houses that sold in August, down 4.2% from July, but up 10.3% from August 2020.
The median sales price of previously owned single-family homes, remained the same $405,000, which is up 2 up 20.9% from the prior year.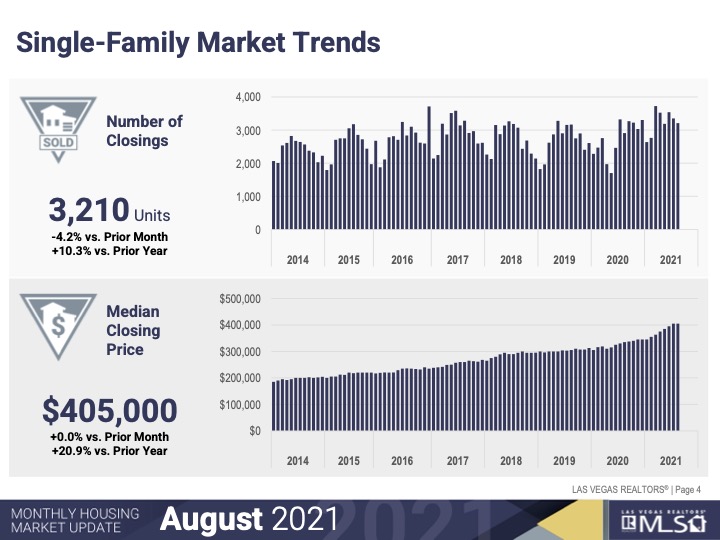 Luxury Market
Last month in the Luxury Market there were 112 homes that sold for $1 million and over, compared to July's 151 homes, a 39 home decrease.
The median sales price in the Luxury Market for August decreased to $1,300,000 and in July that number was $1,400,000. A $100,000 decrease in the median sales price.
Market Trends
So, for August we had a total of 3,985 new listings, which was down 2.3% from July, but up 2.5% from the prior year.
There were also a total number of 3,256 (last month that number was 3,007) single-family houses listed without offers at the end of August, which is up 8.3% from July, but down 29.8% from the prior year.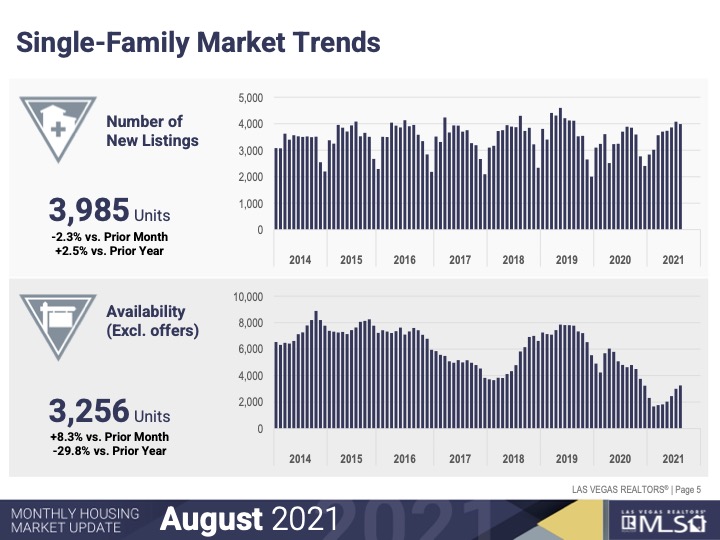 Market Trends
Which brings us to the housing supply in Southern Nevada, it is now at 1 month, which is up 13.1% from July and down 36.4% from prior year.
87.8% of the closings for the month August was on the market 30 days or less, in July this number was at 89.1% and in August 2020, 61.3% of the homes were on the market 30 days or less.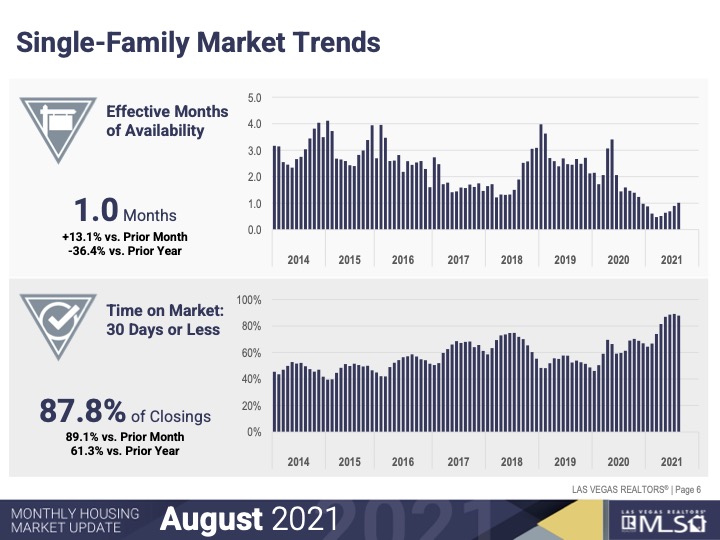 Rock-bottom mortgage rates are still hovering at historic lows, letting buyers lock in lower monthly payments and stretch their budgets. Across the U.S., borrowing costs have shrunk in recent months after a brief climb early this year, with the average rate on a 30-year home loan at 2.84% in August, down from 3.08% in March, according to mortgage-finance giant Freddie Mac.
What we are seeing:
A softening in the market
More listings on the market
Homes staying on the market longer
If you would like to download the full report provided by Las Vegas Realtors, CLICK HERE!
Well, I hope you have enjoyed our monthly market update for September 2021.
Also, if you are thinking about buying or selling in the Las Vegas Valley, CLICK HERE or you can call me at 702-370-5112.
Subscribe to our YouTube Channel: http://bit.ly/YouTubeAOHare
Angela O'Hare
Favorite Las Vegas Realtor
Home Realty Center
Lic. #180246
702-370-5112
[email protected]
www.neighborhoodsinlasvegas.com