October 2021 Events in Las Vegas
October 2021 Events in Las Vegas. October.. October.. October. Thank goodness for the month of October in Las Vegas. For all those who can't stand the uncomfortably high temperatures, October is the perfect time of year to be in Las Vegas.
This is that time of the year when Summer turns into Fall in Vegas. With high temperatures often still hovering in the 70's and 80's throughout the month, the sun continues to shine on Las Vegas for 11 hours each day, giving you plenty of time to enjoy all the Vegas attractions.
Here is the list of the top October Events happening in Las Vegas:
LAS VEGAS PRIDE PARADE & FESTIVAL – October 8-9
The Las Vegas PRIDE celebration is returning with the PRIDE Parade in downtown Las Vegas on October 8, 2021 at 7PM, and the PRIDE Festival on October 9, 2021 from 12-11PM at the Craig Ranch Regional Park in North Las Vegas.
The annual PRIDE Parade will be held in downtown Las Vegas for the most glamorous, glittering spectacle ever created by the gay, lesbian, bisexual, and transgender community of Southern Nevada.
The Parade Main Stage is located at the intersection of 4th Street & Bridger Avenue in Downtown Las Vegas. There will be beverage stations, food trucks, and exhibitors at the Block Party on 4th Street.
Craig Ranch Regional Park
628 W. Craig Rd.
North Las Vegas, 89032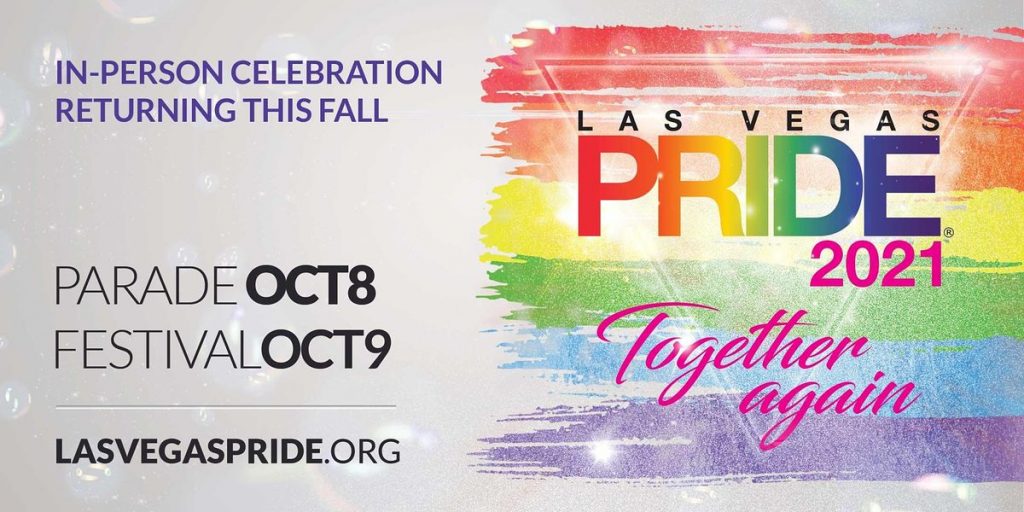 Reggae Rise Up Music Festival is coming to the Downtown Las Vegas Events Center on October 9th & 10th, 2021 with two full days of amazing music, food, merchandise, art, activities and good vibes! We're going all out with two stages and over forty vendors.
FESTIVAL HOURS
SATURDAY, OCTOBER 9TH
Festival Gates Open – 12:00 pm
Music Starts – 1:00 pm
Music Ends – 11:00 pm
SUNDAY, OCTOBER 10TH
Festival Gates Open – 12:00 pm
Music Starts – 1:00 pm
Music Ends – 11:00 pm
Downtown Las Vegas Events Center
200 S. 3rd St.
Las Vegas, NV 89101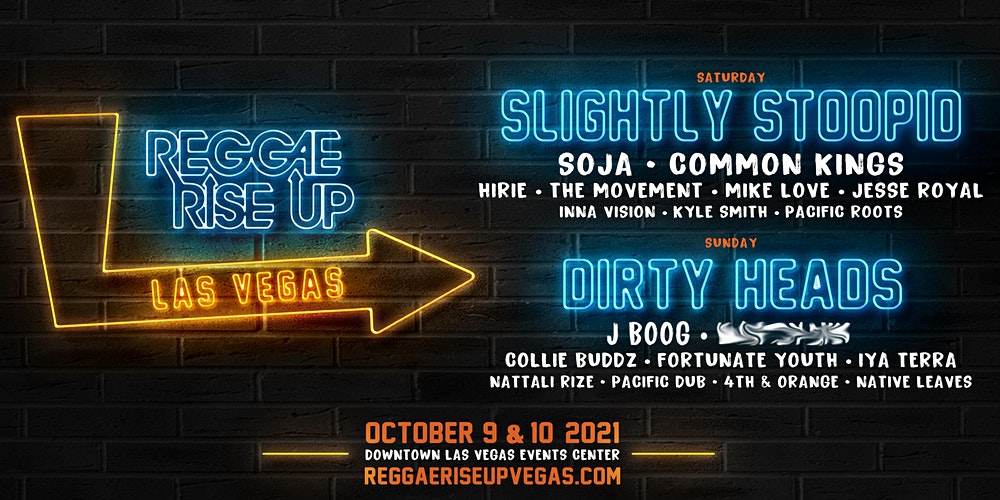 DOWNTOWN BREW FESTIVAL – October 16 from 5-9PM
Downtown Brew Festival is on October 16 from 5-9PM at the Clark County Government Center Amphitheater. Produced by Motley Brews, the 9th Annual Downtown Brew Festival is Las Vegas' iconic "backyard" craft beer, music and culinary festival under the stars.
200+ Craft Brews
60+ Breweries
Local Culinary Artists
Live Music
Motely Experiences
Motley Brews will be following suit with other large festivals to authorize only fully vaccinated individuals or those who provide a negative COVID-19 test to attend Downtown Brew Festival this year.
Clark County Government Center Amphitheater
500 S Grand Central Pkwy
Las Vegas, NV 89155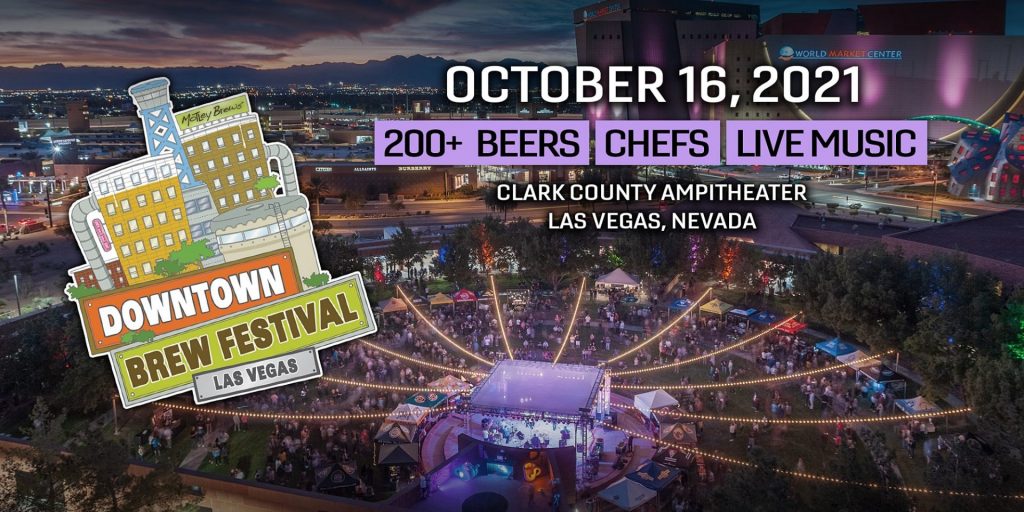 THE ELECTRIC DAISY CARNIVAL (EDC) – October 22-24
Electric Daisy Carnival Las Vegas will return to the Las Vegas Motor Speedway on October 22 -24, 2021 for three historic nights of music, art, and community. The event usually happens in the spring, but was delayed several times during the pandemic. Celebrating 25 years under the electric sky.
Located about 15 miles northeast of the city's famous 'Strip', the Las Vegas Motor Speedway is a 1200-acre complex of motorsports tracks. It has been home to EDC since the 2011 relocation from LA.
Las Vegas Motor Speedway
700 N. Las Vegas Blvd.
Las Vegas, NV 89115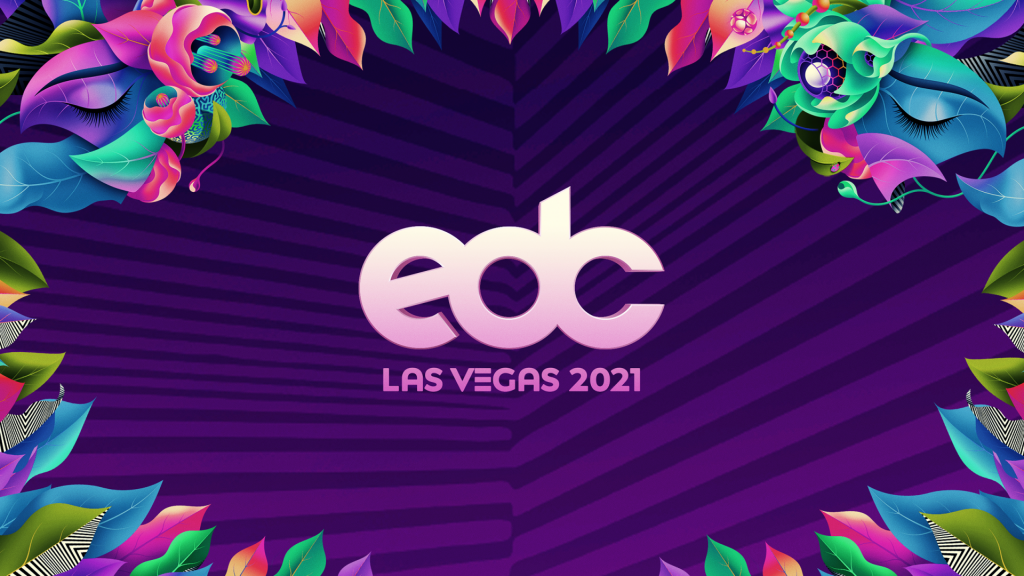 THE WHISKYX – October 23 at 7PM
The WhiskeyX will be on October 23 at 7PM. Don't miss the biggest whisky event of the year at Cosmopolitan's Boulevard Pool. Enjoy unparalleled views of The Las Vegas Strip while you taste a curated mix from over 60 premium whiskies and cocktails, a live concert and bites from The Cosmopolitan's world-class restaurant collection.
Taste, explore and discover The WhiskyX with a General Admission package starting at $75 + taxes and fees. Your purchase includes:
WhiskyX ticket for 7PM entry
60+ premium whisky tastings
Live concert from Fitz & the Tantrums and St. Paul & The Broken Bones
Food available for purchase
THE COSMOPOLITAN OF LAS VEGAS
3708 Las Vegas Boulevard South
Las Vegas, NV  89109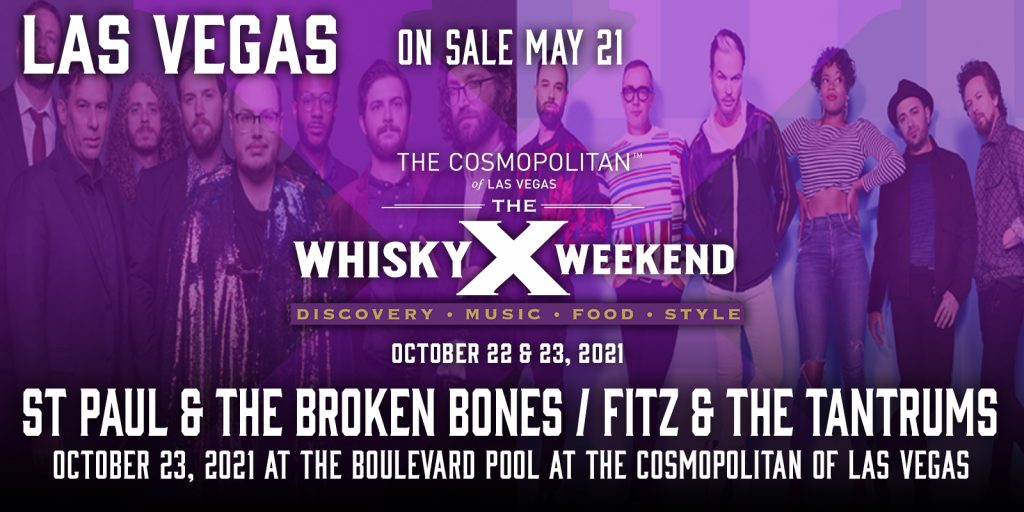 HALLOWEEN FUN DOMINATES LAS VEGAS IN OCTOBER
Come out and play. Las Vegas is one of the best cities in the world for celebrating Halloween. The spooky holiday falls on a Sunday this year, so expect a full weekend of events.
Some things to keep in mind — traditional costumed masks are considered a big no-no inside casinos, although masks to cover the nose and mouth are required in light of COVID-19.
plays the MGM Grand Garden Arena on Halloween Weekend. Starting on Thursday, October 28th through Sunday, October 31st. The iconic jam band is known for unique Halloween-themed concerts, often covering a classic album by another artist as a "costume."
MGM Grand Arena
3779 S. Las Vegas Blvd.
Las Vegas, NV 89109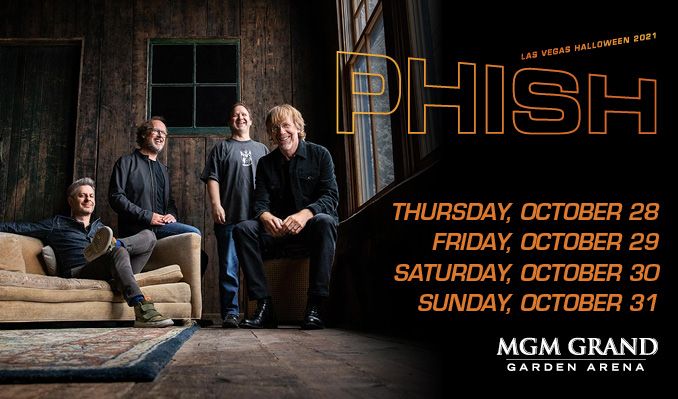 VEGAS FRIGHT NIGHTS – October 2-3, 8-10, 15-17, 22-24, 29-31 from 6:30-11PM
Vegas Fright Nights is the best Haunted Houses in Las Vegas! As you embark on a journey of giggles and gore, this 3D haunted house experience promises to show you a whole new dimension of evil. Starting October 2-3, October 8-10, October 15-17, October 22-24 and October 29-31 from 6:30-11PM nightly.
They will have 3 horrifying attractions to choose fun.
 ATTRACTIONS
BLOOD BARN NEW FOR 2021
This rickety barn is plagued by death and despair and the good ol' boys who run the show are making sure it stays that way.  They've thrown the pitchforks and hatchets to the side and are opting for a tool guaranteed to make you squeal for your life. You might hear them coming, but don't be so sure you'll get away with all your pieces – or sanity – intact. These chainsaw-wielding maniacs are not about to let you just walk out the front door. Around these parts, the saw IS the law.
NIGHTMARE MANOR
Nightmare Manor is the place where evil resides. And lucky for you, this Victorian home happens to have a vacancy. Do you remember the days of playing with the Ouija Board and mouthing Bloody Mary in the bathroom mirror? Well, the time has come for the demonic spirits you beckoned to entertain their new houseguest. They've been pacing these haunted halls eagerly awaiting your arrival. Won't you join them for all eternity? Better splash on some holy water before you enter this one. Oh, and don't stare at those paintings too long…
CLOWN INVASION IN 3D
Step into our colorful funhouse where sinister clowns are dying to show you a good time. As you embark on a journey of giggles and gore, this 3D experience promises to show you a whole new dimension of evil. The clowns you'll encounter here are lurking through the chaotic mazes and the demented ball pits, so trust us when we say that you'll need to keep your wits about you if you don't want to become a part of the circus.
Vegas Fright Nights
6300 W. Oakey Blvd.
Las Vegas, NV 89146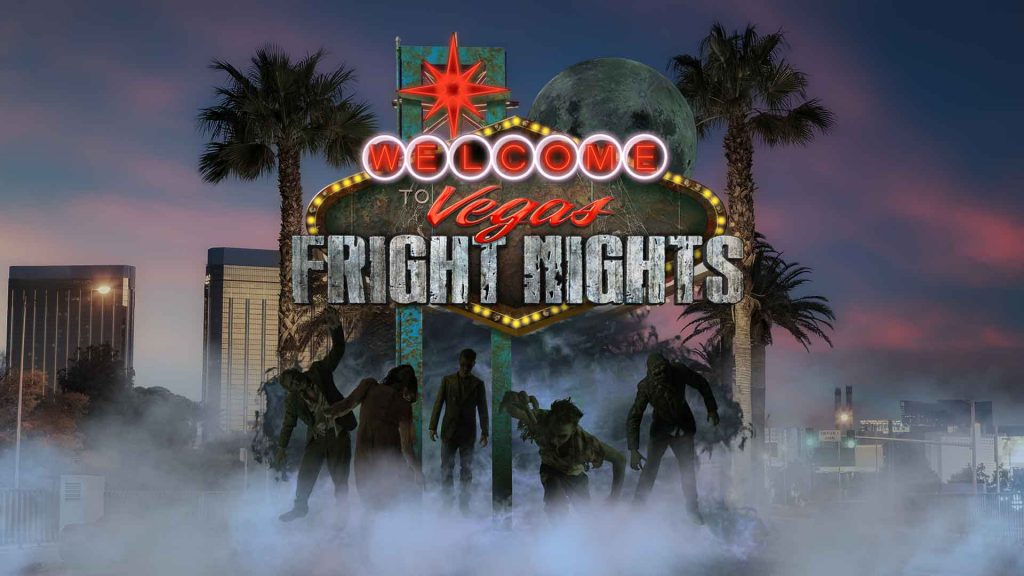 Opportunity Village announces return of family-friendly HallOVeen event at the Magical Forest. Welcoming boys and ghouls of all ages for a family-friendly Halloween experience. Gates open at 5:30PM nightly on October 8-10, October 15-17, and October 22-31.
While the Forest sat dormant last year due to COVID-19, the haunted jungle ruins managed to take over the 2.5-acre theme park, beckoning spooky creatures of all shapes and sizes. For 2021, you'll meet many of them as you walk through a cemetery surrounded by hundreds of spooktacularly decorated trees and jack-o-lanterns. Friendly witches and ghosts excitedly await your arrival!
General admission is $15 and Passport admission is $22. Purchase online and learn more at www.HallOVeen.com. Children 3 and under get in free.
This year, admission to HalloVeen at the Magical Forest includes ALL the rides and access to the two mini-escape rooms. Tickets should be purchased online and in advance.
Opportunity Village Magical Forest
6300 W. Oakey Blvd.
Las Vegas, NV 89146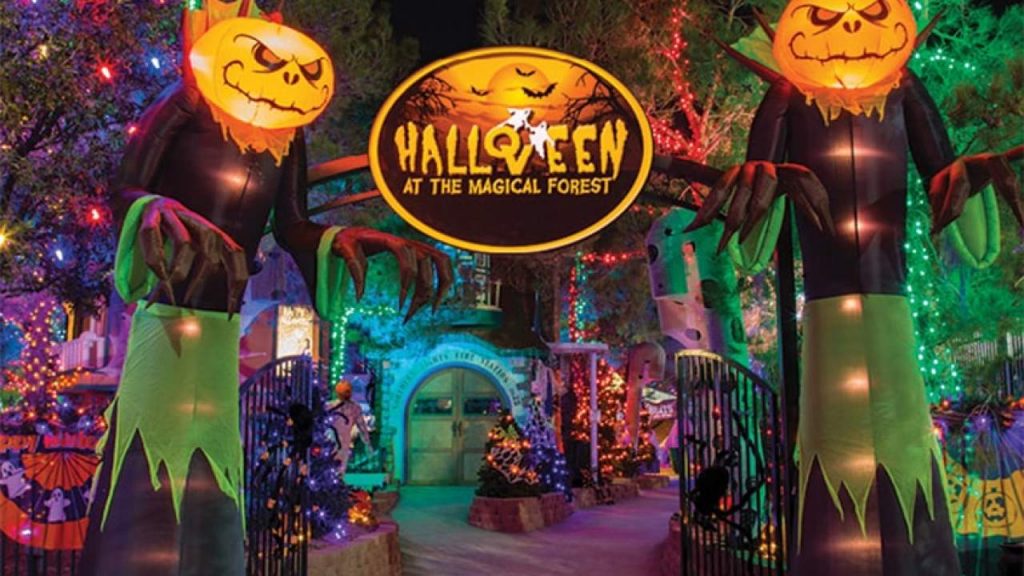 Haunted Harvest is back! Return to the Springs Preserve for a spooktacular good time with the whole family. It's everything you've been missing, including themed trick-or-treat stations, live entertainment, activities for all ages, street vendors serving up all kinds of tasty treats, and much more!
Haunted Harvest is a safe and family-friendly outdoor event. *Attendance is limited and tickets are sold online only. This event is expected to sell out. Don't wait—purchase your tickets now or be left in the dark!
*Event will be held completely outdoors with reduced capacity to provide a safer experience for everyone. Face coverings are strongly recommended. Costume masks that cover the entire face are prohibited for adults 18+.
Admission: Non-members: $9. Value members: $8. Donor members receive free admission. Free for children ages 2 and younger. All attendees must be ticketed for the event.
Springs Preserve
333 S. Valley View Blvd.
Las Vegas, NV 89107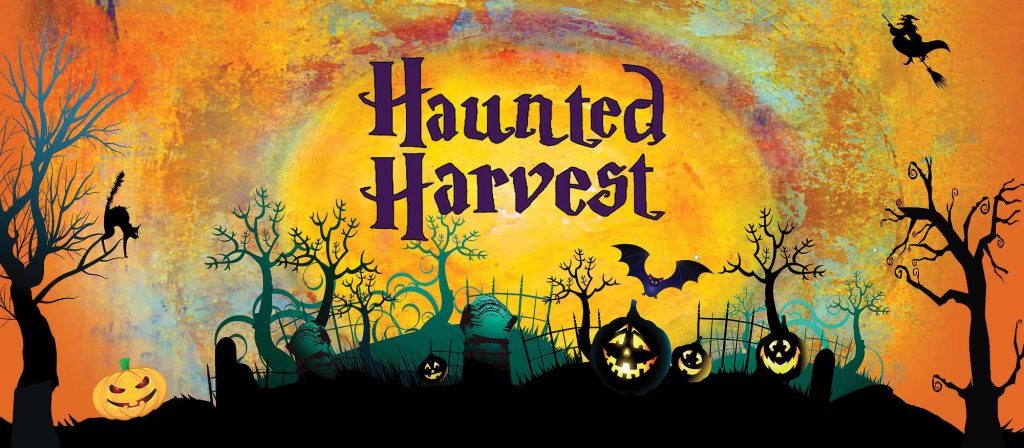 On Saturday, October 30, 2021 the FETISH & FANTASY HALLOWEEN BALL celebrates its 25 Year Anniversary. Starts on Saturday at 10PM and ends on Sunday, October 31 at 3AM.
Join the festivities along with 2600 of the hardest charging partyers in Vegas to celebrate the end of Halloween prohibition at the hottest event location in Las Vegas, AREA15.
Experience what's been called "The World's Wildest Halloween Party" and "One of the Earth's Best Bashes". Whatever your interests are, you will find it here! Experience non-stop music, entertainment, and all the naughty extravagances you've grown to know and love.
AREA15
3215 S. Rancho Dr.
Las Vegas, NV 89102

Also, if you are thinking about buying or selling in the Las Vegas Valley, CLICK HERE or you can call me at 702-370-5112.
BEST NEIGHBORHOODS IN LAS VEGAS
Subscribe to our YouTube Channel: http://bit.ly/YouTubeAOHare
Angela O'Hare
Favorite Las Vegas Realtor
Home Realty Center
Lic. #180246
702-370-5112
[email protected]
www.neighborhoodsinlasvegas.com