Welcome to the December 2021 issue of our monthly market update for Southern Nevada. In this issue we will be going over November 2021 numbers.
Another month and another record for home prices! The Las Vegas housing market heated up last month during a typically slower time of the year as sales climbed and prices set a new all-time high.
Market Trends
There were 3,273 single-family houses that sold in November, up 6.4% from October and up 7.8% from November 2020.
The median sales price of previously owned single-family homes, went from $410,000 in October to $420,000 in November; which is up 2.4% from October and up 21.7% from the prior year.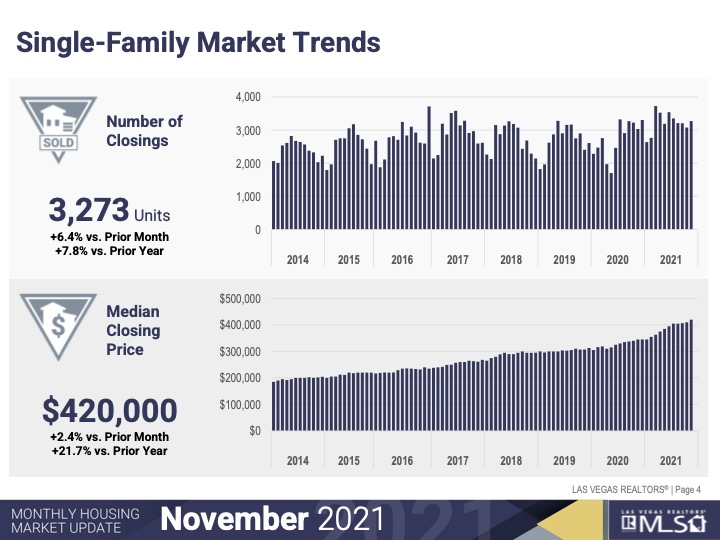 Luxury Market
Last month in the Luxury Market there were 142 homes that sold for $1 million and over, compared to October's 107 homes, a 35 home increase.
The median sales price in the Luxury Market for November decreased to $1,305,000 and in October that number was $1,425,000. A $120,000 decrease in the median sales price.
Market Trends
So, for November we had a total of 2,851 new listings, which was down 20% from October, but up 3.1% from the prior year.
And at the same time, Southern Nevada's inventory of available listings shrank.
There were also a total number of 2,805 single-family houses listed without offers at the end of November, which is down 14.7% from October and down 27% from the prior year.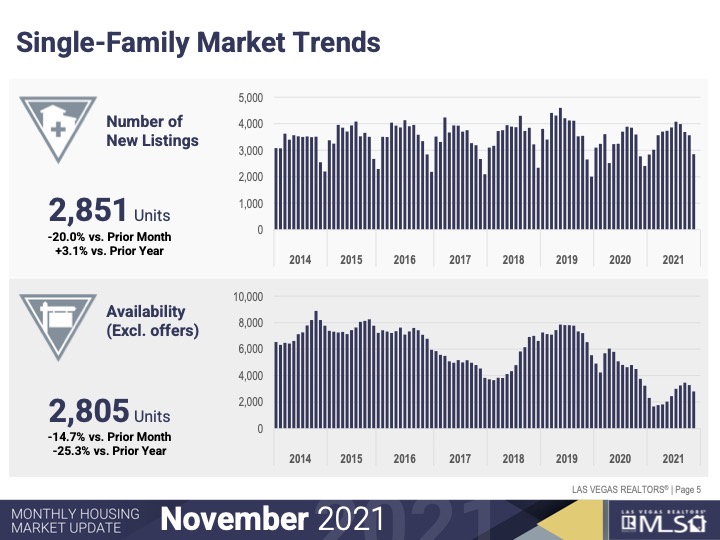 Market Trends
Which brings us to the housing supply in Southern Nevada, we are now at .9 months, down 19.8% from October and down 30.7% from prior year.
76.8% of the closings for the month November was on the market 30 days or less, in October this number was at 79.9% and in November 2020, 68.8% of the homes were on the market 30 days or less.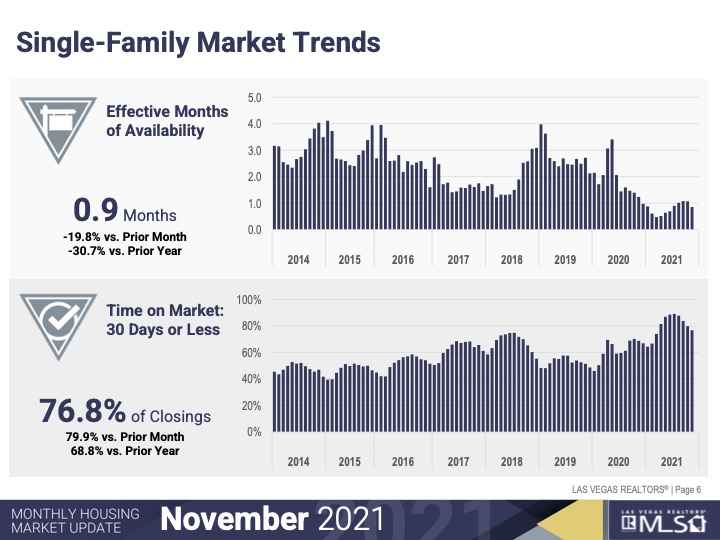 NEW CONSTRUCTION
Overall, builders closed 9,854 home sales in Southern Nevada this year through October, up 16% from the same stretch in 2020, and pulled 12,481 new-home permits, up 33%.
The median closing price last month was $440,599, up 11.5% from a year earlier.
INTEREST RATES
U.S. mortgage rates remain historically low but are up from a year ago. The average rate on a 30-year home loan in October was 3.07%, up from 2.83% during the same month last year, mortgage-finance giant Freddie Mac reported.
*BREAKING NEWS
The Federal Housing Agency (FHA) has just raised its loan limit by 18% to a maximum amount of $420,680 in most areas. In certain high-cost areas, it's $970,800. Limits will take effect in 2022. **Max purchase price with 3.5% down is $436,000
This means your buyers can take advantage of FHA program benefits, including:
Low down payment options
Lower total cash-to-close requirements with gift or seller contributions
Ability to combine purchase and rehab financing
In some high-cost areas, higher loan limits than conventional mortgage
**CONVENTIONAL Mortgage loan limits are increasing AGAIN to $647,200 in 2022**
**Max purchase price with 5% down is $681,300
**Max purchase price with 3% down is $667,250
If you would like to download the full report provided by Las Vegas Realtors CLICK HERE!
Well, I hope you have enjoyed our monthly market update for December 2021.
Also, if you are thinking about buying or selling in the Las Vegas Valley, CLICK HERE or you can call me at 702-370-5112.
Subscribe to our YouTube Channel: http://bit.ly/YouTubeAOHare
Angela O'Hare
Favorite Las Vegas Realtor
Home Realty Center
Lic. #180246
702-370-5112
[email protected]
www.neighborhoodsinlasvegas.com