Las Vegas Housing Market Update – July 2021
Las Vegas Housing Market Update – July 2021. Welcome to the July 2021 issue of our monthly market update for Southern Nevada. In this issue we will be going over June 2021 numbers.
Demand for houses remains strong and is being driven by low inventory, cheap borrowing costs and a continued inflow of new residents, especially from California.
Market Trends
There were 3,543 single-family houses that sold in June, up 11.1% from May and up 43.8% from June 2020.
The median sales price of previously owned single-family homes, went from $385,000 in May to $395,000 in June, which is up 2.6% from last month and up 21.6% from the prior year.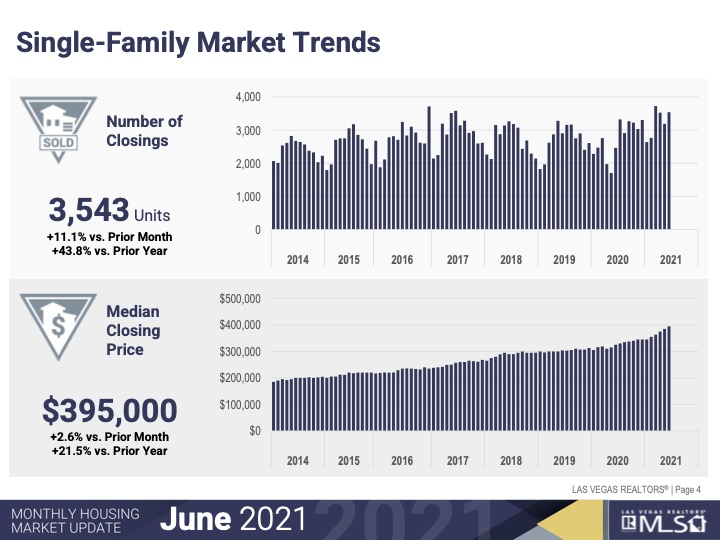 Luxury Market
Last month in the Luxury Market there were 163 homes that sold for $1 million and over, compared to May's 145 homes, a 18 home increase.
The median sales price in the Luxury Market for June decreased to $1,349,000 and in May that number was $1,540,000. A $191,000 decrease in the median sales price. But the average was $1,939,969, pretty much remained the same compared to May.
I want to take a moment and go over the highest priced home that sold in June in the Las Vegas Valley,
This home was located at MacDonald Highlands in Henderson at 685 Dragon Peak Dr. And it sold for $25,000,000, with an original list price of $28,000,000 and it was only on the market for 7 days.
This home was designed by Blue Heron with over 15,000 sq. ft. a casita, 4 bedrooms, 3 dens, 1 loft, 9 bathrooms, 5 car-garage, pool and spa with a lot size of 54,886!
The buyer's agent received a full 3% commission, which was $750,000! WOW!
Market Trends
So, for June we had a total of 3,860 new listings, which was up 3.5% from May and up 19% from the prior year.
There were also a total number of 2,454 single-family houses listed without offers at the end of June, which is up 20.8% from May, but down 51.7% from the prior year.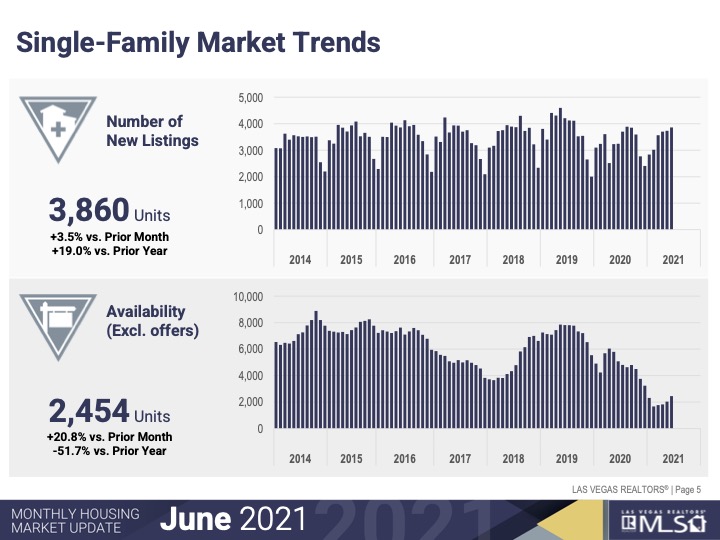 Market Trends
Which brings us to the housing supply in Southern Nevada, it is now at .7 months, which is up 8.8% from May and down 66.4% from prior year.
88.6% of the closings for the month June was on the market 30 days or less, in May this number was at 86.9% and in June 2020, 59.1% of the homes were on the market 30 days or less.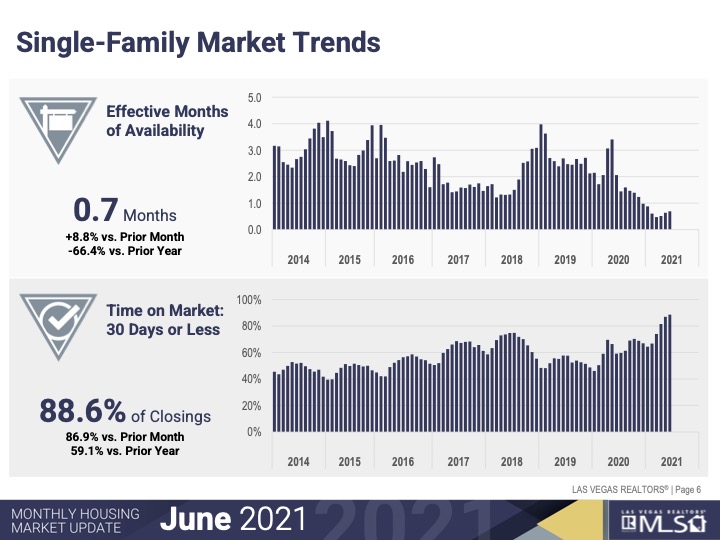 CDC extends federal eviction moratorium a final time from June 30 to July 31, Nevada ended on May 30.
RENTALS
Rents have also accelerated in Las Vegas. The typical rental rate of a Las Vegas-area home shot up 17.3% year over year in May, up from an 11.3% annual gain in April.
The valley's rent growth last month tied Riverside, California, for second highest among the 50 metro areas listed in a report from Zillow. Phoenix topped the list, with rents up 17.7%.
The accelerated rent growth across the U.S. also "reflects similar pressures" in the home buying market: a lack of available single-family homes, and increased demand driven by the pandemic.
NEW CONSTRUCTION
Builders reported 1,085 net sales — newly signed purchase contracts minus cancellations — in Southern Nevada in May, the second consecutive month-to-month drop and the lowest tally this year, according to Las Vegas housing tracker Andrew Smith, president of Home Builders Research.
Homebuilders continue to raise base asking prices, and the median sales price for closed transactions in May was $402,990, an all-time high, according to the firm's records going back to 1990.
Nationwide, the pace of homebuilders' sales last month fell 5.9% from April to the slowest rate in a year, according to a recent federal report. The median sales price last month, $374,400, was up just over 18% from May of last year.
Despite the recent pullback, homebuilders' sales this year far exceed 2020 levels. Builders reported 6,413 net sales this year through May, up 60% from the same stretch last year.
If you would like to download the full report provided by Las Vegas Realtors, CLICK HERE.
Well, I hope you have enjoyed our monthly market update for July 2021
Also, if you are thinking about buying or selling in the Las Vegas Valley, CLICK HERE or you can call me at 702-370-5112.
Subscribe to our YouTube Channel: http://bit.ly/YouTubeAOHare
Angela O'Hare
Favorite Las Vegas Realtor
Home Realty Center
Lic. #180246
702-370-5112
[email protected]
www.neighborhoodsinlasvegas.com